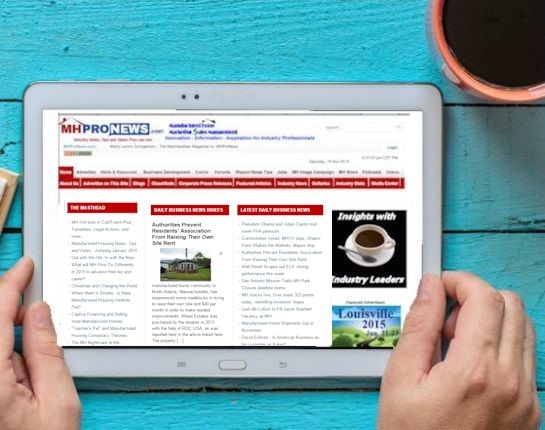 Our theme for this month is: Manufactured Housing Industry Politics – Complicated Cross Currents, or April Fools? and our featured articles are now live on the MHProNews.com home page.
To see the line-up of over 3-dozen featured articles for this month, along with the headline commentary, please click the link above.
Manufactured, modular and prefabricated home professionals know that how a home got to its location should not define a person or their dwelling.
What the Daily Business News spotlights day-by-day are the tragedies, triumphs and struggles for acceptance of the obvious solution for millions for the growing affordable housing crisis in the U.S. and beyond.

When you read the lineup for the month found on the home page, you can reflect on another motto as you chart your own professional path ahead: "We Provide, You Decide."  ©
What's New On MHLivingNews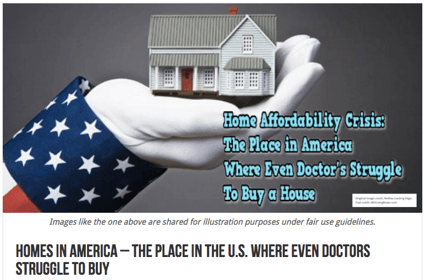 Homes in America – The Place in the U.S. Where Even Doctors Struggle to Buy
A Look at Today's Home Buyer, Analyzing Zillow's Consumer Housing Trends Report
What's New On MHProNews
Saturday April 15th, 2017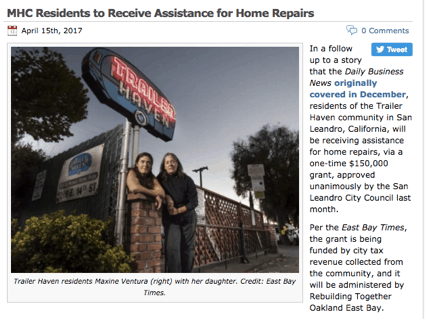 MHC Residents to Receive Assistance for Home Repairs
Friday April 14th, 2017 
Could Modular Determine the Outcome of an Election?
Obamacare in the Crosshairs – What's the President's Plan?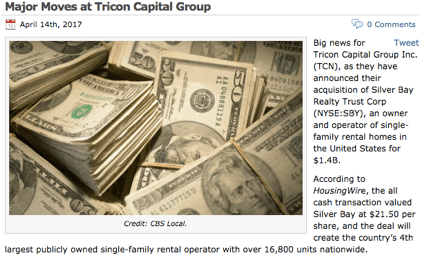 Major Moves at Tricon Capital Group
Flashback Friday – Political Obstacles, Reality Checks, Industry Cohesion and Successe$$
Power Restored to Manufactured Home Community
Markets Closed for Passover, Good Friday Memorials
Thursday April 13th 2017
Homes in America – The Land Where Even Doctors Struggle
Carlyle Rises, Manufactured Housing CV, Broader Markets Down Again
UPDATE: New Manufactured Home Community Laws Take Effect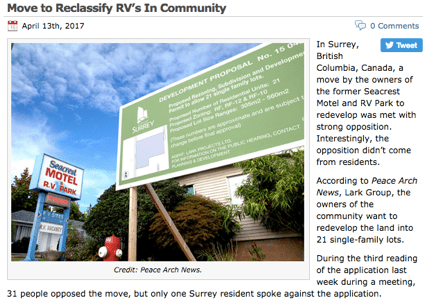 Move to Reclassify RV's In Community
Manufactured Homes Knock Tiny Homes Down to Size
Wednesday April 12th, 2017
NIMBY in Action – Commission Delays Zoning Ordinance
Tricon Spikes, Manufactured Housing CV, Broader Markets Slide
Ex-Amazon Leader Sees Future In Modular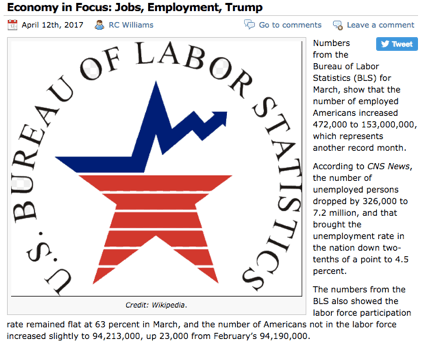 Economy in Focus: Jobs, Employment, Trump
Factory Goes Modular – Plans Thousands of Homes
Tuesday April 11th, 2017
An Interesting Gaggle – Animals and Manufactured Home Communities
UFPI Bounces, Manufactured Housing CV Leaps, Broader Markets Down Slightly
Homebuyer Confidence – March Report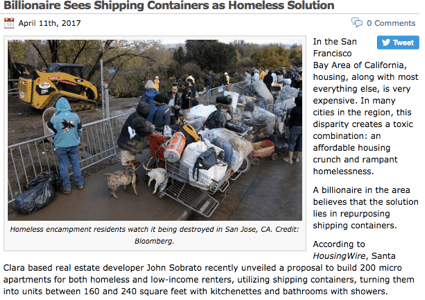 Billionaire Sees Shipping Containers as Homeless Solution
Zillow Group Study Reveals Trillions in Manufactured Housing Industry Opportunities
The Promise of Housing – Manufactured Homes Take Center Stage
Monday April 10th, 2017
Skyline Soars, Manufactured Housing CV Dips, Broader Markets Gain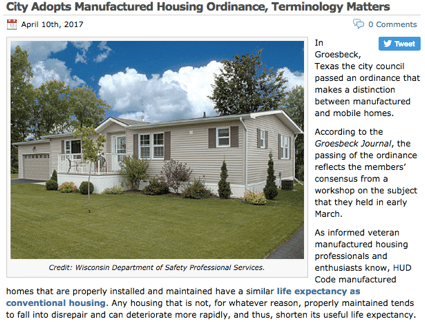 City Adopts Manufactured Housing Ordinance, Terminology Matters
Affordable Housing – In the Eye of the Beholder?
Tackling the Housing Crisis Down Under With Prefab
Sunday April 9th, 2017
Town Amends Manufactured Home Ordinance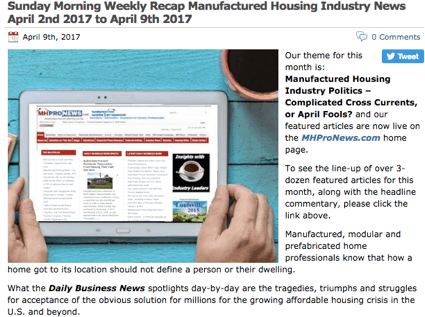 Sunday Morning Weekly Recap Manufactured Housing Industry News April 2nd 2017 to April 9th 2017
(Image credits are as shown above.)

Submitted by RC Williams to the Daily Business News for MHProNews.