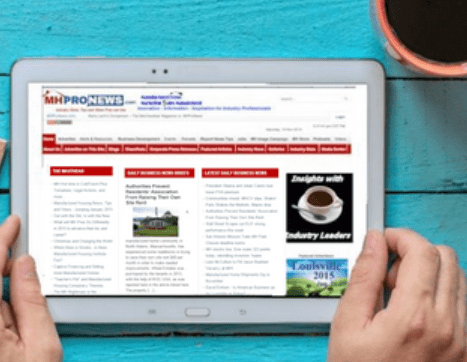 What's New in public focused Manufactured HomeLivingNews.com
What's New in Manufactured Housing Industry Professional News
HUD Code Production Continues Rising. RV/MH Hall of Fame Inducts Class of 2015. Positive End of Quarter Financials for MH Related Firms. Matchneer Touts S. 682. San Jose Seeks to Protect LLCs. Sun Expands East while Aiming West. NY to Replace Old MH. Much more news and views to peruse………..
Saturday, Aug. 8
San Jose, California Seeks to Forestall Conversion of Land Lease Communities
Friday, Aug. 7
Monitors Measure Energy Use in Energy Efficient Modular Home
Program in Second Year to Replace and/or Repair Manufactured Homes
MHCV Gains, Dow Slips, Unemployment Rate Steady
Former Head of Manufactured Housing at HUD Urges Passage of S. 682
UMH Releases Q2 2015 Financials
Aging Population with Insufficient Retirement Funds Leads to Manufactured Home Community
Thursday, Aug. 6
Zoning Change Could Usher in Possible Manufactured Homes
MHCV Slips, Dow Drops 120 points, Skyline Biggest Gainer of Tracked Stocks
Cavco Industries Reports Financials for First Fiscal Quarter of 2016
Planned Australian Manufactured Home Community Denied
Modular Slowly Making Inroads in Australia's Residential Projects
Wednesday, Aug. 5
Sun Communities Corrals Eastern Wild West Show and Campground
Most Stocks Flat, but Patrick Gains +2.92%, Skyline Drops 3.67%
More Insider Trading at Patrick Industries
HUD Code Production Continues Rising
RV/MH Hall of Fame Honors Class of 2015
Manufactured Home Builder Oakwood Sells former HQ
Tuesday, Aug. 4
Manufactured Home Community Closing, Set to be Sold
Louisiana Pacific Gains Most in Two Consecutive Trading Days
Drew Sales Gained in Q2 2015 over Same Period 2014
Nigeria Using Modular Methods to Construct Inexpensive Housing
Modular Container Home built Inexpensively
Monday, Aug. 3
Virginia Manufactured Home Shipments similar to 2014
Deer Valley Plummets; MHCV Slips to 974.2
Manufactured Home Numbers Remain Stable in North Carolina County
Florida Realtor expects Baby Boomers will Drive Manufactured Home Sales
House Measure would Replace older Manufactured Homes with New Ones
(Photo credit: MHProNews)

Article submitted by Matthew J. Silver to Daily Business News-MHProNews.