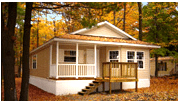 Manufactured home community (MHC) operator UMH Properties, Inc. (NYSE:UMH), in posting its 2nd quarter financial results for 2015, reported $0.12 earnings per share, missing analysts consensus estimate of $0.16 by $0.04, according to prnewswire.
Net operating income from community rose 18 percent to $8.8 million for Q2 2015 as compared to $7.4 million for the same period in 2014. Same property occupancy rose over the last year from 82.5 percent to 83.4 percent, and same property revenue increased 8.2 percent. Samuel A. Landy, President and CEO, said he expects to add 700 rental units this year.
UMH acquired three Pennsylvania MHCs during the quarter, adding 480 developed homesites for $8.8 million, and Mr. Landy said the company has a definitive agreement to acquire six more MHCs with 2,200 developed homesites for $68.6 million. He expects this purchase to close during the second half of 2015.
UMH has a 50-day moving average price of $9.78, with a market cap of $243.46 million. The company has registered a 52-week low of $9.01 and a 52-week high of $10.64. The stock closed up +0.53 percent at $9.54 in trading Thursday, Aug. 6.
A quarterly dividend of $0.18 per share will be issued on Tue., Sept 15 to shareholders of record on Mon., Aug. 17, representing an annual dividend of $0.72 with a yield of 7.55 percent.
A real estate investment trust (REIT), UMH owns and operates 92 MHCs comprised of 15,700 home sites in seven states. MHProNews knows that in addition to leasing homes, UMH also sells homes to residents through its wholly-owned subsidiary, UMH Sales and Finance, Inc. The company also owns a portfolio of REIT securities. ##
(Photo credit: UMH Properties, Inc.)

Article submitted by Matthew J. Silver to Daily Business News-MHProNews.