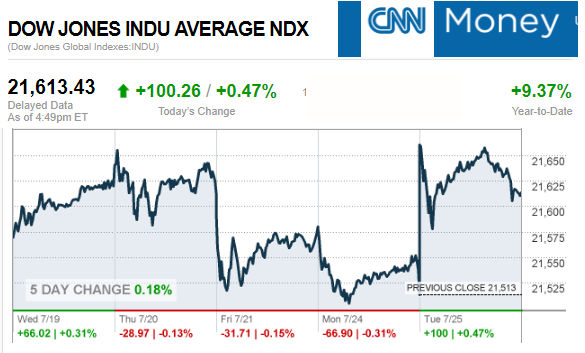 If you're hooked our on new spotlight market feature – or are ready to get the fever – our headline report is further below.
The evolving Daily Business News market report sets the industry's stocks in the broader context of the overall market stocks.
By spotlighting the headlines – from both sides of the left-right media divide – this report also helps readers see what are the trends and topics that may be moving the investors that move the markets.
Readers say this is also a quick review tool that saves researchers time in getting a view of the manufactured housing industry, through the lens of publicly traded stocks.
MH "Industry News, Tips and Views, Pros Can Use." ©
Selected headlines and bullets from CNN Money:
Scaramucci begins White House press shake-up
Senate advances health care bill, Pence breaks tie
Pro-Trump media upset by treatment of Sessions
Why riding a bike to school is often illegal
McDonald's comeback kicks into high gear
Congress invite tech CEOs to testify on net neutrality
Musk: Zuckerberg's understanding of AI 'limited'
India's transport chief: Driverless cars will kill jobs
10 ridiculously easy ways to save $300 a month
So long, Flash: Adobe will kill plug-in by 2020
Selected headlines and bullets from Fox Business:
Senate's critical health care vote: What happens next
Health care negotiations: VP Pence cites 'challenges' in passing Cruz-Lee amendment
Top ObamaCare insurer issues warning about marketplace instability
Oil rallies 3% as U.S. shale shows signs of slowdown
McDonald's, Caterpillar lift Dow, S&P climbs to record high
Traces of Monsanto's Roundup found in Ben & Jerry's ice cream
Cash strapped cities, states should go bankrupt and start over: Grover Norquist
States battle for Foxconn plant: Winner could be named this week
Elon Musk rips Mark Zuckerberg, says Facebook founder naive about killer robots
Chipotle's sales, profit rise amid recovery efforts
Trump says Yellen and Cohn in running for next term as Fed chair
Barnes & Noble shares surge as activist investor urges company sale
Ex-Cowboys WR Lucky Whitehead falsely identified as shoplifting suspect: Police
ICYMI – for those not familiar with the "Full Measure," 'left-right' media chart, please click here.   
Today's markets and stocks, at the closing bell…
S&P 500 2,477.13 +7.22 (+0.29%)
Dow 30 21,613.43 +100.26 (+0.47%)
Nasdaq 6,412.17 +1.37 (+0.02%)
Crude Oil 48.45 +2.11 (+4.55%)
Gold 1,250.30 -4.00 (-0.32%)
Silver 16.49 +0.04 (+0.26%)
EUR/USD 1.1645 +0.0009 (+0.08%)
10-Yr Bond 2.33 +0.07 (+3.19%)
Russell 2000 1,450.39 +12.33 (+0.86%)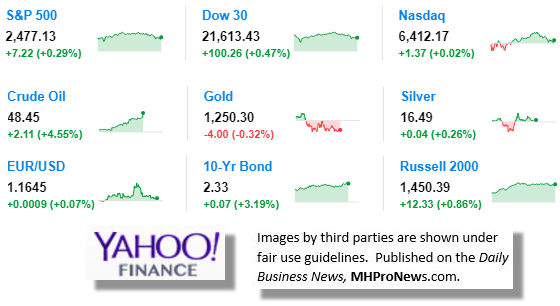 Manufactured Housing Composite Value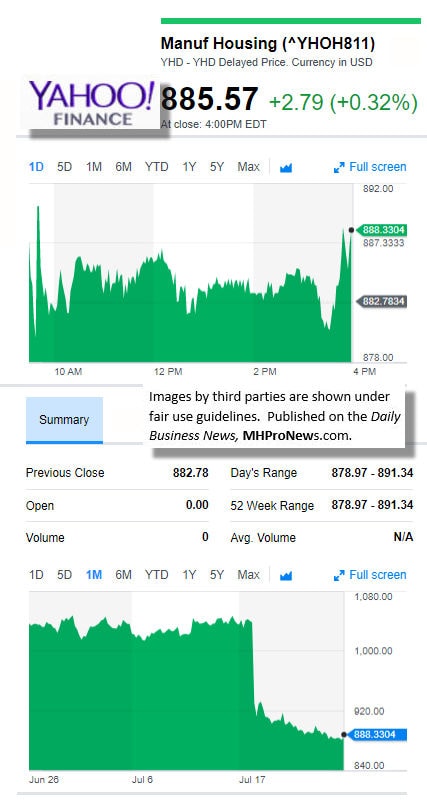 Today's Big Movers
SKY and UFPI led the gainers.
UMH and BAM led decliners.
For all the scores and highlights on tracked stocks today, see the Bloomberg graphic, posted below.
Today's MH Market Spotlight Report – Skyline Corp (SKY) 
As industry professionals and long-time readers of the Daily Business News know, Skyline Corp is one of the industry's oldest builders of factory-crafted homes. Their management candidly admits that there have been bumps in the road to their turn-around efforts.
The drama around SKY makes it one of the most closely watched stocks – and companies – in the industry.
A snapshot of some of today's reports on the heavy trading volume that moved Skyline back up by over 10 percent follows.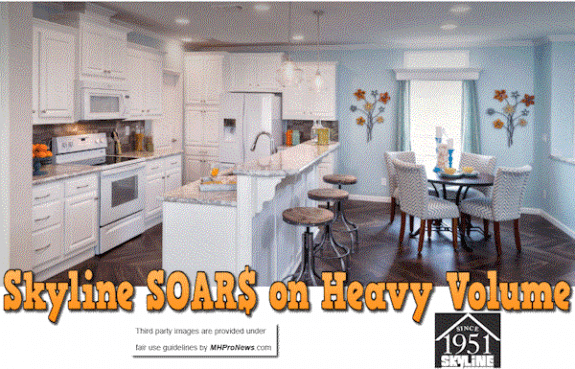 Per the San Times…
Gendell Jeffrey L increased its stake in Skyline Corp (SKY) by 4.35% based on its latest 2016Q4 regulatory filing with the SEC.
Gendell Jeffrey L bought 34,007 shares as the company's stock declined 50.77% while stock markets rallied.
The institutional investor held 816,250 shares of the homebuilding company at the end of 2016Q4, valued at $12.60M, up from 782,243 at the end of the previous reported quarter.
Gendell Jeffrey L who had been investing in Skyline Corp for a number of months, seems to be bullish on the $47.34 million market cap company.
The stock rose 1.40% or $0.08 reaching $5.8 per share. About 8,991 shares traded. Skyline Corporation (NYSEMKT:SKY) has declined 38.06% since July 25, 2016 and is downtrending. It has underperformed by 54.76% the S&P500.
Per the Weekly Hub…

What's Next for Skyline Corporation (SKY) After Today's Huge Increase?
July 25, 2017 – By Michael Collier
The stock of Skyline Corporation (NYSEMKT:SKY) is a huge mover today! About 131,148 shares traded or 151.28% up from the average. Skyline Corporation (NYSEMKT:SKY) has declined 38.06% since July 25, 2016 and is downtrending. It has underperformed by 54.76% the S&P500.
The move comes after 9 months positive chart setup for the $54.61M company. It was reported on Jul, 25 by Barchart.com. We have $6.89 PT which if reached, will make NYSEMKT:SKY worth $1.64 million more.


Investors sentiment decreased to 1.6 in 2016 Q4. Its down 0.57, from 2.17 in 2016Q3. It fall, as 4 investors sold Skyline Corporation shares while 6 reduced holdings. 7 funds opened positions while 9 raised stakes. 4.85 million shares or 7.22% more from 4.53 million shares in 2016Q3 were reported.
Deutsche Retail Bank Ag reported 59,978 shares.
Northern Tru invested in 0% or 19,633 shares.
Wells Fargo & Mn reported 0.01% stake.
Investec Asset Mgmt Limited holds 0.01% of its portfolio in Skyline Corporation (NYSEMKT:SKY) for 144,620 shares. 189,730 are owned by Blackrock Institutional Company Na.
Gsa Prtnrs Llp has 0.03% invested in Skyline Corporation (NYSEMKT:SKY).
Blackrock Management Ltd Liability Com holds 0% or 1,210 shares in its portfolio.
Nationwide Fund Advsrs, Pennsylvania-based fund reported 1,050 shares.
Tower Rech Cap Ltd Llc (Trc) holds 0% in Skyline Corporation (NYSEMKT:SKY) or 249 shares.
Savings Bank Of Montreal Can owns 8,558 shares or 0% of their US portfolio.
Robotti Robert owns 76,278 shares.
Blackrock Fund has invested 0% in Skyline Corporation (NYSEMKT:SKY).
Royal Financial Bank Of Canada, a Ontario – Canada-based fund reported 66,421 shares.
Price T Rowe Associates Inc Md holds 10,063 shares or 0% of its portfolio.
Bridgeway Mgmt Inc owns 20,100 shares.

Since February 6, 2017, it had 1 insider purchase, and 0 selling transactions for $10,910 activity. ROSENTHAL JOHN W bought $10,910 worth of stock or 1,000 shares.

More important recent Skyline Corporation (NYSEMKT:SKY) news were published by:
Prnewswire.com which released: "Skyline Corporation Names Jeff Newport Chief Operating Officer" on March 01, 2017, also
Star-Telegram.com published article titled: "Skyline closing Mansfield manufactured-housing plant",
Streetinsider.com published: "Form 8-K SKYLINE CORP For: Jul 13" on July 18, 2017.
More interesting news about Skyline Corporation (NYSEMKT:SKY) was released by: Prnewswire.com and their article: "Skyline Corporation Announces Director Retirements" with publication date: June 14, 2017.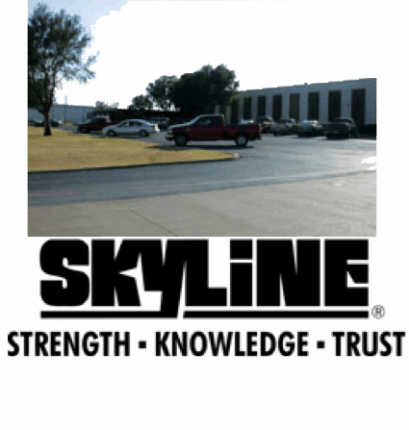 Skyline Corporation designs, produces and markets manufactured housing, modular housing and park models to independent dealers and manufactured housing communities located throughout the United States and Canada. The company has market cap of $54.61 million. As of May 31, 2016, the Company sold 3,217 manufactured homes, 360 modular homes and 337 park models. It currently has negative earnings. The Company's housing products are marketed under a number of trademarks.
See Recent Exclusive 1 Year Snapshot of All Tracked Stocks
http://www.MHProNews.com/blogs/daily-business-news/manufactured-housing-industry-markets-wall-street-reacts-to-trumponomics-1-year-data-snapshot/
NOTE: the chart below covers a number of stocks NOT reflected in the Yahoo MHCV, shown above.
NOTE: Drew changed its name and trading symbol at the end of 2016 to Lippert (LCII).
Manufactured Home Industry Connected Stock Markets Data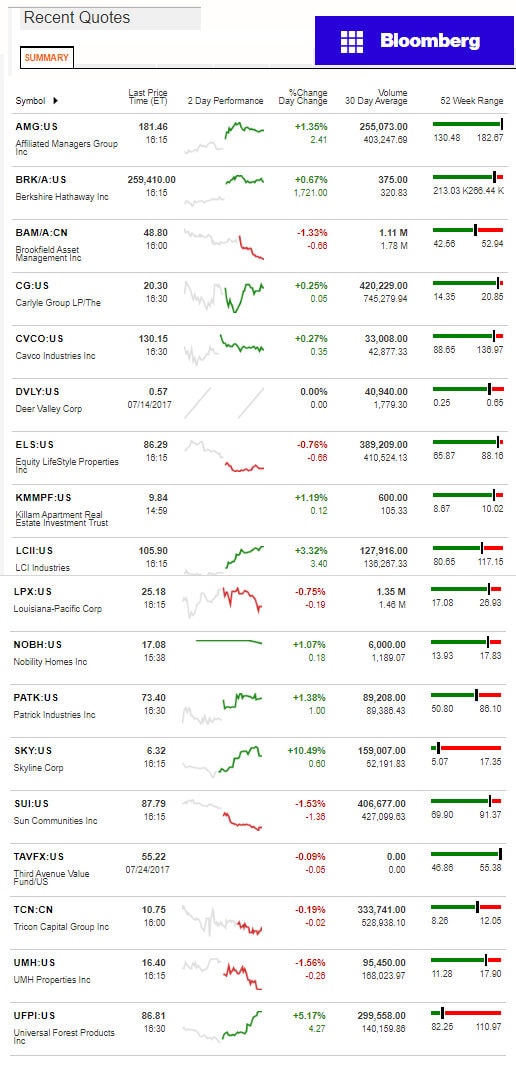 Berkshire Hathaway is the parent company to Clayton Homes, 21st Mortgage, Vanderbilt Mortgage and other factory built housing industry suppliers. LCI Industries, Patrick, UFPI and LP all supply manufactured housing, while AMG, CG and TAVFX have investments in manufactured housing related businesses.
You will find only the very best manufactured home industry coverage, every business day. We're not perfect, but we are by far the best. No one else in covering our industry even comes close. Which is why you and thousands of others join us here, daily.  Thank you for that vote of confidence.
"We Provide, You Decide." © ##
(Image credits are as shown above, and when provided by third parties, are shared under fair use guidelines.)

Submitted by Soheyla Kovach to the Daily Business News for MHProNews.com.