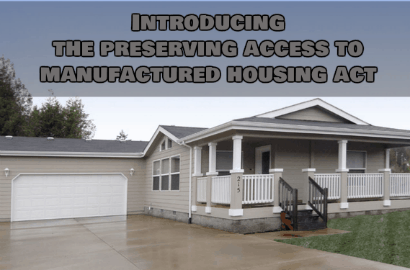 "The CFPB is "protecting" people right out of affordable manufactured homeownership. Congress should fight to give families opportunities – not take them away," said Representative Andy Barr (R-KY) when a group of bipartisan representatives introduced the Preserving Access to Manufactured Housing Act back in March, per Global Newswire.
There is widespread industry agreement on Barr's statements.
More recently, a group of bipartisan U.S. Senators have also introduced a bill entitled the Preserving Access to Manufactured Housing Act, the Manufactured Housing Institute (MHI) sponsored bill, per Financial Regulation News.
Sponsors of the Senate bill include Senators Joe Donnelly (D-IN), Pat Toomey (R-PA), Tom Cotton (R-AR), Joe Manchin (D-WV), and Gary Peters (D-MI).

The Preserving Access to Manufactured Housing Act aims to address guidelines that were introduced in January 2014 by the Consumer Financial Protection Bureau (CFPB) that restricts approvals of so-called high-cost mortgages under the Home Ownership and Equality Protection Act.  It also addresses issues with the so-called MLO rule.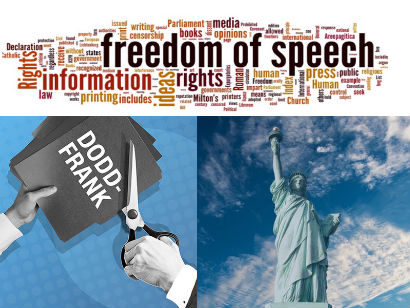 There is widespread agreement by manufactured housing professionals and associations that the goals of Preserving Access are good ones.
The problem?
Third-party experts state that the odds are only 6 percent for the passage of the bill (see screen capture, below).  After MHProNews broke that reality check to the industry, the MHI DC 'Fly-In' resulted in one of the lowest attendance by members…ever.  Sources say that MHI's cosponsor efforts are lagging behind that of the previous Congress.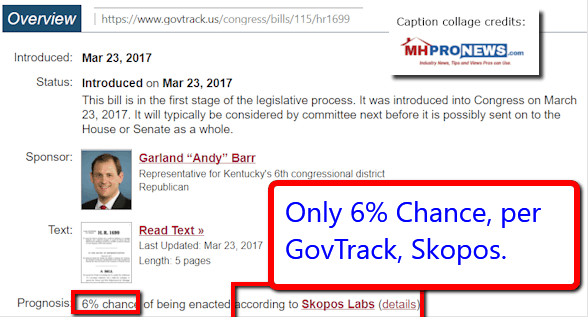 The Daily Business News has been documenting the reality of the bill, vs. the hype being promoted by those who count the number of emails going to members of Congress.
At each stage, MHI has been given – and failed – to respond to the concerns about the bill's realities, including the 5 years of previously failed attempts to pass the predecessors to this current bill.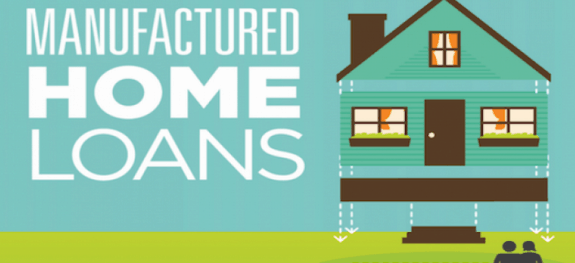 MHProNews has also spotlighted the anti-Preserving Access forces, including by Prosperity Now (formerly known as CFED).
"For many Americans, manufactured homes are the most affordable form of housing available. This bill would help prevent federal regulations from getting in the way of financing for families that need it. I am grateful a bipartisan group of colleagues joined me in introducing legislation to keep manufactured housing obtainable for working class families," Donnelly said.
The Preserving Access to Manufactured Housing Act addresses one of the biggest issues surrounding manufactured housing finances – Dodd-Frank – which creates problems for borrowers with less-than-perfect credit who seek to become homeowners.
Low-cost manufactured housing presents a unique opportunity for prospective homeowners, but the lack of financing options post-Dodd-Frank has pushed even this further out reach. People who feel they no longer have an option for homeownership will continue to rent because of this.
In a time when rents are increasing far faster than wages, this is a less than ideal situation.
The Daily Business New also recently reported that according to HUD, that over 8 million renters are considered "worst case" renters – who could be a single emergency expense away from losing the roof over their heads.
"Congress needs to understand how important access to credit is for working families, veterans, retirees, and those living in rural America. The negative impact these federal rules are having on their ability to become homeowners can be corrected with this bill," per Financial Regulatory News.
While Dodd-Frank and the CFPB were intended to help protect consumers from high-cost mortgages and loan products, it has instead made it harder for deserving people to obtain financing for affordable manufactured housing.
Even when they may have qualified with the right lender, people searching for financing for a manufactured home are often denied.
The reason?
Because industry professionals are banned from talking to consumers about their financing options unless they have a loan originators license. Isn't this an infringement on our First Amendment rights to free speech?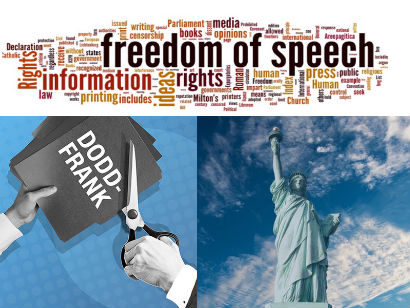 A pro-Preserving Access, an MHI connected source tells MHProNews this past week that they don't believe that the association's leadership actually believes they will pass the bill.  Is it time to take an entirely different strategy?
"Unfortunately, financing for the product has been jeopardized by one-size-fits-all regulations that fail to recognize the unique nature of manufactured housing loans," Toomey said.
What Toomey and Others Aren't Saying
The problem, which Toomey doesn't address, is the one noted above.  Namely, that the solution proposed by MHI has only a 6% chance of passage.
Meanwhile, MHI failed to join the PHH vs. CFPB case – or missed taking more certain options – that could have changed the currently problematic state of the Dodd-Frank Act. ## (News, Analysis.)
(Image credits are as shown above, and when provided by third parties, are shared under fair use guidelines.)
Submitted by Julia Granowicz to Daily Business News for MHProNews.