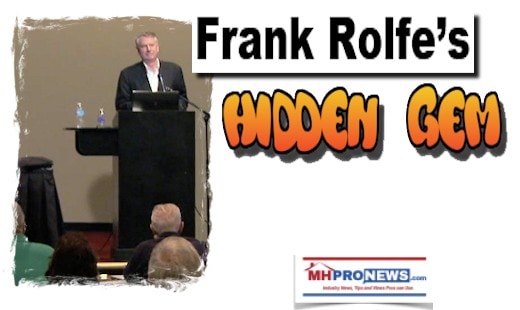 Before diving into RVHorizon's/MHP Funds leader Frank Rolfe's hidden gem, an acknowledgement ought to be paid to his partner Dave Reynolds, and others in their rising enterprise. No one person in an operation of that size does it all solo.
When we say Rolfe's "hidden gem," it's an insight that's been hiding in plain sight since the video below was first produced.
This preface is warranted. It's difficult to solve any problem(s) or challenge(s) that are not fully understood. Is that self-evident?
For example, even if a doctor has a guess as to a patient's condition, a good MD does tests before proposing a diagnosis.  Only after tests does the physician suggest possible treatments. Treatments ideally are evidence and fact-based. "Clinical." That's the scientific way, and it fits business too.
Thus, the same should be true for Manufactured Home (MH) professionals and investors facing an obvious but often overlooked or ignored challenge.
Frank Rolfe says several things in less than a minute in this video. We'll focus on only one. It's this. Most people have little or no clue as to what manufactured housing truly is.  Because so many in the news media doesn't get it about MH, neither does the public.
In front of dozens of pros, Darren Krolewski of MHVillage made a very similar statement in Tunica. Darren said that when talking to the general public, it takes them time to explain what a manufactured home is.
Both described a similar problem.
That's an important initial step. Namely, understanding a root issue.
But the solution?
Has the solution to this challenge been clearly proposed or articulated? If so, please show me. Because what we often see is a search for things like a higher volume of traffic. Traffic is important. But the reality is that often, the traffic level is fine; what's needed is a better method of converting the existing traffic you already have into more positive action-steps by possible buyers.
Modern Housing Options
The vast majority of adults in America know what an apartment, duplex, townhouse, rental, condo, or single family house is. People know what a tiny house is. Many if not most understand RVs.
By contrast, millions may know 'something' about manufactured housing. But what they think they know is often inaccurate. Others are ignorant, as Frank and Darren said. We know this from our own years of public engagement experiences.
That lack of knowledge or misunderstandings about manufactured homes (MH) are the opportunity in disguise for MH Industry professionals and investors. Learn the correct systems, apply them properly, and watch sales rapidly rise.
Candor and Compelling Facts over Fiction and Emotions
There's plenty of excuses, self-delusions, and false-beliefs floating around MHVille. That's not uncommon in America in general today.
But realities like those that Frank and Darren raised ought to be acknowledged. Then, the root cause(s) of those realities must be addressed. Only when that occurs can opportunities and profits be pursued and maximized.
This is one of the most fundamental challenges that individual MH locations must face. Because change occurs at the person and business level.
As the publisher of the industry's top two trade media, and as a multi-decade professional services provider, we've dealt with this at a pragmatic level for years. ManufacturedHomeLivingNews.com is a specific part of the solution.
That's a foundational start. But there's more needed to tie that specific foundation to individual businesses and locations.  Those that properly have, see positive results.
James McGee and Chet Murphree say something essential near the end of this video. They're spot on with their point. What comes before it is useful and interesting, but the punchline – the best – was saved for last in the video montage below.
How Serious Is the Challenge Frank and Darren Stated?
In our professional visits to communities and retail centers, often similar problems to what Frank and Darren pointed to are spotted. A property or sales center may be okay to wonderful, but still isn't performing as well as local market conditions suggest they should be.
Among the core problems at the location level? Low conversion ratios of lookers to buyers.
For some years, before we travel, before we've charged potential marketing and sales clients a dime, we ask very specific questions.
Among them, will you as a client be open minded about addressing challenges that are found? Will you take constructive advice in a positive way?
We're not in the hurt feelings business. Like an MD, we as publishers and as business growth service providers strive to deal in evidence-based realities.
Our goal is always to objectively identify the good, as well as what can or must be improved. Most successful locations are doing far more right than wrong. The good stuff remains unchanged. But when there's a big fall off rate between visits and sales, there's an obvious disconnect.
Most pros who hire a consultant or business development service provider get the reality that one must do something different, to achieve a different outcome.
That said, there are some who want a magic pill, a solution involving no practice changes. But isn't that self-contradictory? If there was no change needed, then there would be no challenge.  Nor would there be a wondrous disguised opportunity that to correctly addressed, can yielded positive change. We tell those prospective clients who want magic without a sincere willingness to make any needed changes, thanks but no thanks.
The Sheer Size of the Problem Points to Immense Opportunities
Data publicly self-reported from MHVillage is useful in making this point. I've know Darren for well over a dozen years. He's intelligent. Darren and his colleagues have a successful operation. So what follows shouldn't be taken as a slam or a critique. This is an going to be a fast-based, objective look at their self-stated data.  Because frankly, it's a common MH Industry issue. I applaud them for stating this in public and in writing.
The problem at retail centers (a.k.a. 'Dealerships') and communities is mirrored – not equal to, but suggested by – the MHVillage statistics.  Here are the impressive numbers on their website.  25 million unique visitors in a year, equaled about 80,000 sales.
MHVillage's own data set says they convert only about 1/3 of 1 percent of shoppers.
You read that correctly, that's .0032 percent (just a fraction less than a third of one percent) visits to purchases. Furthermore, their average sales price demonstrates – and Darren confirmed – that the vast majority of those purchases are used homes, not new ones.
While industry giant Clayton Homes doesn't publish their data, anecdotal statements from their team members to the Daily Business News, and some known data suggest their results are similar to MHVillage's, only they are more new home sales focused.
What do facts like the above mean to a business like yours?
I asked Darren, publicly on stage, and face-to-face afterwards with several standing nearby. He politely admitted, he doesn't know the answer.
Ok, let's lend him, and all others a hand. Here's the logic of it.
Millions of people are looking online for housing.
Some come in, and shop in person.
There's obviously two big fallouts or disconnects.
The first is drop-off is online, the next one is on site.
These bullets point to unsolved challenges, unresolved concerns, that the home shopping public has.  But when the home shopper's concerns are properly understood and dealt with, they are far more likely to buy.  That's why the data also points to huge opportunities. When there's an 8.3 million affordable housing unit shortage in the U.S., that's a wakeup call for our MH Industry and investors.
Just as consumers approach manufactured housing with some ignorance and skepticism, prospective business clients come to us with a similar, but different mix.  Some doubt they can sustainably grow sales at their business several hundred percent. But its true.  We don't reveal client data, unless we both mutually agree to do so.  Here is a link to a client interview that freely stated how rapidly they grew.
Once properly begun, clients see the sales totals rising, the logistics of growth is often the greatest challenge. But businesses have to make those initial steps to get started to realize that change is possible, and the logistics can also be navigated, in honest, ethical, sustainable ways.
Real Estate Conversions Compared to MH Conversions
Facts are facts.
I spoke recently with a marketer who does both real estate and manufactured home marketing. He candidly said that they have exactly that same experience. Namely, that far more convert – call or message, come in, and buy – in real estate than for manufactured homes.
Restated, a higher percentage of shoppers pull the trigger in real estate to buy conventional housing, than manufactured home pros routinely experience.
Frank Rolfe's Hidden Gem
Properly acting upon reality is a key part of the secret for increased, sustainable success.
So long as huge swaths of buyers in your market misunderstand or don't get it about manufactured homes, the conversion ratios will remain low.
The good news is that a professional or investor can deal with this locally.  You don't have to wait for anything magic to happen in Washington, Omaha, Arlington, or anywhere else.  You can make the difference in your market, by going to the root issues.
We'll dig into some of the solution for that in today's episode of the Monday Morning Manufactured Housing Sales Meeting.  That will be posted later this morning just below. ##  (Business development, related news, analysis and commentary.)
(Third party images are provided under fair use guidelines.)
Related Reports:
The Apprentice – Proper Understanding, Planning, and Execution – Monday Morning Manufactured Home Marketing and Sales Meeting
As a related thought, the reported reaction in Vegas to the Ducker Worldwide presentations suggests those backing that plan don't have a solution useful to the majority. See that in the link here.
To provide a News Tips and/or Commentary, click this link. Please note if comments are on-or-off the record, thank you.
Marketing, Web, Video, Consulting, Recruiting and Training Resources
By L.A. "Tony" Kovach – Masthead commentary, for MHProNews.com.
Tony is the multiple award-winning managing member of LifeStyle Factory Homes, LLC, the parent company to MHProNews, and MHLivingNews.com.
Office 863-213-4090 |Connect on LinkedIn:
http://www.linkedin.com/in/latonykovach
Click here to sign up in 5 seconds for the manufactured home industry's leading – and still growing – emailed headline news updates.