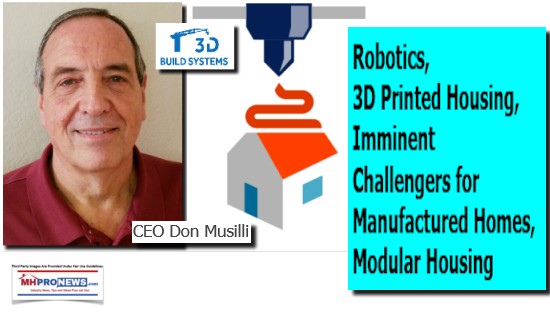 "A revolutionary idea in home building is taking place in" southwest Florida, per Sun Coast News. and other regional media.
"Once the foundation is poured the robot will print that structure in 18 to 24 hours," said CEO Don Musilli, to ABC 7.
Instead of a year to build a house conventionally, Musilli and 3D Build Systems COO Deborah Hegedus believe they can cut the total build time down to a single month.
"All the technology we're working with is all bottom up. This is not technology that your grandfather used, or your father used," Musilli told Sun Coast.
The 2 videos on this Daily Business News report bring out some similar, distinctive, and complementary facts.
3D Build Systems says they can build housing from 700 to about 2000 square feet in size.
This is similar, but on a larger scale, to the 3D printing that MHProNews previously reported is being deployed by an Austin, TX 3D builder.
3D Printed Home in Austin, TX Aims to Revolutionize Affordable Housing
What is often missing from reports on emerging technologies in construction are accurate estimates of pricing. Sun Coast reported an estimated price of $150,000. But what does that include? The article, and others, were silent on that point.
So MHProNews reached out to Musilli. In a series of emails, here's what he said.
"We are developing 3 typical home designs with pricing that will be put on our website within the next 20 to 30 days," Musilli told the Daily Business News via email.
As his message suggested, there is no firm price now, but it should be noted that such pricing is often missing from others doing 3D housing printing.  To his credit, Musilli, is the first to directly address such specific questions.
"We have been developing these prices and want to be fairly sure that what we present is accurate. For approximation we believe we can complete one of our homes in 1200 to 1400 sq. ft. range for around $150K," per Musilli message.
That reply was to the MHProNews' querry requesting a turn key, move-in ready price.
"Again, we will have more data shortly," he said.
Comparisons to Conventional Housing
In the Sarasota market, starter, new conventional housing ranges from $100.50 – $149.22 per square foot, according to Home Builders Pro Matcher.
So, doing the math provided by Musilli, a 1,300 square foot home for $150,000 turn-key would be $115.39 per square foot.
If they hit that target figure, that would make these 3D printed houses very competitive to mainstream site-built housing.  That said, in some ways, it could be superior, if the homes are indeed able to handle 220 mile-per-hour winds, and an 8.0 rated earthquake.
It would be surprising if they could do a turn-key finish of their models in 30 days, but even if it was completed in 60 days, it would be far faster than conventional housing.
That could be a tough competitor, perhaps even a body-blow to modular builders, if the pricing holds and as 3D housing catches on.
It could also put a pinch on some higher end HUD Code manufactured home builders too.  Manufactured housing would still be significantly less in price.
But as robotics ramps up, don't be surprised if the pricing drops.  Note too that the new tax law, per sources, could spur robotics sales. See the infographic below.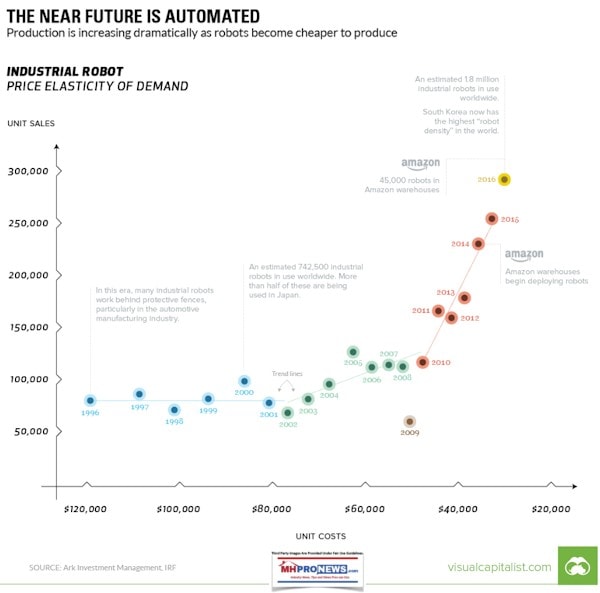 The Wrap
The bottom line is that this is a big threat to site builders, but it is also a looming challenge to higher cost factory builders.
Nevertheless, the Google search below is accurate, then the Manufactured Housing Institute (MHI) has been mute on this topic.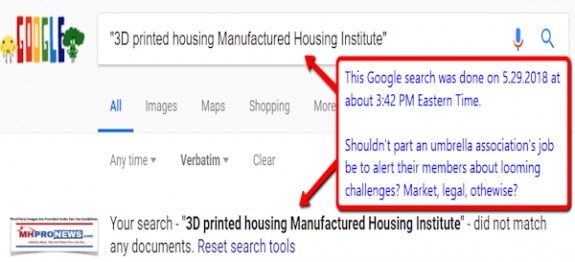 By contrast, the Modular Building Institute (MBI) has, per the search shown, has to some degree addressed this issue.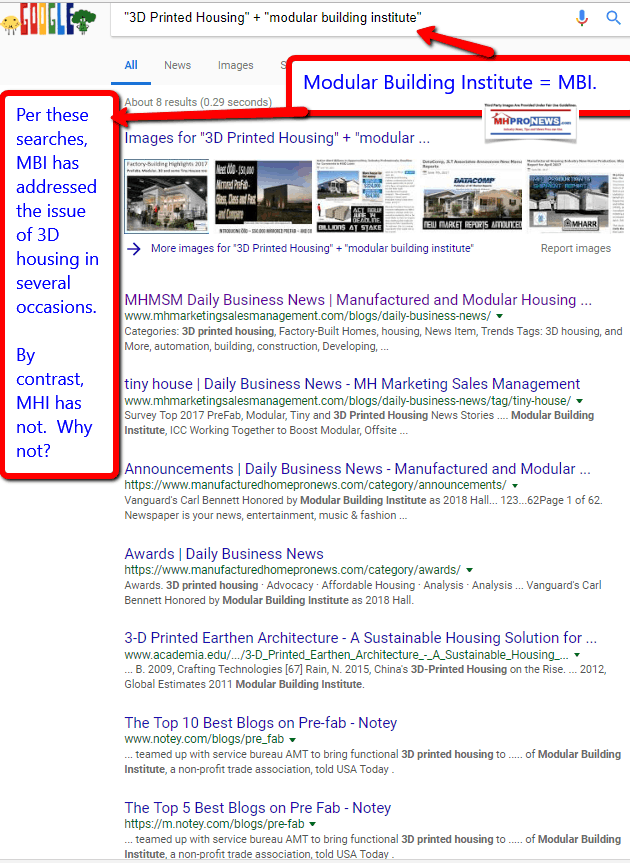 MHProNews has been tracking and reporting on the emerging 3D printed housing tech for several years.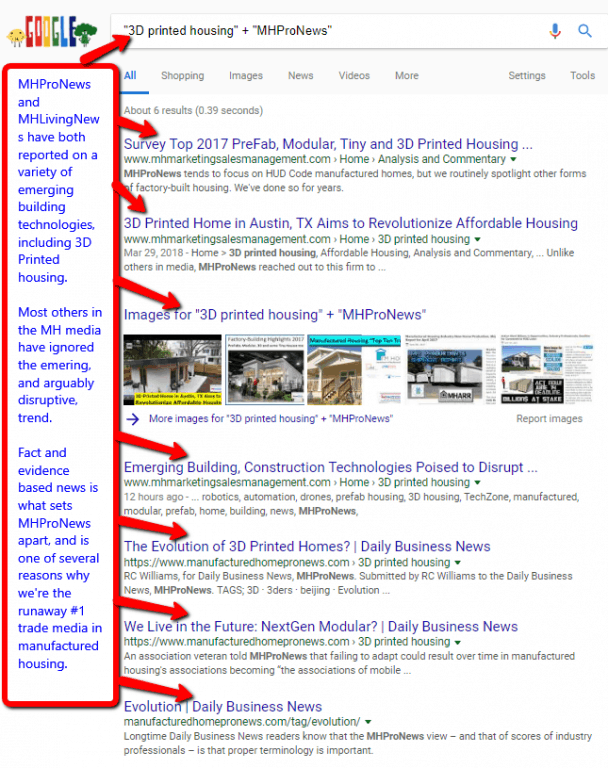 The bottom line is that industry professionals should be mindful of these developments, and should develop responses to the challenge.
The alternative of inaction from could be problematic for hundreds of business in MHVille in a fairly short period of time. ## (News, analysis, and expert commentary.)
(Third party images, and cites are provided under fair use guidelines.)
Related Reports:
Emerging Building, Construction Technologies Poised to Disrupt Housing, Developing, and More
Survey Top 2017 PreFab, Modular, Tiny and 3D Printed Housing News Stories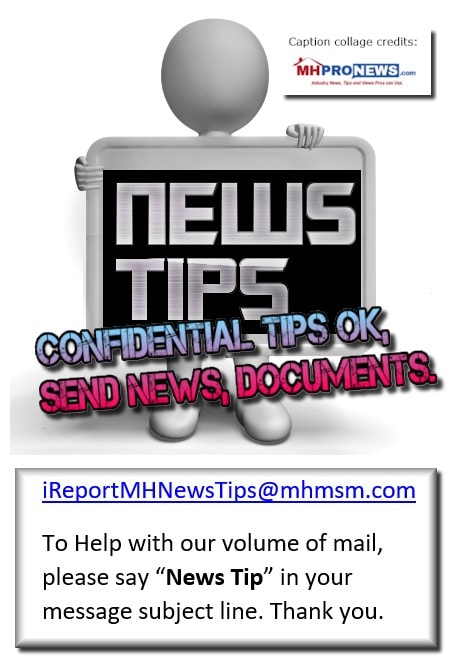 1) To sign up in seconds for our MH Industry leading emailed news updates, click here.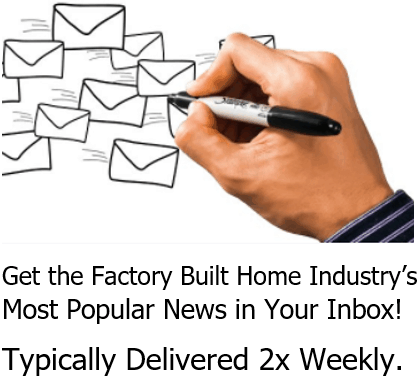 2) To provide a News Tips and/or Commentary, click the link to the left. Please note if comments are on-or-off the record, thank you.
3) Marketing, Web, Video, Consulting, Recruiting and Training Resources

Submitted by Soheyla Kovach to the Daily Business News for MHProNews.com.
Soheyla is a managing member of LifeStyle Factory Homes, LLC, the parent company to MHProNews, and MHLivingNews.com.