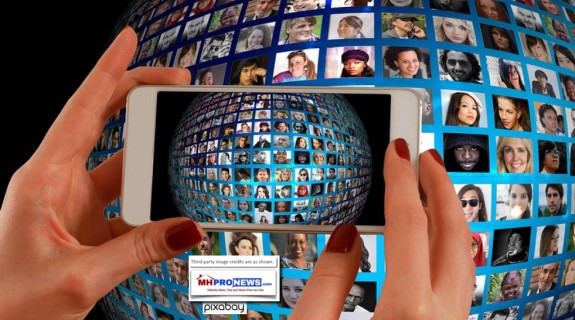 State associations, in places such as Ohio or Florida, have demonstrated their ability to work with resident/homeowner groups on a variety of issues.
For example, Tim Williams and Andrea Reichman with the Ohio Manufactured Home Association collaborated with resident groups in their recent battle to save their state regulatory structure, as was extensively reported on the Daily Business News.
So, the notion that resident/homeowner groups are always in opposition to business interests in manufactured housing would be an inaccurate one.
At the same time, in places such as California, industry professionals witness a routine push by some resident organizations for rent control. MHProNews covered the fight over Measure V extensively.
Commentary on rent control via Industry Voices last year by:
and others who've provided expert commentary demonstrated a point made on MHProNews years earlier.
That Vexing, Controversial Rent Control Issue – The Point? 
Rent control fails everyone; residents, industry professionals, policy advocates, and those public officials who say they want to preserve affordable housing.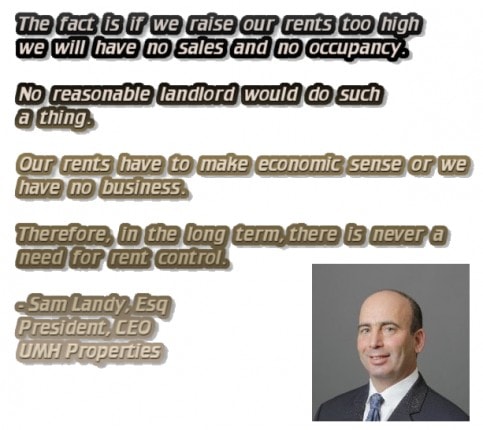 In fact, as the Canadian and other examples reported for years by MHProNews years before reflected, rent control results in a dramatic drop in new development, and has other negative impacts for consumers and professionals alike.
That makes Bradley's point, that there must be a better way.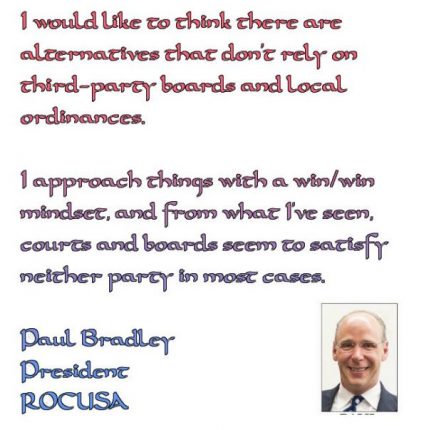 Ross Kinzler said in his commentary on Congressman Keith Elision's bill which would impact manufactured home communities, that state and local policies are often harming affordable housing, rather than helping it.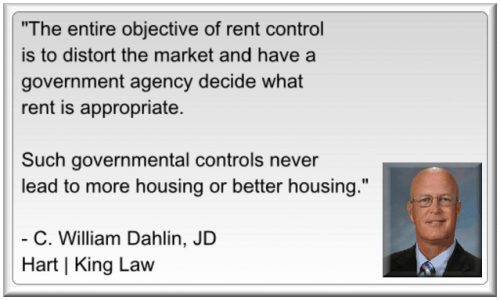 Ishbel Dickens, NMHOA and Industry Issues – Like Rent Control
In spite of the track record of rent control failures in the U.S. and Canada, Ishbel Dickens – former executive director of the NMHOA – has not yet lived up to the challenge issued by MHProNews publisher and industry consultant, L. A. "Tony" Kovach to discuss/debate the issues that face the MH Industry.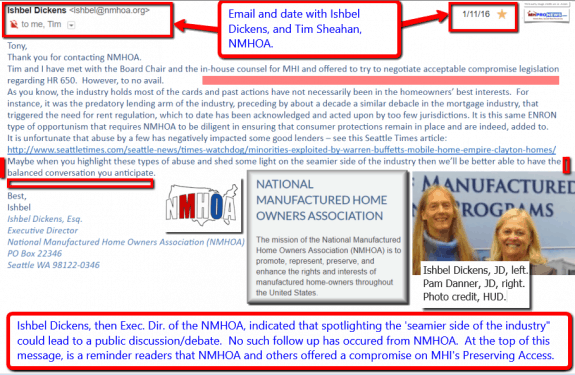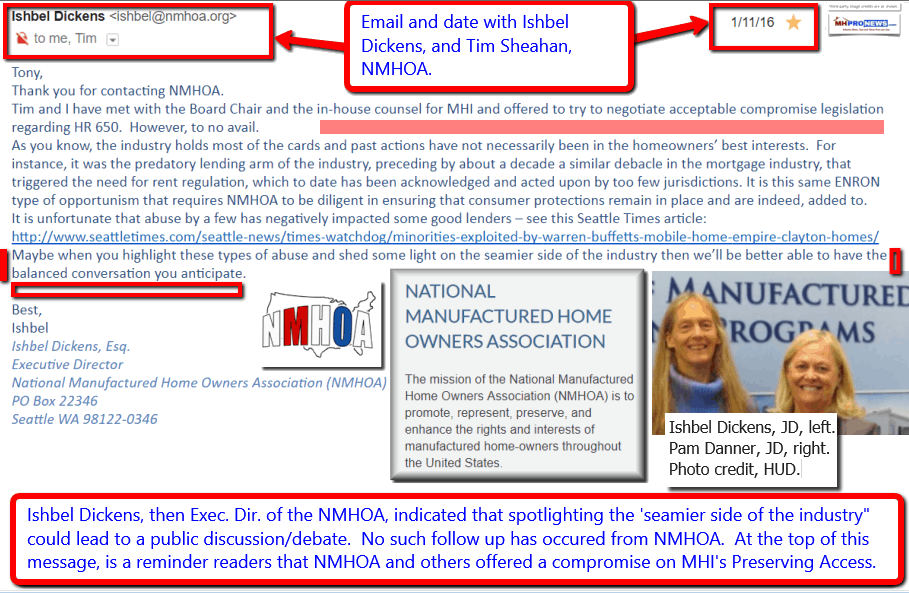 Home owners and professionals in most ways should share a common set of goals.
Quality affordable home ownership is what attracts and retains millions of manufactured home owners, which MHLivingNews, federal HUD Data, and third-party consumer satisfaction research has revealed are routinely proud to call their homes their own.

Dickens, as was previously reported and is reflected in the email/collage shown, suggested in writing that such a public discussion could take place, if the "seamier side" of the industry was reported (see screen capture of her email, above).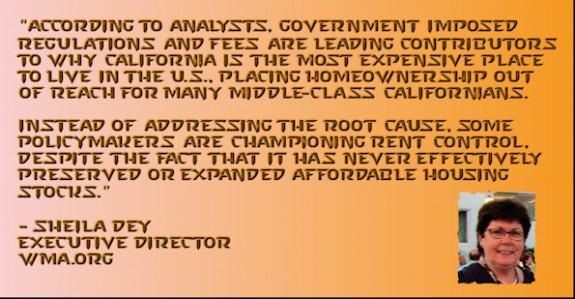 Such reports have been done for years by the Daily Business News, including the very issue that Dicken's referenced, which few if any other's MH Industry's publishing have covered at all, much less as robustly.
So that assurance by Dickens to engage on behalf of her members has yet to be fulfilled by the NMHOA.
A similar point could be made about left-of-center, MHAction.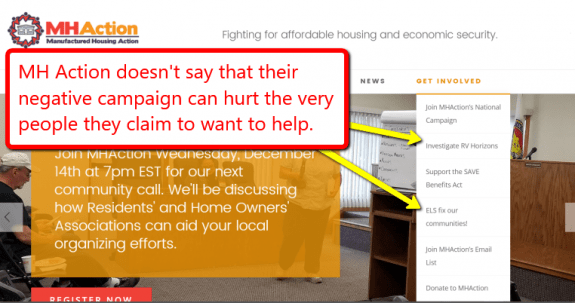 PBS and Carla Burr
An invitation to publicly discuss via a video recorded live event has been made to the resident group leaders, as well as to the representatives of the Manufactured Housing Institute (MHI).
Both those resident groups, and MHI have ducked that public video discussion/debate.
Why?
Editorially, L. A. "Tony" Kovach has argued privately and publicly with resident leaders of MHAction or NMHOA that some of their tactics and policy positions harm their own home owners, as well as the industry.
The objective research reflected by third parties would come to a similar conclusion; namely, that rent control doesn't work as claimed.
The reasons are simple.  Rent control violates the law of supply and demand, while it changes the risk-reward matrix for owners and investors.

John Jenkins, Hurricane Irma, Manufactured Home Owner,
Community Resident, Tells His Storm Survival Story
Similar violations of economic principles don't work for Republicans like President Richard Nixon's wage/price controls, nor for Democrats or any others.
Like gravity, those laws as applied to rent control can seemingly be suspended for a time, but only by expending energy/cost. During and after such artificial energy/cost, price controls reduce development, forcing some community owners to redevelop.
Yet that is the very thing that Ellison's and others claim to want to avoid.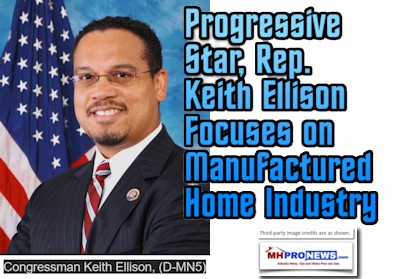 The Carla Burr PBS interview is an example of how a left of center mainstream media outlet tilted a report in a way that harmed the image of the entire industry. Using the principle of supply and demand, doesn't that in turn harm every manufactured home owner's value?
The Solution Is All American
Each of those linked industry professionals cited above provides keen insights into what seemingly is a complex issue.  The bottom line should be that residents and professionals work together, and seek understanding.
Paraphrasing Sam Landy, no savvy business owner wants to raise rents at a rate that creates stress for their residents.
American principles of free enterprise, properly applied, and earnest discussions between parties that seem to disagree, are the foundation for advancing the mutual interests of home owners, home seekers, public officials, industry professionals, current and potential investors.
Rent control, doesn't the evidence show that it has done far more harm, than the alleged good? "We Provide, You Decide." © ## (News, Analysis.)
(Image credits are as shown above, and when provided by third parties, are shared under fair use guidelines.)

Submitted by Soheyla Kovach to the Daily Business News for MHProNews.com.