"I actually don't think there was ever much high cost lending in the manufactured housing market."
— Richard Cordray, director, Consumer Financial Protection Bureau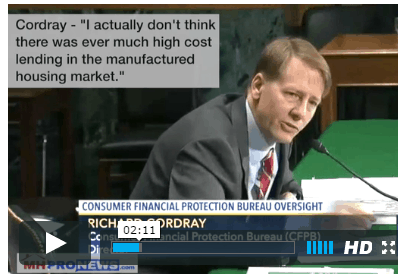 Mark Carter is a pastor of an independent church in the Ohio River Valley of Western Kentucky and a part-time school bus driver.
Susan Gaines is a second generation manufactured home retailer who has sold Carter two homes over the years, helping him secure financing for each of them.
But during an interview, Mark was stunned to learn that he'll be on his own the next time around, thanks to new federal regulations that prevent Susan or other retail sales professionals from offering the guidance she once gave all of her clients — many of them, first-time home buyers.
It is the same kind of assistance in finding suitable financing that real estate agents can still routinely provide to buyers of conventional site-built homes.
"I feel like part of my job is to educate the public. And they've kind of eliminated the area where I could sit down with the customer and explain debt-to-income ratio … where they have to be in order to buy a home," says Gaines, speaking about the impact of CFPB regulations on the professional services she's long provided her customers.
The Dodd-Frank rules, implemented in 2014 by the Consumer Financial Protection Bureau (CFPB), have already impacted thousands of consumers who want nothing more than to finance the purchase of a quality, affordable home.
Yet few buyers realize these CFPB rules exist, much less that they represent good intentions that have gone terribly awry in the name of consumer protection.
Sen. Joe Donnelly (D-Indiana) is aware not only of the harm Dodd-Frank has inflicted on individual buyers and sellers of manufactured homes, but the collateral damage inflicted on MH production, employment, community banks, national lenders and retailers. Federal rules also harm millions who have the lowest cost manufactured homes, because CFPB regulations have driven lenders out of the low-balance loan market.
Donnelly recently confronted Richard Cordray, head of the CFPB, about the impact of the Dodd-Frank rules, which Cordray's agency put into place.
"It's not fair … to think that the rest of the country is all Washington, D.C. townhouses that may sell for a million dollars," Donnelly said. Ordinary families also have a right to have a place to call home, he added.
Cordray bristled at that statement. "And, by the way, want to have a place to call home and not be gouged," he replied, despite having acknowledged just moments before that there "was not ever much high-cost lending in the manufactured housing market."
Donnelly held his ground. "In almost every case, I don't think my local community banker is out to gouge anybody," he said.
And so begins our snapshot of the wide-ranging impact of regulations that Barney Frank once stated in writing were never meant to apply to manufactured housing.
In this video, you'll hear from:
* Mark Carter, Pastor and manufactured home owner
"Who would have more expertise than someone who sells these homes every day?"
* Susan Gaines, a second-generation retailer
"I can't even figure out a payment for them to know where they're going to be in 20 years, 15 years, 30 years. They're doing a disservice to my customer."
* Don Glisson, Jr., an independent MH lender whose firm originates some $400 million a year in MH loans, that provide some 10,000 buyers a year with quality, affordable homes.
"If (a retailer's) not being compensated for the finance side, which he's not, why would he not help the customer find the best deal?"
* Doug Bell, senior VP of a local bank whose costs have increased and services have been slowed by the CFPB's rules.
"We've had to add additional compliance, additional training, additional staffing."
The solution a number of Republicans are calling for is to end the CFPB altogether.
A growing coalition of Democratic and Republican lawmakers wants to modify Dodd-Frank in ways that will end the harm caused by the current state of the CFPB's regulations.
Indeed, the House acted in the spring of 2015 by passing HR 650, and the bi-partisan Senate support for S 682 continues. But why should the people harmed by CFPB regulations have to wait?
Perhaps the most troubling part of this issue is that Cordray, himself, has the power to offer relief to the consumers who are paying the price of this misguided application of the legislation, which blocks their path to home ownership, or harms the resale and values of the lowest cost manufactured homes.
The CFPB's director has the legal authority under Dodd-Frank to make the needed changes. There is no need to wait for federal law to be changed by Congress.
Millions are being harmed, as Senator Donnelly points out.
With a growing affordable housing crisis in the U.S., and thousands of good, American jobs being thwarted by these regulations, what possible reason can Richard Cordray give to defend the harm he and his bureau's regulations are causing Americans?
That is a question Cordray never attempts to answer in his most recent appearance before a Senate committee. Nor did he or the CFPB respond to our requests for comments on the issue. Its one that consumers and advocates for quality affordable housing should be asking their elected and appointed officials themselves.
In a previous video report with Senator Bob Corker (R-TN), Cordray clearly indicated he understands the business math that causes low-balance home loans to have a somewhat higher interest rate, and he clearly stated that the Dodd-Frank law allowed for that practice as justified. See that video, linked here.
While Washington DC politics takes its slow course on enacting the Preserving Access to Manufactured Housing Act, HR 650/S 682, millions of manufactured home owners – and thousands of more would-be buyers monthly – are impacted by rules that Cordray himself said can be modified. How long must those who are being impacted wait? ##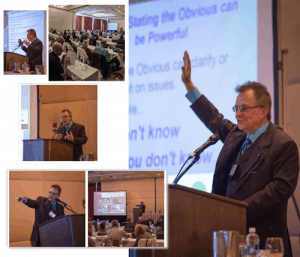 By L. A. "Tony" Kovach, 863-213-4090.
Connect on LinkedIn –
https://www.linkedin.com/in/latonykovach
Free Twice Weekly emailed news, tips updates (Newsletters look like this) sign up free in seconds at MHProNews.com/Subscribe