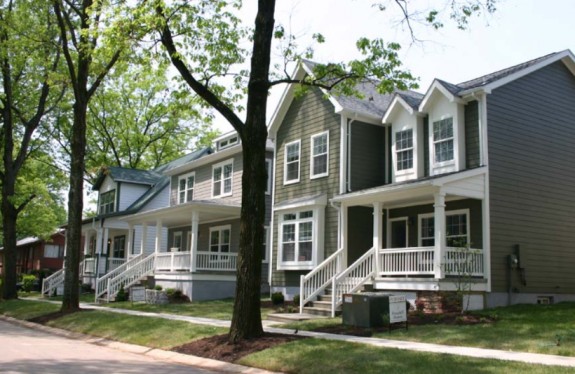 Near Houston, in a residential style neighborhood off Atascocita Road in Humble, TX is Classic Pine Estates.  It was a seen as a hot property when it was developed.
Among its bragging points?
A full two-story HUD Code manufactured home, reportedly built by Fleetwood Homes, circa 2002.  According to Zillow, it is 3 beds 2 baths, 2,112 sq ft and worth about $149,236.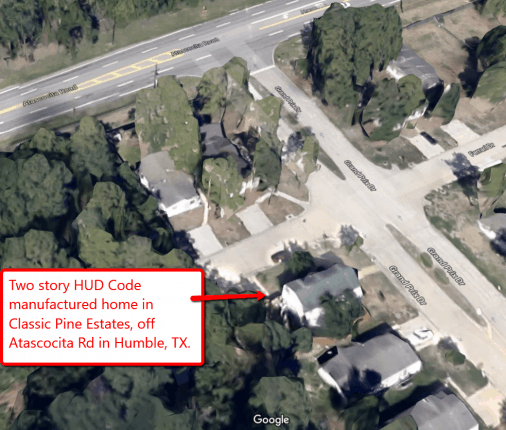 The home can be seen from the Google street view, and also from the Google Maps 3D view, off Grand Prix Drive, less than a city block off Atascocita Road, near the entrance to Classic Pine Estates.  While arguably not as stylish as the homes at the in Newport Beach or near Cincinnati as shown, it was an example of what could be done with HUD Code manufactured housing.  Note that the distortions in the photo below are from the Google street view imaging process, those windows would be level.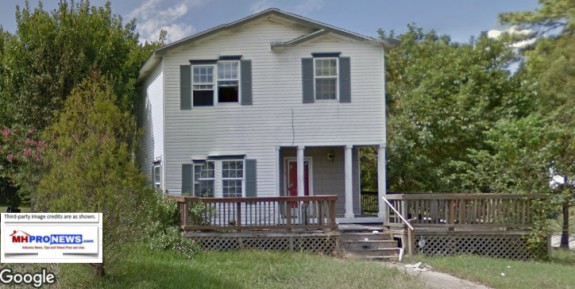 That two story home was reported installed on it's foundation system near the height of the boom, when about 250,000 manufactured homes were being produced a year, compared to less than 93,000 installed in 2017.  At the peak, over 372,000 new HUD Code homes were being built.
It's a reminder of the days when manufactured homes were literally reaching for the sky.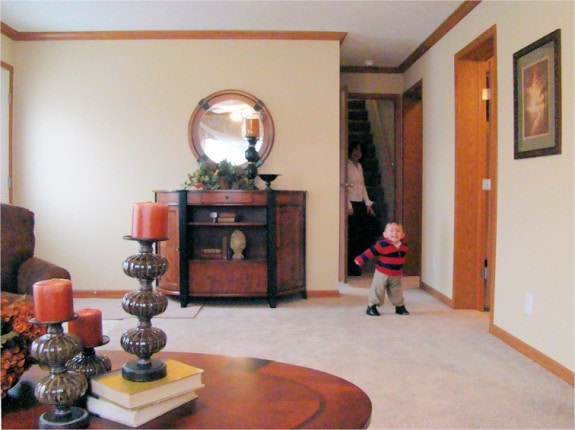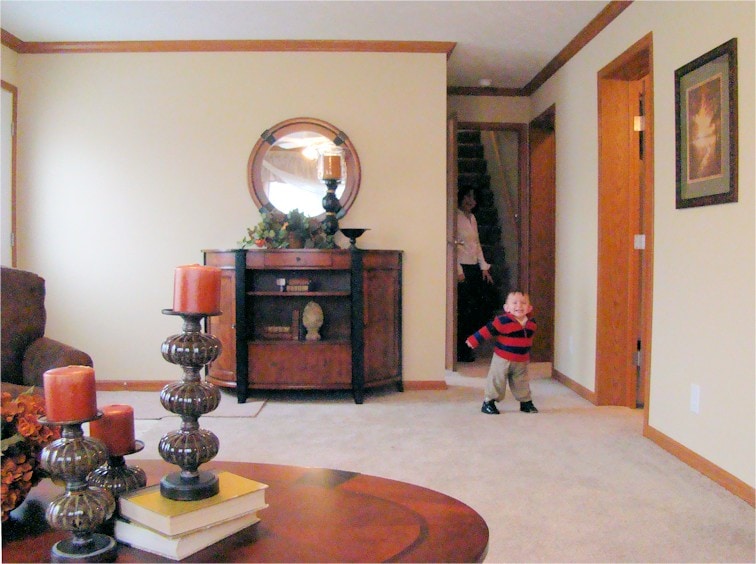 The featured photo at the top of this post is from CityScapes At The Mills of Carthage, near Cincinnati, Ohio. It was featured in MHLivingNews at the link below.
Recent positive stories in the mainstream media have brought more attention and interest in using modern manufactured homes in a metropolitan setting. This is already being done in other countries, and could just as easily be taking place here in the United States.
The article was written in response to an editorial a few years ago in the Boston Globe, that called for manufactured and modular homes to be allowed into the city of Boston.
That Boston Globe editorial began as follows, "THE TERM "manufactured housing" tends to invoke a 65-by-12-foot mobile home plopped down in a trailer park. But the industry has evolved to the point that many housing units assembled in factories are indistinguishable in looks and quality from homes built on site."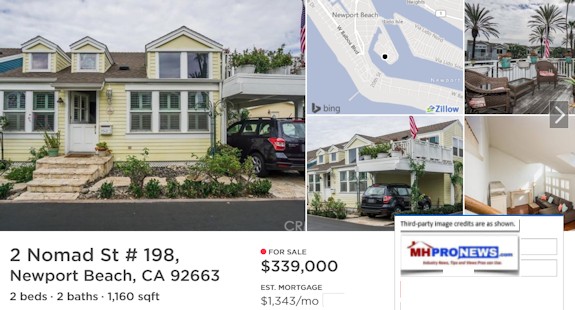 In Newport Beach, California you can see multiple level homes that the developer used, which fetch over $300,000 – a bargain. The Daily Business News featured that property previously, in comparing it to the most popular house on Realtor ™ for 2017.
Most Popular Home of Year Goes To…Shotgun like 'Single Sectional' – Think "Lido" Manufactured Home
MHLivingNews did a video interview with a resident of a multiple story manufactured home that is set on a foundation in the golf-course style neighborhood, in the article linked below.
For many years people said "a picture is worth a thousand words," but today a good video is worth even more. In the next few minutes, you'll hear about the actual experience of a real home owner, Ryan Schmidt, who lives in a modern two-story factory-crafted home with his family at The Greens of Vista Nashport, OH north of Zanesville.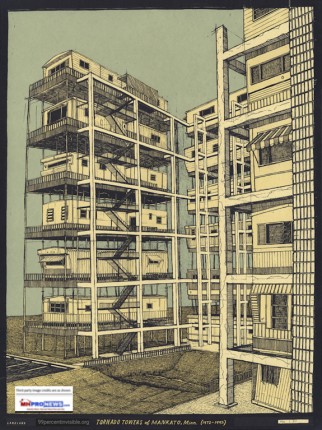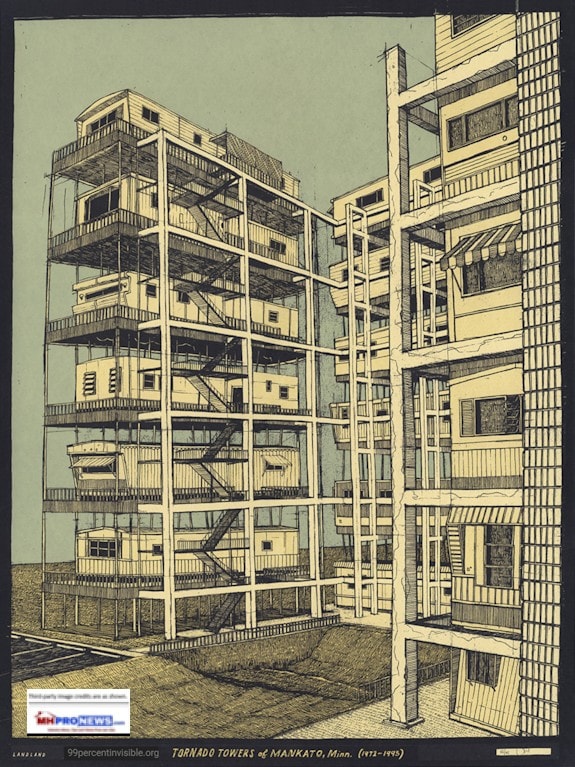 High Rise Multiple Story "Racks" of Manufactured Homes
But decades before any of those projects are the design concepts envisioned using single-sectionals built on rack-type structures.  The vision was to maneuvered units with a crane, as one does with modular sections.  The concept was seen as a way of creating several stories of single level homes that could literally be made like a high-rise apartment, only at a lower price.
As HUD considers what reforms to make to the manufactured housing program, one-point ought to be stressed to regulators.  With a performance-based code, the sky is the limit.
Neither the industry's professionals,
nor regulators,
nor investors
or others researching the modern HUD Code manufactured housing industry ought to think of the industry as limited. One of the points that MHProNews would editorially agree with the recent, controversial Urban Institute studies is this.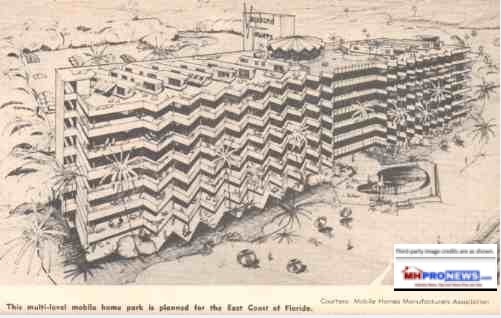 The industry could rapidly be ramped up.
HUD Comment Letter – FR-6075-N-01 Regulatory Review of Manufactured Housing Rules
With hundreds of billions of dollars in capital being freed up domestically, or that is returning to America, the sky is the limit for visionaries with a long term view of the industry. ## (News, analysis, and commentary.)
Notice: For professional services, click here.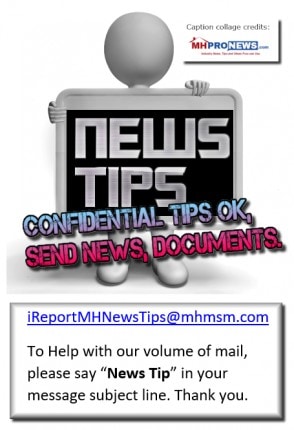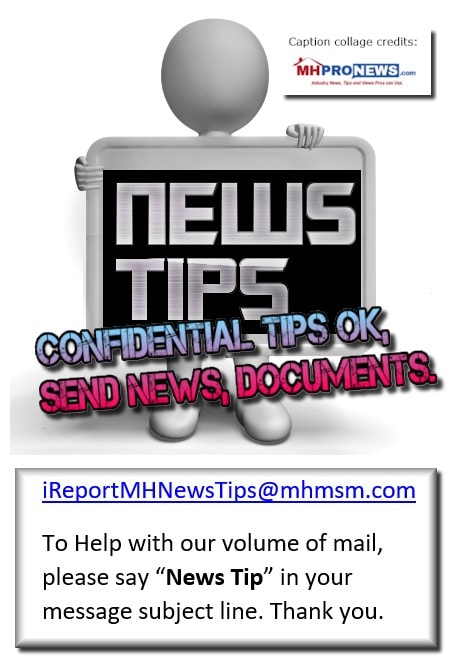 Thousands "Get It."
Sign Up Today! Click here to sign up in 5 seconds for the manufactured home industry's leading – and still growing – emailed headline news updates. You'll see in the first issue or two why big, medium and 'mom-and-pop' professionals are reading them by the thousands. These are typically delivered twice weekly to your in box.
(Third party images, and cites are provided under fair use guidelines.)
Follow us on Twitter:
ManufacturedHomes
@mhmsmcom

Submitted by Soheyla Kovach to the Daily Business News for MHProNews.com.
Soheyla is a managing member of LifeStyle Factory Homes, LLC, the parent company to MHProNews, and MHLivingNews.com.