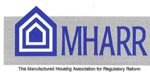 As MHARR previously advised you, HUD, on January 26, 2018, announced a comprehensive, "top-to-bottom" review of all its existing and pending manufactured housing regulations and related "regulatory actions," pursuant to Trump Administration Executive Orders (EOs) 13771 ("Reducing Regulation and Controlling Regulatory Costs") and 13777 ("Enforcing the Regulatory Reform Agenda").
In response to HUD's request for comments from stakeholders and members of the public regarding this review, MHARR, on February 20, 2018, has submitted detailed and comprehensive comments (see, copy attached) addressing multiple aspects of the HUD program (including, but not limited to, existing and proposed standards, regulations, interpretive rules, interpretive bulletins, "field guidance" memoranda and other related regulatory pronouncements) that should either be repealed or significantly modified in accordance with the regulatory reform policies enunciated in EOs 13771 and 13777.
Due to the extreme importance of this matter, MHARR encourages all industry members to submit comments to HUD in connection with this critical regulatory review, in advance of the rapidly-approaching February 26, 2018 comment deadline.  Given MHARR's 35-year focus on these major issues and – in particular – the full and proper implementation of the Manufactured Housing Improvement Act of 2000, we urge industry members to review the attached document, and to reference or incorporate all or part of those comments in (or with) their own submissions.
Again, it is extremely important that these key reforms to the broken HUD regulatory program be fully implemented by the Department.