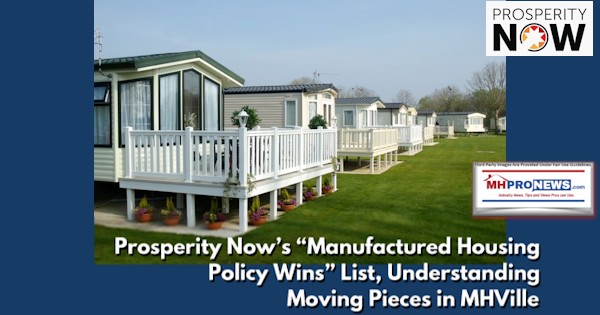 Last week, Prosperity Now, formerly known as CFED, published their list of "I'M HOME 2019 State Manufactured Housing Policy Wins."  Their release encouraged sharing, which is useful to manufactured housing industry professionals, advocates, and other interested parties to thoroughly understand as part of the sometimes-complex dynamics at work in 'MHVille' – the now currently humbled manufactured home industry.
Here is their list, according to Austin Carrico, Program Associate, Affordable Homeownership at Prosperity Now, published on July 31, 2019.
— I'M HOME 2019 State Manufactured Housing Policy Wins —
State-level policies are some of the most effective ways to improve financial security for millions of low- and moderate-income Americans. This is especially true for issue areas like manufactured housing, which often do not receive the full support they need from the federal government. Thanks to the continued work of advocates and community organizers across the country, 2019 has been a busy year for state manufactured housing policy.
From January to June 2019, 230 bills relating to manufactured housing were introduced and 48 were passed across 38 states, many with support from members of the Innovations in Manufactured Homes (I'M HOME) Network. As you can see in the policy descriptions from the six states highlighted below, increasing protections for manufactured homeowners was a priority for many this year. These protections ranged from establishing a legal fund to represent homeowners in disputes with community owners in Delaware to extending the time between late rent payments and eviction notices in Colorado. Additionally, some states like New York and Washington established new sources of funding to assist residents displaced by community closures or redevelopment.
You can read more about some of the key state laws passed this year in the summaries below:
Colorado
After years of attempts, new legislation in Colorado (HB 1309) was signed into law in May that significantly extend protections to manufactured homeowners. The new law extends the time period between the nonpayment of lot rent and an eviction notice and extends the amount of time a homeowner has to vacate their lot in the event of an eviction. The Colorado Department of Local Affairs: Division of Housing can now receive complaints from manufactured homeowners and serve as a mediator between homeowners and community owners.  County and municipal governments are authorized to regulate manufactured home communities at the local level. I'M HOME Members at the Colorado Center on Law and Policy and Boulder County government helped to pass this bill.
Delaware
In Delaware, HB 45 and HB 46 were both passed in June with the help of National Consumer Law Center (NCLC) affiliates. HB 45 primarily clarifies some of the language in the Manufactured Home Owners and Community Owners Act, but also adds a requirement for landlords to provide a receipt within 3 days of a cash rent payment to eliminate foul claims of late rent and subsequent forced evictions. HB 46 enacted a $0.50 monthly fee on lot rents for homeowners living in manufactured home communities to support an Attorney Fund administered by the Department of Justice for the payment of legal representation or advocacy for manufactured homeowners in disputes with community owners.
Montana
Several manufactured housing bills in Montana were passed in May with the help of I'M HOME Lead Organization NeighborWorks Montana. SB 204 eliminated personal property taxes for manufactured homes that are 28 years old or older and valued at or below $10,000. In Montana, there are documented cases of low-income families losing their homes to repossession for relatively small amounts of unpaid property taxes. This bill will eliminate that threat. HB 15 allows abandoned vehicle fees to be used to dispose of abandoned manufactured homes. SB 200 ensures that manufactured homes titled as real property can no longer be defined as "mobile homes" in state databases except for tax and assessment purposes, if necessary. Such a change should eliminate confusion for buyers of existing homes and offer clarity to lenders who lend on manufactured but not pre-1976 mobile homes. HB 16 invests coal trust funds into Montana's housing finance agency to allow low-interest first mortgages with as little as 5% down for multifamily rental projects. While the language of the bill doesn't specifically list manufactured home communities as an eligible use, advocates such as NeighborWorks Montana argue that these funds will be available for certain MHC preservation projects.
New York
A rent control bill, S 6458, passed in June in New York and includes major protections for residents of manufactured home communities. The bill introduces a 3% cap on rent increases with allowances for an additional 3% increase limited for increases in community owner operating expenses, property taxes or documented capital improvements. The right of first refusal waiting period increased from 6 months to 2 years and makes tenants eligible for a stipend of up to $15,000 to help offset the costs of moving. Several other protections for residents of manufactured home communities include specifications for rent-to-own agreements, new requirements for leases, limits on evictions and other miscellaneous safeguards.
Oregon
Five policy wins in Oregon were consolidated in the manufactured housing omnibus bill HB 2896 which was designed to improve housing security and health outcomes for owners of manufactured homes. Two and a half million dollars was allocated for two new resources that were established for homeowners to replace their manufactured homes: a grant to assist with decommissioning aging homes and a supplemental loan of up to $35,000 to help with purchasing a replacement. The bill also sets aside $9.5 million for the creation of an acquisition fund to finance purchases of manufactured home parks by non-profits, public housing authorities or resident owned cooperatives to ensure long-term affordability of the communities and prevent displacement. Three million dollars will be allocated to the City of Springfield for the construction of a new manufactured home community for residents displaced by park closures to redevelopment. Finally, the bill creates a Manufactured Housing Taskforce as an advisory committee within Oregon Housing and Community Services. Several I'M HOME member organizations, including the Network for Oregon Affordable Housing (NOAH), CASA of Oregon, Craft3 and NeighborWorks Umpqua, advocated for the bill's passage.
Washington
In Washington, the Northwest Cooperative Development Center advocated for SB 5183 which renews the real estate tax exemption for manufactured home community owners who sell to non-profits or resident cooperatives and includes a property tax exemption for non-profit community owners if at least 75% of the occupied households are at or below 50% AMI. The bill also provides financial assistance to displaced manufactured homeowners of up to $12,000 dollars, with some limitations…
— End of extended quote from Prosperity Now. —
For some years, MHProNews and our sister site MHLivingNews has stressed a 'wheat and chaff' approach to professionals and organizations. For example, prior to becoming Prosperity Now, CFED produced a research document that is arguably quite useful for the manufactured housing industry's independent professionals and homeowners alike. That research documented that manufactured home loans perform well. Thus, HUD Code manufactured home loans merit support by Fannie Mae, Freddie Mac and other lending options.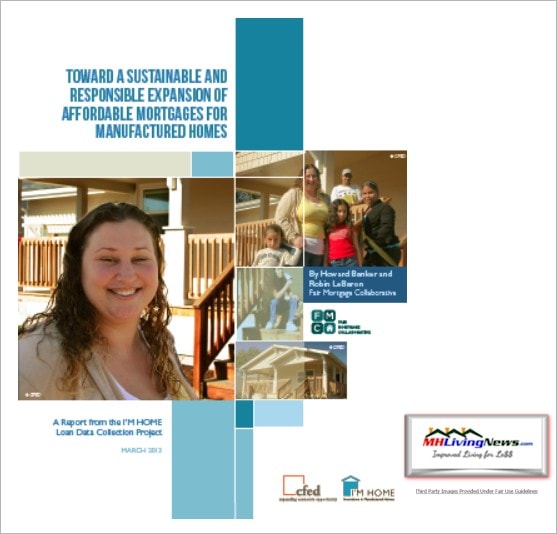 On the flip side of Prosperity Now are examples of ties via so-called 'dark money' channels to Warren Buffett supported organizations.
Prosperity Now, Nonprofits Sustain John Oliver's "Mobile Homes" Video in Their Reports
Then, more recently, is on the surface the seemingly odd joint support by Prosperity Now, the Manufactured Housing Institute (MHI) and the National Association of Manufactured Housing Community Owners (NAMHCO) of legislation that this publication and the Manufactured Housing Association for Regulatory Reform (MHARR) have labeled as problematic if not potentially harmful to the industry and its consumers.
Federal Bill that MHI, Prosperity Now, NAMHCO Tout – MHARR Opposes, Why?
When industry professionals, advocates, investors, and public officials dig into the details linked above, what emerges are odd and troubling examples of how groups can seemingly battle at one point, yet come together on other issues? Certainly, that occurs in politics or in other possible examples. 
NBC Video – Federal Authorities Investigating Clayton Homes, Maxine Waters Denounces Lending "Discrimination" Against Minorities
But CFED leader Doug Ryan labeled Berkshire Hathaway lenders as monopolistic.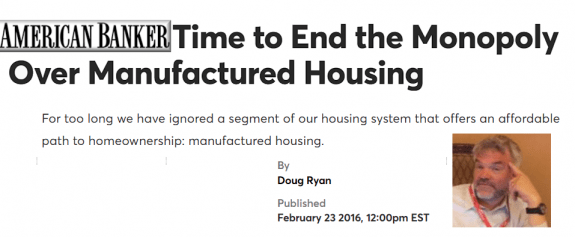 That was a claim that MHI denied, but predatory and monopolistic practices are still a concern to numerous Democratic lawmakers and other public officials.
Senate Democrats – Including 2020 Presidential Contenders – Ask CFPB Protect Consumers Against Predatory Lenders — Point Finger at Clayton Homes, Berkshire Hathaway Lending
The New York bill noted above by Prosperity Now was sparked in part by the problematic behavior of companies with ties to the Manufactured Housing Institute (MHI). The still hikes on site fees drew condemnation from Republican as well as Democratic lawmakers.
Will New State Rent Control Laws Conflict With Presidential Affordable Housing Initiatives? Who Has What Agenda?
It's a tangled web. Given previously purported documented head-fakes by MHI and support by Warren Buffett and/or Berkshire Hathaway brands of two different sides of seemingly opposite issues, it is something that merits scrutiny.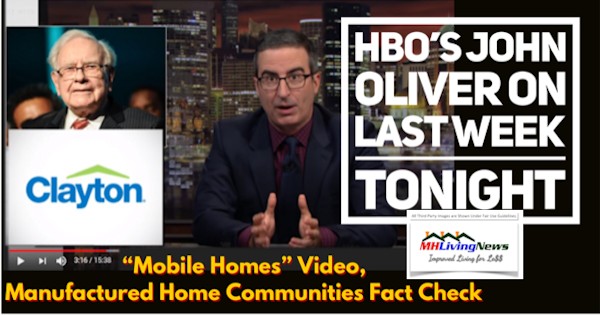 That's tonight's last look at manufactured housing "Industry News, Tips, and Views Pros Can Use," © where "We Provide, You Decide." © ## (News, analysis, and commentary.)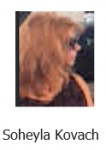 Submitted by Soheyla Kovach for MHProNews.com.
Soheyla is a managing member of LifeStyle Factory Homes, LLC, the parent company to MHProNews, and MHLivingNews.com. Connect with us on LinkedIn here and here.
Related Reports:
Click the image/text box below to access relevant, related information.