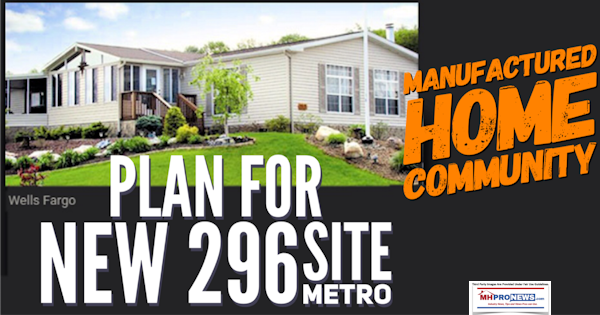 PND 3001 Investments has proposed developing a 296 manufactured home development in South Elgin, IL. It is about an 88-acre site.
The plan is for an adult, 55 plus community.  Planners are positioning a comparison to Saddlebrook Farms in Grayslake, IL, which Chuck Fanaro developed, and years later, Hometown America bought into.
The plans for the 296 site development were put on hold Wednesday when the South Elgin Planning and Zoning Commission requested more data on how much traffic the project would generate, said MuckRacker, "South Elgin Village Board approval of a special use permit and rezoning from industrial to residential are required before work can begin."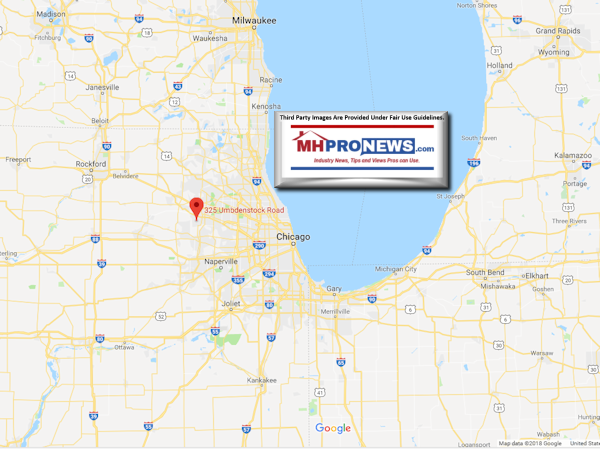 Peter Lappin, a principal for PND, agreed to provide the added information.
"Plans for the development call for one entrance/exit off [325] Umbdenstock Road, Lappin said. If a second access point is required, it could be added on Lancaster Road," per the Chicago Tribune.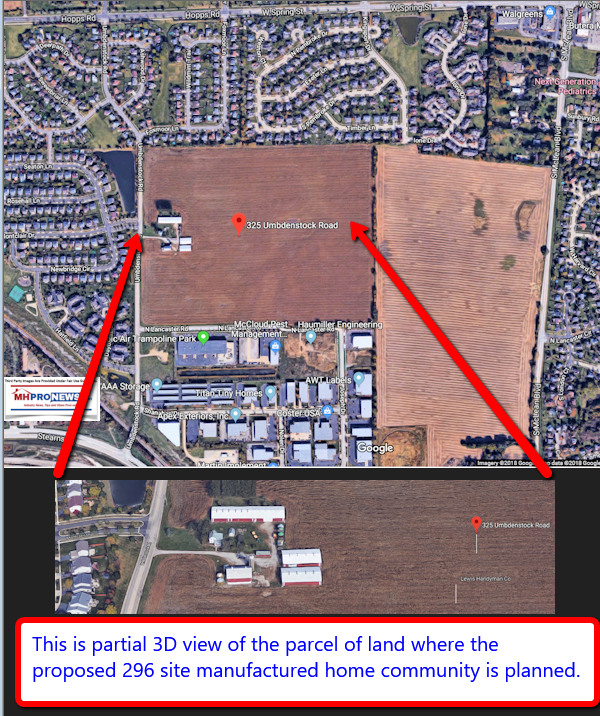 The Kane County Reporter obtained the meeting minutes from a discussion in April about the same project.  Those minutes are linked here as a download. Some pull quotes from those minutes include:
The lots are at a minimum of 50 feet in width, the minimum interior lot area is 5,000 square feet, and the minimum corner lot area is 7,500 square feet.
The Planning and Zoning Commission reviewed this petition and recommended acceptance at their March 21, 2018 meeting. Rich Gerard from PND 3001 Investments, LLC introduced the team planning this development. Rich Olsen, landscape architect for the project, explained that the land is currently zoned l-2.
Mr. Olsen explained that there will be a 30 foot landscape buffer on the southern edge of the property.
Trustee Richmond then asked what kind of buffer will be along Lancaster Road. Rich Olsen explained that there will be a 25 foot buffer along those homes.
Trustee Kolodziej asked who is responsible for the upkeep of the land. The community will handle all mowing and snow removal in the area.
Trustee Guess asked if these are manufactured homes and if they will be five feet apart. Rich Olsen answered that each unit will be a minimum of five feet from the lot line making the minimum distance between these manufactured homes ten feet. Trustee Guess said she is concerned with fire issues. Marc Mclaughlin explained that the Village has adopted the latest building codes and these units will have sprinkler systems.
Trustee Lieser explained that manufactured homes lose value as they age and the value of the land appreciates. He is concerned that the homeowners do not own the land. Value is questionable. Rich Olsen stated that people are going to want to maintain their units. President Ward stated that he understands Trustee Lieser's concerns.
Let's review that last pull quote above for a few moments, because it and other statements from the local commission reflect the kind of thinking that makes obtaining approvals for these new properties so difficult.  As regular, careful and motivated Daily Business News readers know, there is a growing body of evidence that manufactured homes can and do gain in value. While that can be more of a challenge in a land-lease, depending on various factors, there are numerous cases where appreciation occurs in manufactured home communities too. See a related report, linked below.
We learned from the National Association of Realtors (TM) Certified Business Economist (CBE) Scholastica 'Gay' Cororaton that manufactured homes can and do rise in value. Barry Noffsinger, a regional manager with manufactured home lender, Credit Human Federal Credit Union, told MHProNews that manufactured homes go up and down in value for exactly the same reasons as conventional homes.
More pull quotes from meeting minutes include these:
Trustee Guess asked for a price range for the homes. Chris Lappin answered that they should cost between $80,000 and $150,000. Trustee Kolodziej stated that the homeowner does not pay real estate taxes. Chris Lappin said the development will be licensed from the state. The homeowner will annually pay a privilege tax for the use of the land and will pay sales tax on the home when purchased
Mr. Lappin estimated that…the amount of the HOA fee would be between $500 and $800 per month.
Trustee Lieser stated that purchasers will not be able to get secure conventional mortgages. Chris responded that Freddie Mac is offering more mortgages than before. There are five or six banks offering loans. His company may also provide loans.
The latest is that "an informal poll of the commissioners indicated most were in favor of the project as long as their questions about traffic and tax rates were answered," per the Tribune.
They concluded, saying "Gerard said the land has not yet been purchased. They are awaiting village approval before closing on the deal, a situation that could become problematic if there are more delays because their option to buy is expiring soon, he said."
The process reveals several of the nuances that have to be navigated in the era of NIMBY. MHProNews plans to monitor developments on this project. See related reports, linked below. ## (News, analysis, and commentary.)
1. Terminology error – the word 'trailer' is in the original. It is unclear from the article if these are mobile homes, post-HUD Code manufactured homes, or a combination of both.
(Third party images and content are provided under fair use guidelines.)
1) To sign up in seconds for our MH Industry leading emailed news updates, click here.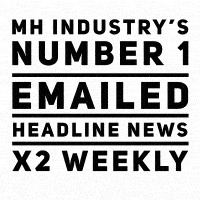 2) To pro-vide a News Tips and/or Commentary, click the link to the left. Please note if comments are on-or-off the record, thank you.
3) Marketing, Web, Video, Consulting, Recruiting and Training Re-sources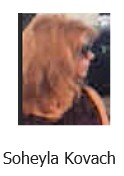 Submitted by Soheyla Kovach to the Daily Business News for MHProNews.com. Soheyla is a managing member of LifeStyle Factory Homes, LLC, the parent company to MHProNews, and MHLivingNews.com.
Related Reports

:
Hundreds of New Manufactured Home Communities Opened, But How Many Have Closed? Industry Research Result$
Manufactured Home Communities, Retailers, Developers Face Disruptive, Troubling Trend
Study Recommending New Manufactured Housing Association for Independent Retailers, Communities, Lenders, Others Released