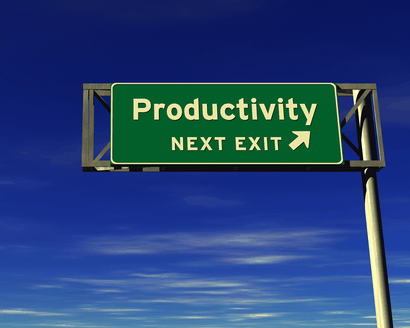 With a lack of resolve on issues such as a "repeal and replace" of ObamaCare, much of the mainstream media makes it appear that the Trump Administration hasn't done much of anything since January.
However, a new study from Pew Research Center tells a different story all together.
"To date, Congress has passed 55 measures that have been signed into law, 46 of which we consider "substantive" by our deliberately generous criteria – that is, any legislation other than renaming buildings, awarding medals, commemorating historic events or taking other purely ceremonial actions."
For this study, Pew Research Center counted all bills that received final legislative approval prior to the August recess, even if they were signed into law after the break.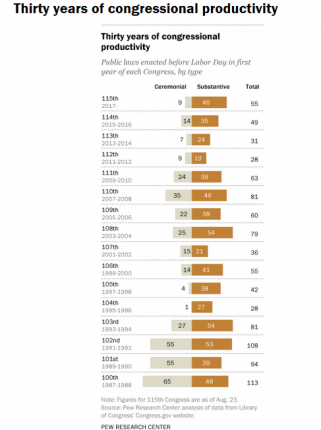 Of the 46 laws which were considered "substantive" there were "14 whose sole purpose was to overturn various rules adopted by the Obama administration, under the 1996 Congressional Review Act."
The Trump Administration is the first to utilize the Congressional Review Act in this way. Previously, only one law had ever been undone through this procedure since the Act itself became law.
"Those 14 "resolutions of disapproval" account for about 30% of the substantive laws, and a quarter of all the laws, enacted so far by this Congress."
The chart to the right shows that over the years the number of laws enacted by Congress has fluctuated. However, it hit an all-time low since 1987 during the years of the 112th Congress (2011-12) with only 20 laws enacted in total.
The current Congress turns out to be the fifth most productive when it comes to enacting substantive laws – tied with the 110th Congress (2007-08).
While the Pew Research study found that while the Trump Administration might be light on signature legislation – such as repealing and replacing ObamaCare or tax reform – nevertheless, there are things happening in Congress.
The Daily Business News has previously reported on how the economy is responding to the new administration in the first six months.
While Congress continues to debate over key issues like healthcare and tax reform, it's untrue to say that they haven't accomplished anything. Rather, this year Congress has been more productive than it has been in nearly a decade. Still, public polling shows Congressional approval just a fraction of what the president's is. ## (News, analysis.)
(Image credits are as shown above, and when provided by third parties, are shared under fair use guidelines.)
Submitted by Julia Granowicz to the Daily Business News for MHProNews.