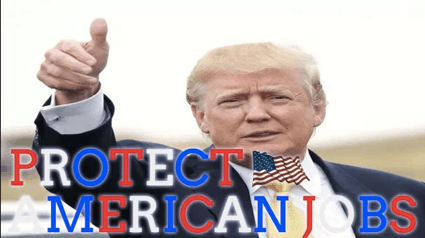 India based IT services firm Infosys announced yesterday that they plan to hire 10,000 U.S. workers over the next two years and open up four additional technology centers, beginning in Indiana.
According to Newsmax, the move comes at a time when Infosys, along with fellow Indian companies Tata Consultancy Services and Wipro, are on the radar of the Trump Administration for displacing U.S. workers by bringing in cheaper foreign workers as a part of the H1-B Visa program, paying them less.
The Trump Administration has ordered federal agencies to review the program.
"When you think about it from a U.S. point of view, obviously creating more American jobs and opportunities is a good thing," said Infosys Chief Executive Vishal Sikka, who said the company plans to hire U.S. workers in fields such as artificial intelligence.
Sikka also says that Infosys has already hired 2,000 U.S. workers as part of a previous effort started in 2014.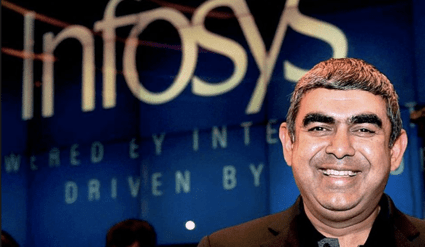 "We started small at first and have been growing since then," said Sikka.
"The reality is, bringing in local talent and mixing that with the best of global talent in the times we are living in and the times we're entering is the right thing to do. It is independent of the regulations and the visas."
How Outsourcing Jobs Affects the Economy
According to a report from The Balance, the main negative effect of outsourcing is it increases U.S. unemployment.
The 14 million outsourced jobs are almost double the 7.5 million unemployed Americans. If all those jobs returned, it would be enough to also hire the 5.7 million who are working part-time but would prefer full-time positions.
The report also says that imposing laws or terms to restrict job outsourcing could make U.S. firms less competitive.
According to a study from Pew Research, major changes are reshaping U.S. workplaces as the economy moves deeper into the "knowledge-focused age."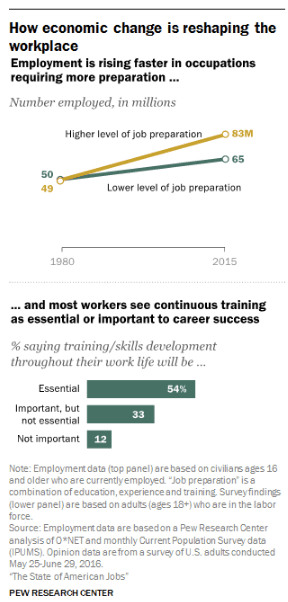 These changes are affecting the very nature of jobs by rewarding social, communications and analytical skills. They are prodding many workers to think about lifetime commitments to retraining and upgrading their skills.
The study cites that the number of workers in occupations requiring average to above-average education, training and experience increased from 49 million in 1980 to 83 million in 2015, or by 68 percent.
This was more than double the 31 percent increase over the same period in employment, from 50 million to 65 million, in jobs requiring below-average education, training and experience.
Hope for Lost Jobs? President Trump in Action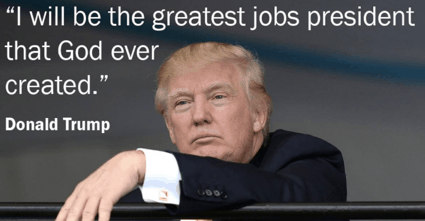 President Trump is known for his no-nonsense, get things done style. Coming into the White House, he had no plans to change it.
"I will be the greatest jobs producer God ever created," said President Trump just before his inauguration. "Believe me."
By all appearances, he's on his way to delivering on that statement.
In the ADP March private payrolls report, companies added 263,000 jobs for the month, which was well above the 185,000 expected from economists surveyed by Reuters, and also bested the 245,000 reported for February.
Even with a slight move down in April, surveys still show that confidence in the economy is strong.
"Job growth is off to a strong start in 2017," said Mark Zandi, chief economist of Moody's Analytics at the time.
"The gains are broad-based but most notable in the goods producing side of the economy including construction, manufacturing and mining."
That has resonated with the small business community as well, as the January, February, and March reports reflect anticipation of President Trump's policies, including the highest Small Business Optimism Index in 37 years from the NFIB.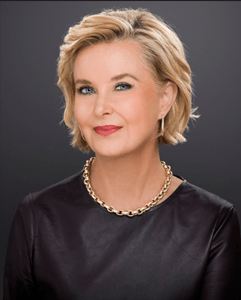 "We haven't seen numbers like this in a long time," said NFIB President and CEO Juanita Duggan in January.
"Small business is ready for a breakout, and that can only mean very good things for the U.S. economy. Business owners are feeling better about taking risks and making investments."
A View from the Industry
Even with the progress that's been made, President Trump still faces an uphill battle.

"As well as the markets and new job creation are already responding to his initiatives, where could we be if there wasn't a non-stop assault on our new president?" said MHProNews and MHLivingNews Publisher L.A. "Tony" Kovach.
In November, Tim Williams told MHProNews that, "I am deeply encouraged that less than 24 hours into President Trump's term, he has frozen new, potentially burdensome regulations."  For his full comments, click here.
MHARR CEO, Mark Weiss, JD, shared similar thoughts with MHProNews in a story, linked here.
For more on the nations economic progress, including a recap of President Trump's first 100 days, click here. ##
(Image credits are as shown above, and when provided by third parties, are shared under fair use guidelines.)
Submitted by RC Williams to the Daily Business News for MHProNews.