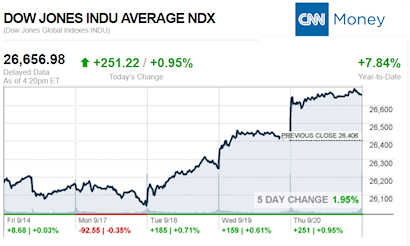 Record-after-record on the stock markets since the election of President Donald J. Trump.  Record-after-record in employment for minorities, women, and all workers since the election of the 45th U.S. president. Some of the debate and outlook of what's ahead will all be in our featured report this evening.
If you're new, already hooked on our new spotlight feature – or are ready to get the MH professional fever – our headline report is found further below, after the newsmaker bullets and major indexes closing tickers.
The evolving Daily Business News market report sets the manufactured home industry's stocks in the broader context of the overall markets.  Headlines – at home and abroad – often move the markets.  So, this is an example of "News through the lens of manufactured homes, and factory-built housing." ©
Part of this unique evening feature provides headlines – from both sides of the left-right media divide – which saves busy readers time, while underscoring topics that may be moving investors, which in turn move the markets.
Readers say this is also a useful quick-review tool that saves researchers time in getting a handle of the manufactured housing industry, through the lens of publicly-traded stocks connected with the manufactured home industry.
This is an exclusive evening or nightly example of MH "Industry News, Tips and Views, Pros Can Use." © It is fascinating to see just how similar, and different, these two lists of headlines can be.
Want to know more about the left-right media divide from third party research?  ICYMI – for those not familiar with the "Full Measure," 'left-center-right' media chart, please click here.
Select bullets from CNN Money…
Satellite captures space junk for the first time
General Electric's turbine troubles raise more red flags
Amazon unveils Alexa-controlled microwave, wall clock and new Echo devices
Tilray is having a wild week. Is this a cannabis bubble?
Gap challenges Lululemon with a men's athleisure line
Trump administration makes it easier to fight for tariff exemptions
Dow sets first record high since January
GoPro shoots for a comeback with latest camera
Blind Brexit? Businesses fear even more uncertainty
AT&T brings Trump back into Justice Department's antitrust case
European banking still has a massive money laundering problem
Jack Ma: The trade war has 'destroyed' my promise to create 1 million US jobs
Team Trump says NBC News edited Holt's exclusive interview. Here's the truth
Prosecutors weigh charges against JD.com founder Liu
Farrow in, Moonves out: #MeToo reshapes list of Hollywood's most powerful
Comcast-Fox battle for Sky could end in a one-day auction on Saturday
Investors can stay smart even with all this noise
How can I get downside risk protection with robo-advisors?
China's app for everything jumps in IPO
Apple's latest iPhones are the best yet. But do you need them?
Sony gets in on the retro console craze with PlayStation Classic
Why this cannabis stock is skyrocketing
Mark Cuban to donate $10 million after workplace investigation
Bob Woodward's 'Fear' debuts at No. 1
The Supreme Court clock is ticking
A top editor is out after publishing a widely criticized #MeToo essay
Delta raises fees for checked bags
Don't cut up your credit cards yet — or sell MasterCard, Visa and AmEx
Companies where tomorrow's graduates want to work
European regulators are looking at how Amazon uses data
John Hancock wants to turn life insurance into a wellness game
Walmart wants to bring 'everyday low prices' to health care
John Hancock wants to turn life insurance into a wellness game
Select Bullets from Fox Business…
Dow up more than 250 points for first record close since January
China cutting import tariffs amid US trade war: Report
Trump bullies OPEC…again
US companies paying millions to relocate executives
Dow sets record-high mark amid US-China trade tensions
Wealthy Americans should avoid living in these states
Here's why Americans are $2.19T richer
Your Social Security checks are about to get bigger
Michael Phelps on changing careers: Follow your passion
Stanley Black & Decker has big plans for Craftsman
Wells Fargo plans to slash headcount in the next 3 years
Dallas Cowboys are NFL's most valuable franchise: Report
Holiday travel tips: How to save on airfare
The top airports in North America, ranked by passenger satisfaction
Delta increases baggage fees, joining other US airlines
Continue to Lifestyle and Budget
Kavanaugh fight: Liberals desperate to block another Supreme Court conservative, Varney says
Alibaba's Jack Ma takes back promise to Trump to create 1 million US jobs
FOX Business Network unveils new primetime lineup
Areas in the US with the best economic growth and quality of life
LA startup SnackNation gets more funding
IRS warns some retirees at risk of tax penalty: What to know
Henry Fernandez
Next tax cut will help middle class save for retirement, college: Grover Norquist
How the financial crisis shaped Americans' saving habits
Retirement savings crisis: Americans not confident they can save enough
Today's markets and stocks, at the closing bell…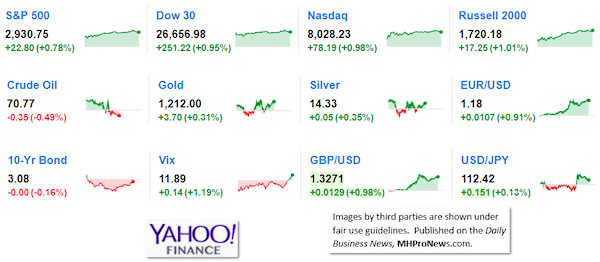 Manufactured Housing Composite Value (MHCV)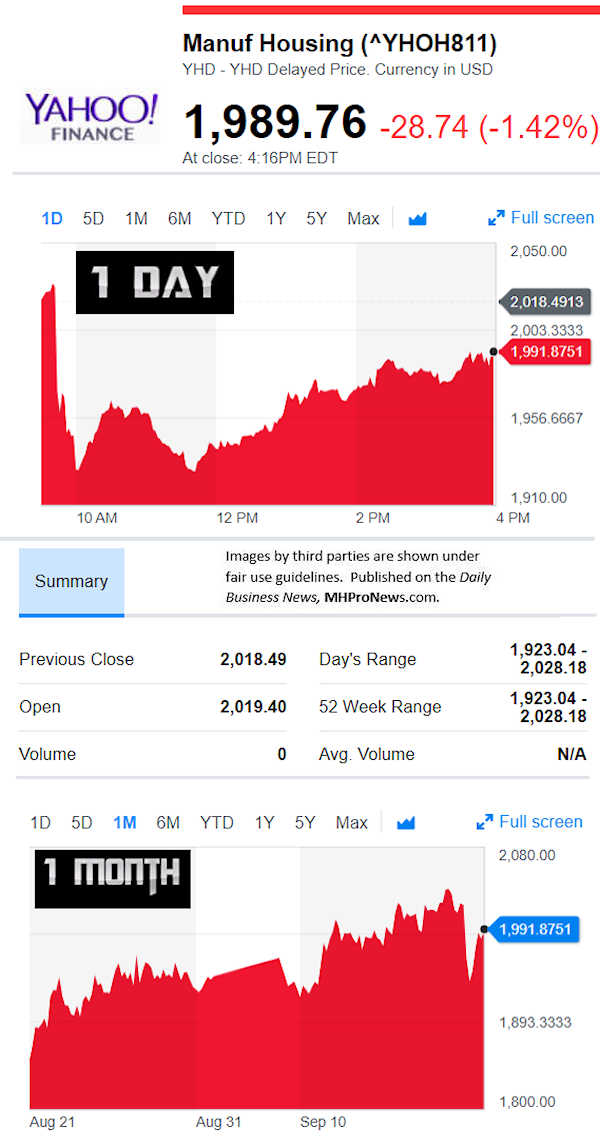 Today's Big Movers
For all the scores and highlights on tracked manufactured home connected stocks today, see the Bloomberg graphic, posted below.
Today's MH Market Spotlight Report –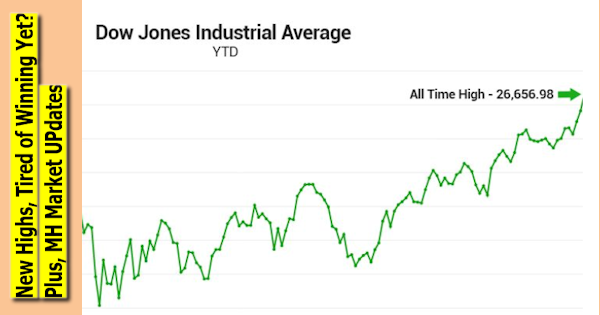 "Even with a backdrop of trade tensions, the solid economy is winning out, and it drove the Dow Jones Industrial Average to return to the record high that it set back in Jan. 26, when it closed at 26,616.71. The Dow was up by triple digits on Thursday, eclipsing the January highs intra-day," said Fox Business today.
Weekly jobless claims reported Thursday fell to a 49-year low.
the unemployment rate in the country is 3.9 percent,
and the U.S.' revised GDP grew by 4.2 percent in the second quarter.
The discussion on Fox Business below has two different sides of the 'trade skirmish' issue.  Johnny Tamny's views stands in contrast to what the Daily Business News published last night.
Our view, and that of a growing number of pundits, is that Payne Capital Management President Ryan Payne is closer to the mark.
The White House press room reminds MHProNews of this Washington newspaper's recent analysis: "Democrats may be attacking President Trump's trade actions with China, but the President's latest move "is not rattling investors. That was the message from traders Tuesday, who sent stock averages soaring in the face of the latest round of American tariffs on Chinese imports and Beijing's retaliatory response," according to Liz Peek in The Hill.
One modest bone we want to pick with Fox Business. Several of their pundits have been saying for some time variations of this phrase: "The U.S. economy is firing on all cylinders…" The Daily Business News respectfully sees it somewhat differently.
The economy is poised to fire on all cylinders. Here's what could still improve, and may, depending on the outcome of the midterms:
Tightening up the borders and then reforming immigration would be good for business and workers mid-to-long term,
pressing ahead on trade – the U.S. can win either way: either brining more business and jobs back to the U.S, or by reducing the trade imbalances,
moving ahead on infrastructure plans, so far, foiled by Democrats (who've kept the border/immigration deal from occurring too).
There's more, but here's what else could be huge. Reforming the budget/spending process. The president is a natural at budget cutting, and has shrunk the federal labor force quietly but steadily.  If a solid pro-Trump legislature comes in, expect the following:
1) Major overhaul in the federal spending, and a move towards a balanced budget,
2) legal/legislative action against monopolistic forces,
3) making the tax cuts permeant, and other possible tax changes which could bring yet more foreign investment into the U.S., plus
4) other surprises that are still ahead.
Mark your calendar.  Vote your wallet, get your circle to do the same come the midterms.  Do what scores of your peers do, and share these posts and the most popular emailed news in MHVille.
Related Reports:
1 Million Jobs, Poof! Jack Ma Warns "20 Year Trade War," Plus MH Market Updates
Bloomberg Closing Ticker for MHProNews…
NOTE: The chart below includes the Canadian stock, ECN, which purchased Triad Financial Services.
NOTE: The chart below covers a number of stocks NOT reflected in the Yahoo MHCV, shown above.
NOTE: Drew changed its name and trading symbol at the end of 2016 to Lippert (LCII).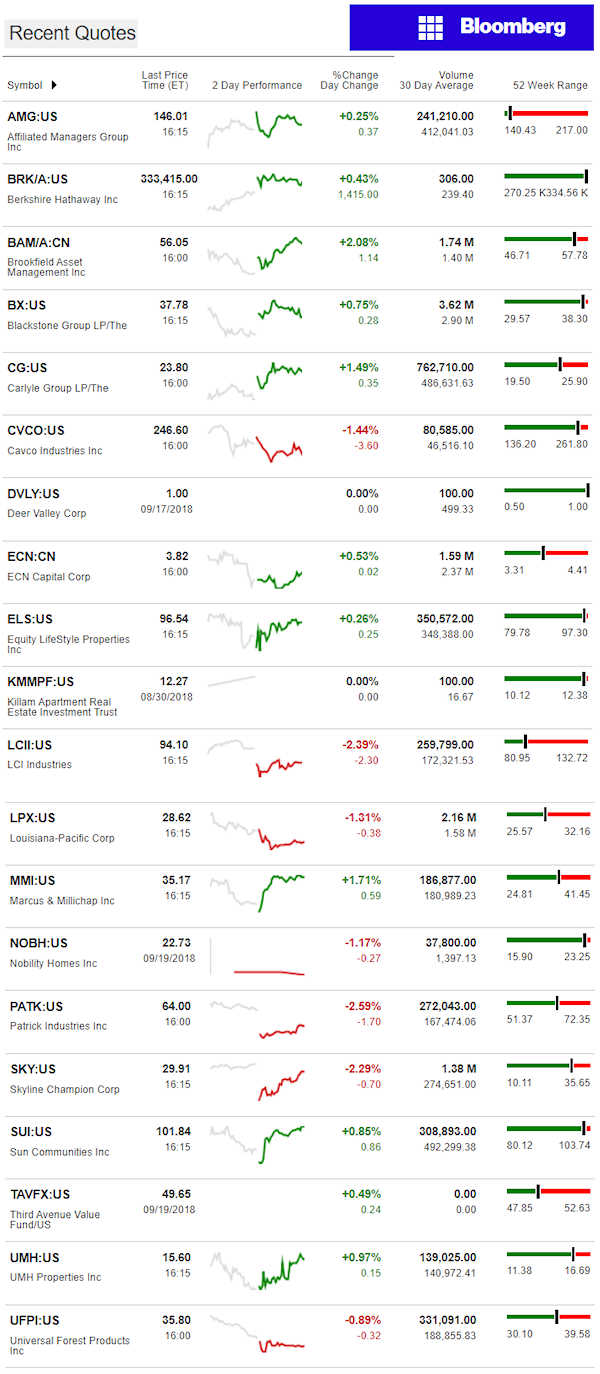 Berkshire Hathaway is the parent company to Clayton Homes, 21st Mortgage, Vanderbilt Mortgage and other factory built housing industry suppliers.
LCI Industries, Patrick, UFPI and LP all supply manufactured housing.
AMG, CG and TAVFX have investments in manufactured housing related businesses.
Your link to industry praise for our coverage, is found here.
For the examples of our kudos linked above…plus well over 1,000 positive, public comments, we say – "Thank You for your vote of confidence."
"We Provide, You Decide." © ## (News, analysis and commentary.)
(Image credits and information are as shown above, and when provided by third parties, are shared under fair use guidelines.)
Submitted by Soheyla Kovach to the Daily Business News for MHProNews.com.