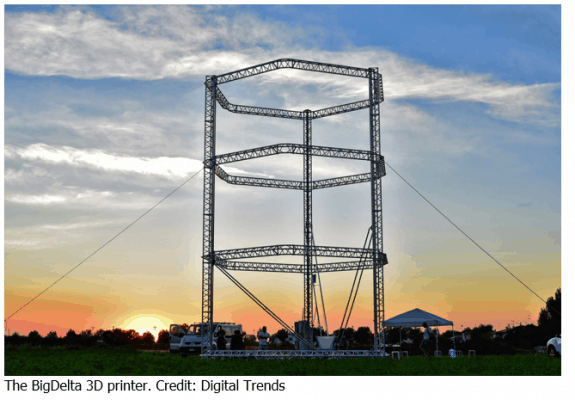 3D printing of homes is an area getting global attention, as regular readers of the Daily Business News know. A recent 3D home report is linked here.
Specifically, we covered the rollout of the BigDelta 3D printer one year ago, today.
So, what's happened?
According to Futurism the world's largest 3D printer, BigDelta, is close to completing its first 3D printed house… using mud as a primary material. The project aims to build low-cost housing as demand rises.
In a press release from Italy-based World's Advanced Saving Project (WASP), creators of BigDelta, the organization discusses their target niche, affordable housing for the masses.
"By 2030, international estimates foresee a rapid growth of adequate housing requirements for over 4 billion people living with yearly income below $3000. The United Nations calculated that over the next 15 years, there we be an average daily requirement of 100,000 new housing units to meet this demand."
BigDelta measures 39 feet tall, 20 feet wide and uses less than 100 watts of power.
BigDelta can print using dirt, clay or mud and the team is working on adding soil and straw to the list as well. The printer's nozzle functions to dispense materials as well as mix them together.
While promising in some ways, it also comes with a downside: speed.
As of this writing, the printer is just finishing its first house.
In this case, there is not much for the U.S. factory built home industry to worry about at this point. ##
(Image credits are as shown above.)

Submitted by RC Williams to the Daily Business News, MHProNews.