The AZ Republic has been reporting on a brewing scandal that could make FEMA's embarrassment over their Louisiana placement of Manufactured Housing Units (MHUs) pale by comparison.
The Navajo Housing Authority spent $12 million building 91 new homes, all but one was later demolished.
Then, "After failing to spend nearly a half-billion dollars in federal housing funds over a decade, a Navajo Nation agency has been pouring money into a project to produce small, modular dwellings at a cost of nearly $300,000 each — and possibly much more, according to tribal documents," per the Republic's Dennis Wagner and Craig Harris.
Their Navajo programs were already behind schedule. They had over $400 million in federal housing funds to spend that had gone unused.
Pressure from tribal President Russell Begaye and members of Congress has festered over the business practices at the Navajo Housing Authority.  Senator John McCain (R-AZ) said the tribal group "remains a broken public housing agency that is grossly misusing taxpayer funds."
Tribal records reportedly show that a company named LAM/Rockford Construction, LLC was contracted in 2014 to build tribal housing.
With studies and work moving slowly, what was begun as 260 planned homes was reduced to 170, and the average cost per home soared.
When asked about the controversies, in a written statement LAM/Rockford said 170 homes are completed and 90 more will be built.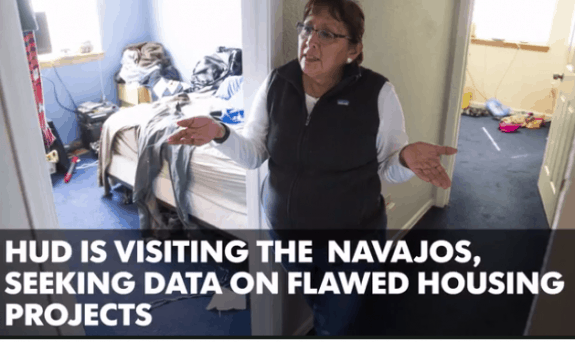 "We look forward to completing this important project with NHA in support of their mission to bring sustainable and cost-efficient homes to their nation," their statement reportedly concluded.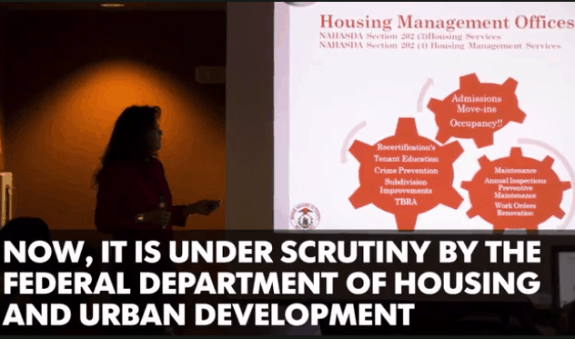 Loren Miller stated in an agency news release that the modular dwellings are high quality. "These homes aren't the standard home trailers [sic] you see out there," Miller said. "These houses are not going anywhere."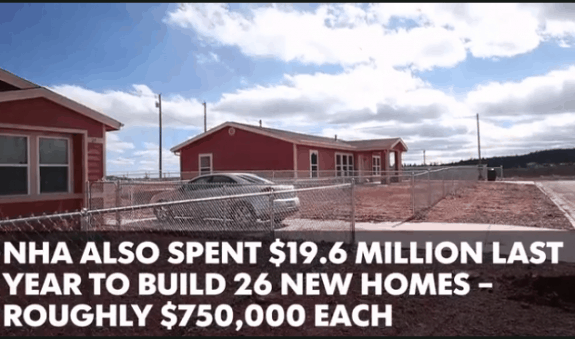 Nor are the costs for modular housing by any means, 'standard.'
"If only 170 dwellings are completed, as the NHA announced last year, the price per house would be $447,000 based on $76 million in contracts," Wagner and Harris said. "The houses are small, prefabricated structures ranging from two-bedroom units of 1,000 square feet to slightly larger three-bedroom dwellings. They were built by a subcontractor in Albuquerque and trucked to the reservation."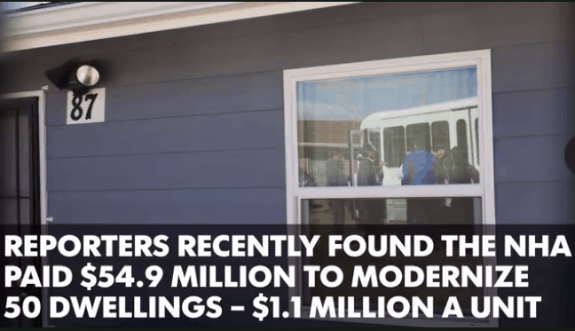 Because it is being built on tribal land, the costs were for the homes, labor and infrastructure.
Commenting in a post on the reports, Bob Sundhal said, "It is the same thing in Phoenix. The City [of Phoenix] is building apartment buildings for low income housing that cost $350K per apartment. Meanwhile, luxury apartments are being built (using private funds) for less than $300K."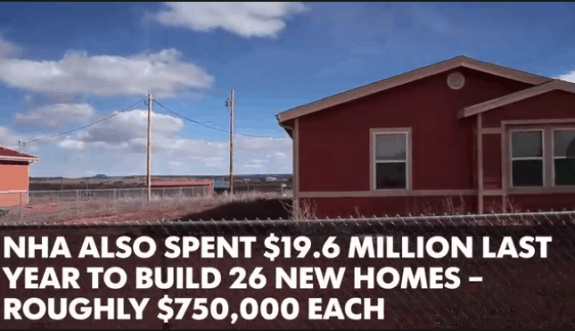 Richard Prince, Jr. posted, "Sounds a lot like the demolition corruption probe in Detroit."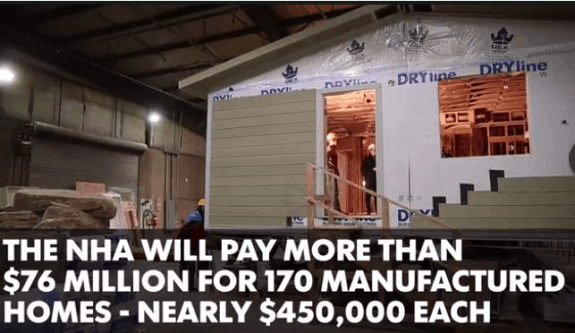 Given the huge sums the federal government allocates for housing projects, this is just another example of how public housing can often misuse funds, compared to private sector projects. The Daily Business News will monitor this and other similar stories. ##
(Image credits are as shown above, and when provided by third parties, are shared under fair use guidelines.)

Submitted by Soheyla Kovach to the Daily Business News for MHProNews.com.