The evolving Daily Business News market report sets the industry's stocks in the broader context of the overall market stocks.  By spotlighting the headlines – from both sides of the left-right media divide – this report also helps readers see what are the trends and topics that may be moving the investors that move the markets.
Readers say this is also a quick review tool that saves researchers time in getting a view of the manufactured housing industry, through the lens of publicly traded stocks.  MH "Industry News, Tips and Views, Pros Can Use." ©
Selected bullets from CNN Money:
Gas prices are falling fast 'Bachelor in Paradise' contract revealed.
How not to get ripped off at the doctor's office.
How much investing risk should you take in retirement?
3 things you need to know about your credit score.
Uber CEO Travis Kalanick resigns. Now what?
A 'breatharian' couple? Don't hold your breath.
Will the Democrats' lawsuit against Trump work?
What Saudi shakeup means for oil, economy.
Still no magic at Disney despite box office hits.
Working from home is really having a moment.
Selected headlines and bullets from Fox Business:
Trump vs. May: UK could win race to slash corporate tax rate, again.
Oil prices headed for $30, Bank of America says.
S&P, Dow hurt by Energy, banks; biotech boosts Nasdaq.
Oil drops to 10-month low; biggest first-half slide in 20 years.
Home sales rose in May but buyers face sharply rising prices.
Anthem exits ObamaCare marketplace in two more states.
Kia, Genesis top J.D. Power's initial quality rankings.
Diageo to buy George Clooney's tequila brand Casamigos for $1B.
US weighs sanctions on Chinese companies that deal with North Korea.
U.S. in the golden age of being a 'screw up': Dennis Miller.
Stop obsessing over the Fed's 2% inflation target.
Saudi royal shakeup potentially dangerous for U.S.: Bolton.
ObamaCare deadline forces insurers to gamble on future of health care market.
North Korea's Kim Jong-un will eliminate any potential threats, CIA analyst says.
ICYMI – for those not familiar with the "Full Measure," 'left-right' media chart, please click here.
9 key market indicators, 'at the closing bell…'
S&P 500 2,435.61 -1.42 (-0.06%)
Dow 30 21,410.03 -57.11 (-0.27%)
Nasdaq 6,233.95 +45.92 (+0.74%)
Crude Oil 42.48 -1.03 (-2.37%)
Gold 1,247.20 +3.70 (+0.30%)
Silver 16.41 -0.01 (-0.04%)
EUR/USD 1.1163 +0.0029 (+0.26%)
10-Yr Bond 2.155 +0.002 (+0.09%)
Russell 2000 1,399.25 -3.71 (-0.26%)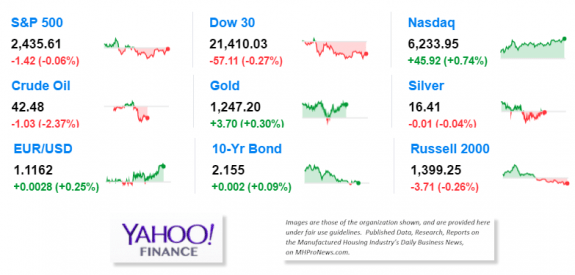 Manufactured Housing Composite Value 6.21.2017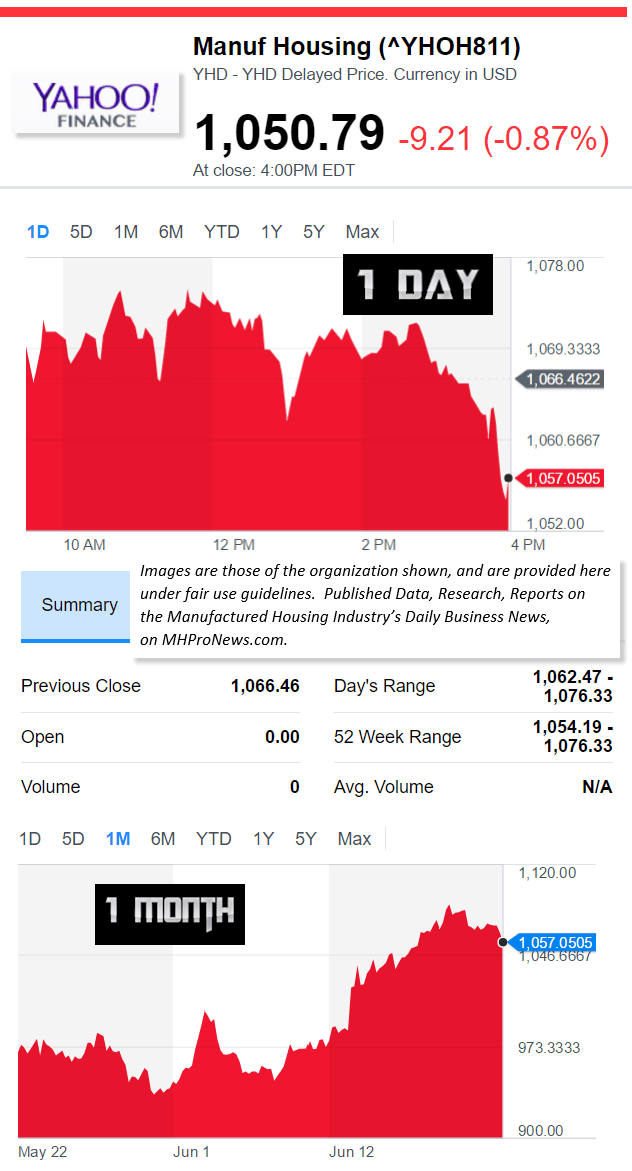 Today's Big MH Industry-Connected Movers
Nobility Homes and Carlyle were leaders among gainers. Skyline gave back most of yesterday's rally.
See the graphic further below for all the 'scores and highlights.'
Today's MH Market Spotlight Report –  UMH Properties
UMH Properties recently announced the reopening of its once flooded Memphis Blues property.
Images shown are from UMH's recently published report.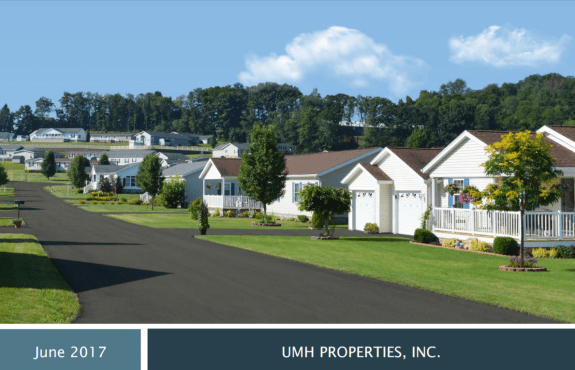 There has been insider trades reported by FIDaily, as follows. "Director Kenneth K. Jr Quigley purchased 60 shares at an average price of $16.50 on Thu. the 15th. That brings Quigley's holdings to $33,447 as recorded in a recent Form 4 SEC filing. Director Matthew I. Hirsch bought 634 shares at an average price of $15.75 on Mon. the 15th. That brings the Director's holdings to $171,440 per an SEC filing yesterday.
Director Kenneth K. Jr Quigley disclosed the purchase of 63 shares. The shares were bought on May 15th for an average price of $15.75. Quigley now owns $30,271 of the stock per the Form 4 SEC filing."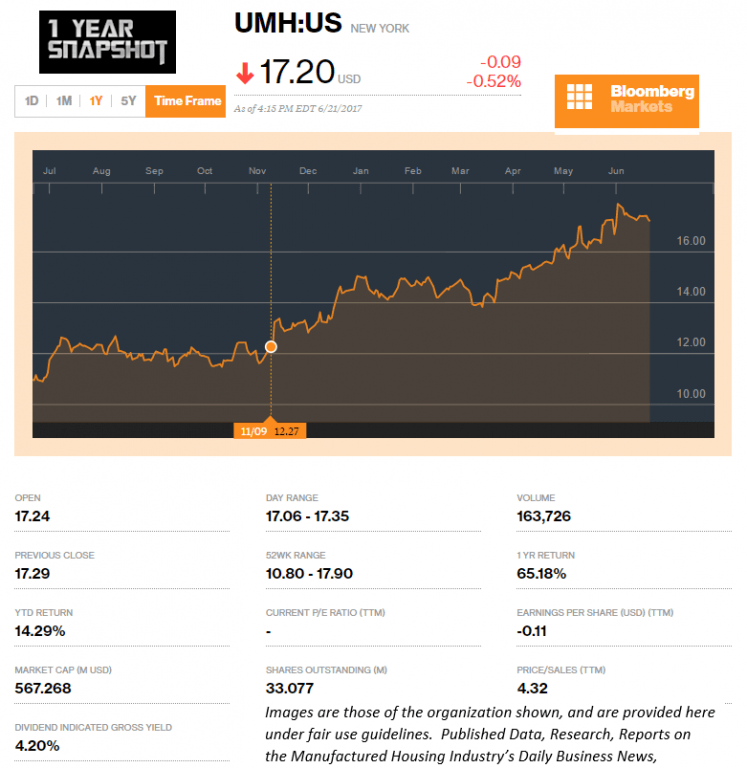 FIDaily also said, "…the primary business is the ownership and operation of manufactured home communities, including leasing manufactured home sites to private manufactured home owners. The Company also leases homes to residents, and through its taxable REIT subsidiary, UMH Sales and Finance, Inc. (S&F), conducts manufactured home sales in its communities. As of December 31, 2016, the Company owned 106 manufactured home communities consisting of approximately 19,300 developed sites. The communities are located in New Jersey, New York, Ohio, Pennsylvania, Tennessee, Indiana and Michigan."
Regarding moves in positions by larger investors: "As of the end of the quarter Goldman Sachs Group Inc had sold a total of 1,667 shares trimming its holdings by 8.2%. The value of the investment in (UMH) went from $304,000 to $282,000, a change of 7.2% quarter to quarter.
As of quarter end State Street Corp had acquired 115,181 shares, growing its position 31.0%. The value of the investment in UMH increased from $5,588,000 to $7,394,000, a change of $1,806,000 quarter over quarter.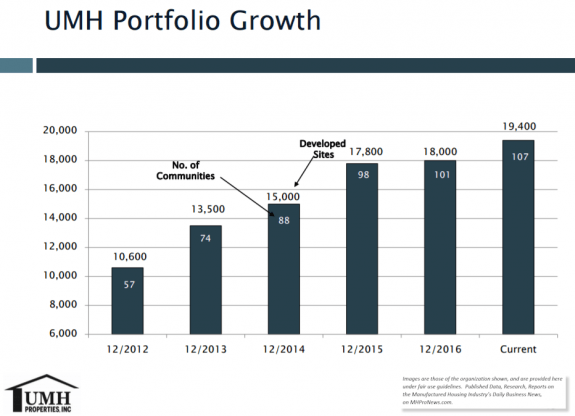 Schwab Charles Investment Management Inc augmented its position by buying 50,145 shares an increase of 98.7% as of 03/31/2017. Schwab Charles Investment Management Inc. owns 100,945 shares valued at $1,536,000. The total value of its holdings increased 100.8%.
Raymond James & Associates cut its holdings by selling 2,745 shares, a decrease of 3.3% in the quarter. Raymond James & Associates currently owns 79,882 shares worth $1,215,000. The value of the position overall is down by 2.3%."
MHProNews.com – "We Provide, You Decide." ©
See Recent Exclusive 1 Year Snapshot of All Tracked Stocks
TweetPeople – sadly, often including those in media – may lie, mislead, or spin. The great thing about numbers is that they simply are. Facts still matter. A high-ranking official at ELS told MHProNews that they believed in getting the word out; bad news, get it out. Good news, get it out.
NOTE: the chart below covers a number of stocks NOT reflected in the Yahoo MHCV, shown above.
NOTE: Drew changed its name and trading symbol at the end of 2016 to Lippert (LCII)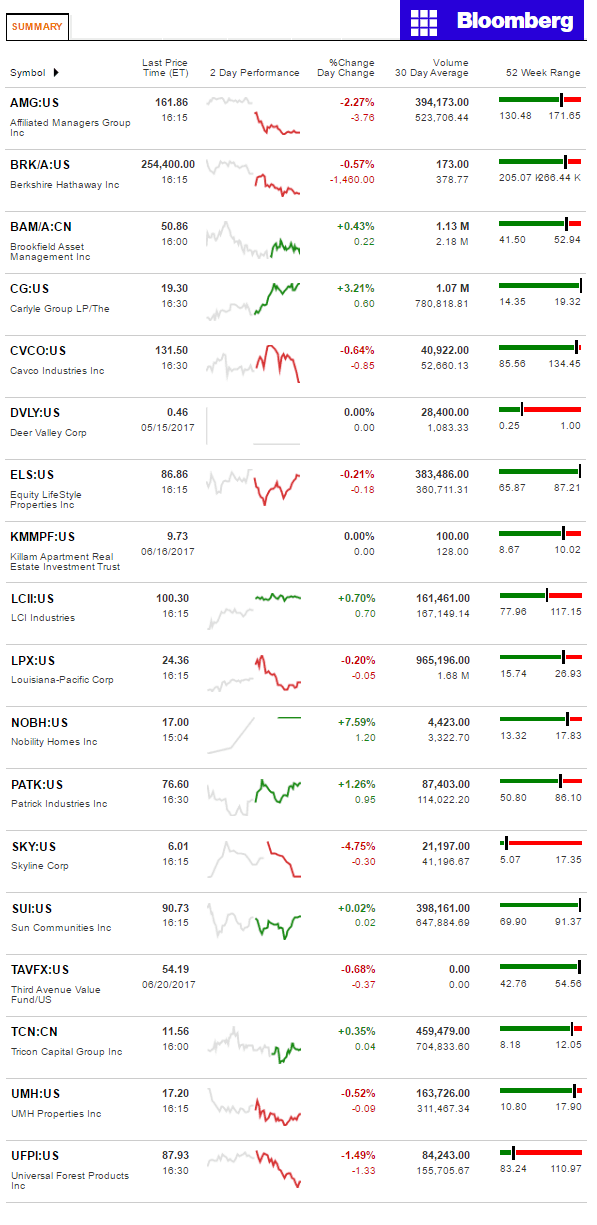 Berkshire Hathaway is the parent company to Clayton Homes, 21st Mortgage, Vanderbilt Mortgage and other factory built housing industry suppliers. LCI Industries, Patrick, UFPI and LP all supply manufactured housing, while AMG, CG and TAVFX have investments in manufactured housing related businesses.
Providing you only with the very best industry coverage, every business day.
"We Provide, You Decide." © ##
(Image credits are as shown above, and when provided by third parties, are shared under fair use guidelines.)

Submitted by Soheyla Kovach to the Daily Business News for MHProNews.com.