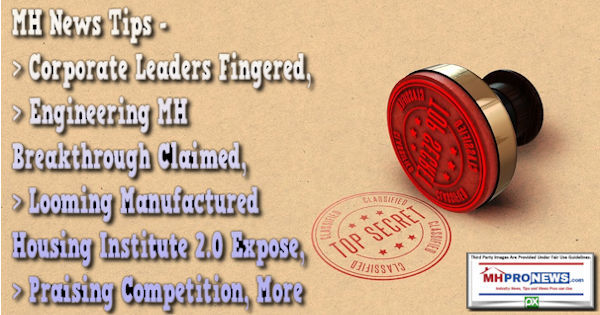 Practice makes perfect. Examples of news tips by some inspire others to do the similarly. Some of those news tips being received by MHProNews are increasingly sophisticated. Others are simple but still useful.
Advertise with MHProNews to be seen
Much of this report will be in praise of those who've delivered often relevant topics and insights via their tips and related comments.
Several different issues in brief below will hereby signal more detailed reports ahead. The main common point is that they are manufactured housing related. The sources are varied.
Clayton Homes has sent out a "new" release touting the Manufactured Housing Institute trademarked CrossModTM But this mention is only a placeholder on that brewing topic, which includes several alleged legal wrinkles. Those new insights will be addressed another time.
Corporate and nonprofit leaders are being fingered by name and with specifics. The tip on Cavco Industries' (CVCO) Joe Stegmayer covered in last night's market and investors report is just one of several that's been recently received. As always, we thank our thoughtful sources. Stay tuned for more.
What's Up? Cavco Industries (CVCO) Looming Announcement, plus Manufactured Home Investing Updates
Claims of housing technological breakthroughs occur on a periodic basis and have for some time. Among the recent ones is an engineer who asserts his method of construction will revolutionize manufactured housing as well as conventional construction. If so, the already limping so-called MHI-Clayton-Skyline/Champion-Cavco backed "new class of homes" could be a boring dead letter if that developing topic pans out. Some details are in hand, more are promised. Time will tell, as some such matters are not as claimed, though this one has provided initial evidence. Bottom line – stay tuned.
The Manufactured Housing Institute 'version 2.0' is arguably already off to a rocky start, because it is perched to face a new set of well-documented allegations from within the organization. Perhaps as a result of one or more recent MHProNews reports like this one, a fresh set of documents have been anonymously delivered to MHI's outside counsel, Executive Committee members and others have been asked for insights and reaction. While Jennison survived for years, albeit limpingly with Tim Williams and company purportedly propping him up, there is a genuine question if MHI's powers that be will do the same for another. It's developing, and whatever occurs will be fascinating to behold. Just wait for it. Unless something bigger brakes, that one may be as soon as this weekend.
The tips on politically related topics impacting the industry are coming in too. Where is MHI on the Sanders' campaign proposals regarding manufactured housing? Or what about their stance with respect to industry-related issues raised with concern by other Democratic hopefuls? Given the ongoing metamorphosis in the Democratic field, fake as well as genuine issues about Trump Administration leaders, the input on these could keep any other industry publication busy more than they already publish combined.
Increasing News Tips, Insider Comments
The more MHProNews and our MHLivingNews sites have published often gut-wrenching revelations in an authentic manner, the more news tips, documents, and penetrating insights and commentary have been coming in from a variety of sources inside and outside of MHVille.
It's all relevant to what's coming next.
Genuine and Ersatz MH Industry News Tips, plus Competition
There's pluses and minuses to most of everything, the saying goes.
There's always been a steady stream of media releases from public officials, nonprofits or business interests. Some are truly worth noting. Others might have been more useful years ago on a slow news day.
What's certain is that the numbers of bloggers and trade publications focused on manufactured housing, not to mention output from trade groups, has grown in the wake of MHProNews' decade-plus of success. Imitation is the sincerest form of flattery, observed a writer decades ago.
Sometimes, that's so.
But in the modern era of MHVille trade publishing or bloggers, what is far more common than imitation are self-promoting or Omaha-Knoxville-Arlington axis and their allies cheerleading echo chambers. Since thousands of industry professionals have increasingly grown wise to the axis' game, the question occurs – whom are the other publishers and bloggers trying to fool?
Public officials who might be reading their posturing platitudes?
Possible or current investors?
Trying to keep their own team inside their fencing?
All of the above and more?
The truth is stranger than fiction. Telling it like it is can be liberating. Each of our trade rivals deserves some measure of mention. They have intelligence, talented people.

On the above, we concur, on the below, one word. Fascinating. We give credit for both comments.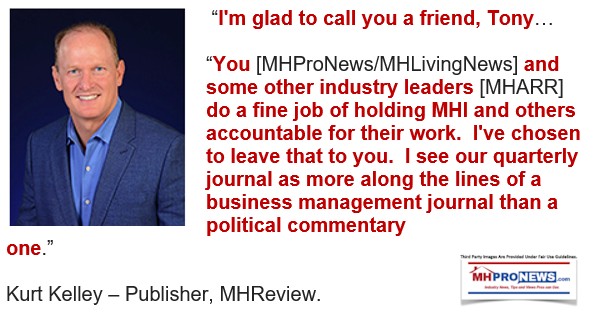 Directly or obliquely, intentionally or not, would-be rivals to MHProNews shed light on what's real vs whatever is a mere head-fake or paltering. But give each their due, intelligent and often talented people are involved in spinning out often sharp-looking – but nevertheless mistaken, misleading and even self-contradictory – drivel. It's frankly more useful to us – as chaff to be sifted for wheat – then it is to them. Their claims of big readership are often undermined by other objective data.
Propaganda has its place in say wartime when deployed against the opponent.
But when falsehood, spin or paltering are deployed in an effort to deceive 'their own,'
or in hopes of duping those who peer into manufactured housing who may not know better,
it merits strong condemnation. Someone may have a right to be wrong, but then label it accordingly. Which is why our fact-checks and analysis are popular readers, as are news tips.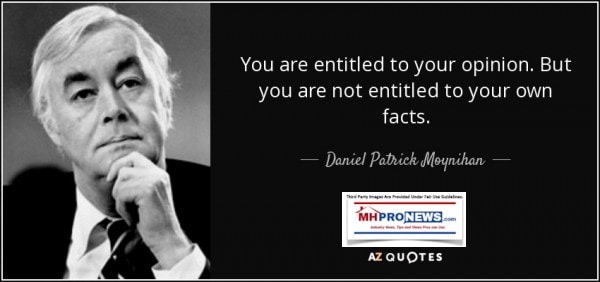 Not much needs to be said at this time about the Clayton backed new class of homes now dubbed "CrossModTM homes" beyond this. It's demonstrably flopping in the marketplace. Fannie Mae wants to pull back on their total numbers of commitments, because as of the St. Louis Listening Session in late 2019, it was revealed that between Fannie and Freddie Mac a total of 10 'new class' homes loans were closed in 2018 and 2019. Can you spell, pathetic?
But to thoughtful minds, that factoid immediately calls into question the so-called research MHI said was done to produce and promote the program. As an astute reader said, MHProNews predicted the problems almost two years in advance, and we should remind readers of that fact. That's how genuine news and authentic, meaningful analysis should work.
The tips on MHI now in hand were delivered in a one-way anonymous fashion. Because of how they were delivered, we can't question the sender. But the documents have not been questioned by anyone, and various parties have made it clear they are authentic and raise an issue that is reportedly part of a pattern at MHI.
That begs an array of questions.
Who that is clearly aware of what's going on in Arlington trying to undermine a certain MHI leader?
Or was the tipster's point also about the organization at large?
What's that sources' agenda?
Is the source trying to get even for something?
Or trying to rig a rival at MHI?  Is this what will happen when MHI has a president and a different CEO?
Is the source nobly trying to expose a wrongdoing, so the purported corruption of MHI is once more made manifest?
We have periodically provided commentary on deductive reasoning or how to spot a lie or deception. In an era when this or that politician as well as certain so-called industry leaders are comfortable with deceptive tactics, being able to recognize an questionable claim is useful.
But it takes no rocket scientist to realize that manufactured housing is underperforming. Our industry was doing far better. About two decades ago, manufactured homes were doing about 400 percent better than recent years. That begs questions about the so-called leadership of the Omaha-Knoxville-Arlington axis and their toady allies in industry trade media. Perhaps the most important thing to recognize about rival publishers is, are they just cheer leading, or do they question the results of so-called leaders that have been failing for over a decade?
Given the industry's good laws, it should do so if the powers that be arguably weren't undermining the industry from within. See the read-hot new interview linked below.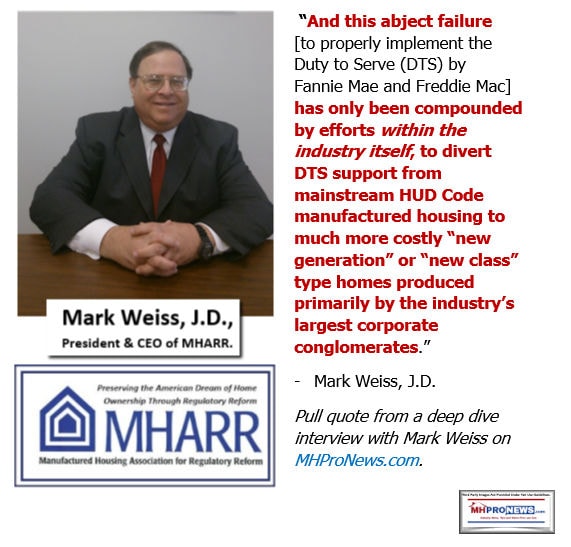 Not unrelated to what's occurring in manufactured housing, the comments period on the HUD Request for Information has been extended until January 31. 2020. See our prior report linked below for more on that topic.
Secretary Carson Chaired White House Council Official Manufactured Housing Input
If you do sound off to federal officials via that comments opportunity, keep these thoughts in mind.
These comments are routinely made public.
Others will see those comments.
Consider saying what's obvious. The industry has good laws that are being subverted or diverted.
The ones doing that diversion are often directly connected to the industry.
What's occurring and already happened in manufactured housing is a scam and scandal of epic proportions. Because withholding the opportunities that come with affordable home ownership harms tens of millions.
Thanks to the useful tips, timely comments and other forms of insight and support, count on MHProNews to bring you the intel that no other trade media in our industry has had the courage to expose. Our thanks to all who have made that possible. We continue to encourage others to do whatever they can to bring this to a proper end.
As we draw this toward a close, don't miss the first and other related reports below.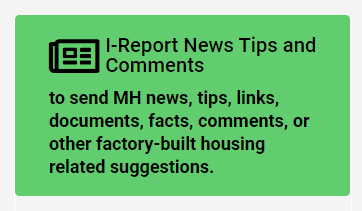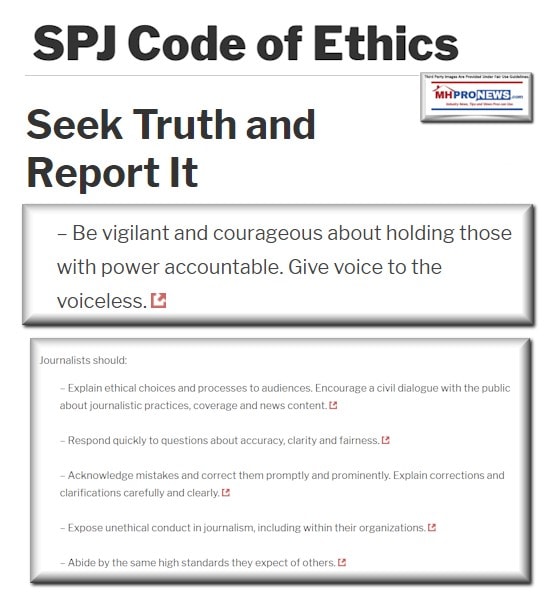 There is always more to come.  Want to know the hottest stories in MHVille? You won't find them anywhere else but here on MHProNews and on MHLivingNews. Seriously. Facts are what they are.
Advertise with MHProNews to be seen
But see for yourself. Dare to compare this to what you'll find anywhere else in MHVille. See if you find any topics or insights like those below the byline or otherwise linked from this report. See if anyone in the industry's trade media even comes close to our documentation of concerns, allegations and causes for the industry's underperformance. Then you'll know why we're the runaway number 1.
Among the other reasons for our being #1, are the tips from sources like those noted above. We salute and sincerely thank those who make this possible.
That's it for now on this Thursday morning installment of manufactured housing "Industry News, Tips and Views Pros Can Use," © where "We Provide, You Decide." © (Affordable housing, manufactured homes, reports, fact-checks, analysis, and commentary. Third-party images or content are provided under fair use guidelines for media.)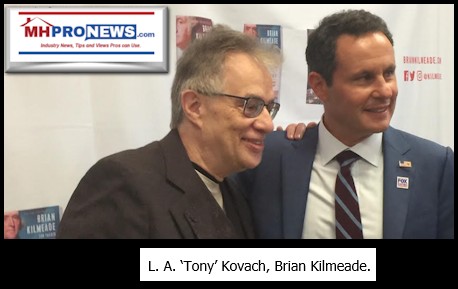 (See Related Reports, further below. Text/image boxes often are hot-linked to other reports that can be access by clicking on them.)
By L.A. "Tony" Kovach – for MHLivingNews.com.
Tony earned a journalism scholarship and earned numerous awards in history and in manufactured housing. For example, he earned the prestigious Lottinville Award in history from the University of Oklahoma, where he studied history and business management. He's a managing member and co-founder of LifeStyle Factory Homes, LLC, the parent company to MHProNews, and MHLivingNews.com. This article reflects the LLC's and/or the writer's position, and may or may not reflect the views of sponsors or supporters.
Connect on LinkedIn: http://www.linkedin.com/in/latonykovach
Related References:
The text/image boxes below are linked to other reports, which can be accessed by clicking on them.
Federal Official, Manufactured Housing Institute, Manufactured Housing Association for Regulatory Reform and Certain MHI Member Firms
Explosive – Veteran MH Insider Interview Delivers Vital Insights, plus Unpacking "Manufactured Housing Institute 2.0" Announcements
$500 Million Axne-Khanna Plan, Manufactured Housing Legislation Introduced, But Manufactured Housing Institute Fails to Tell Members?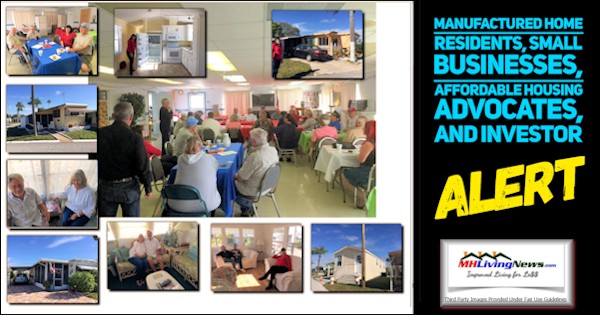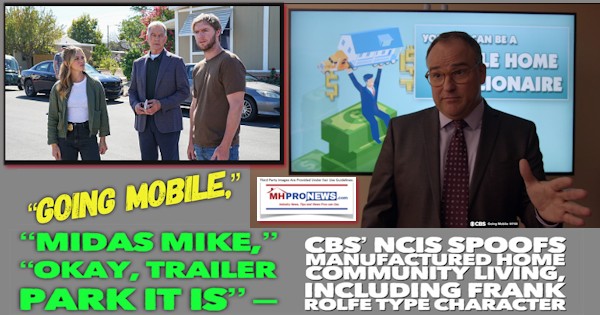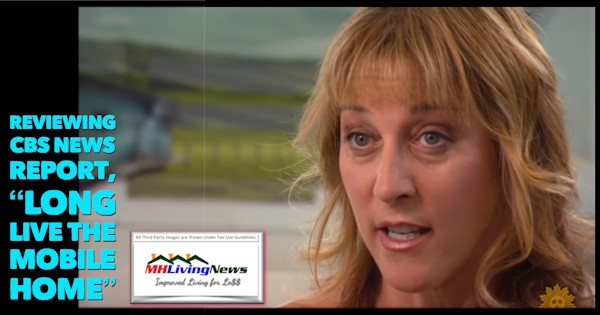 Saturday Satire and Executive Summaries for Manufactured Housing Professionals, Investors, Advocates, Researchers, Public Officials, and Investigators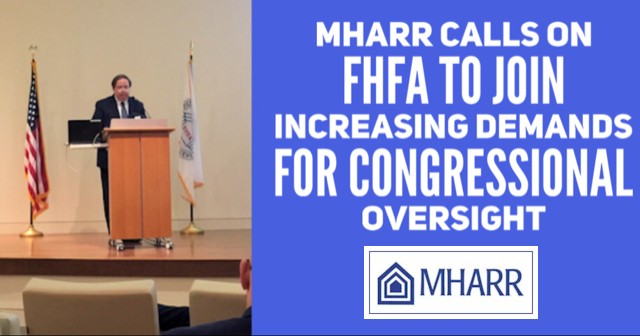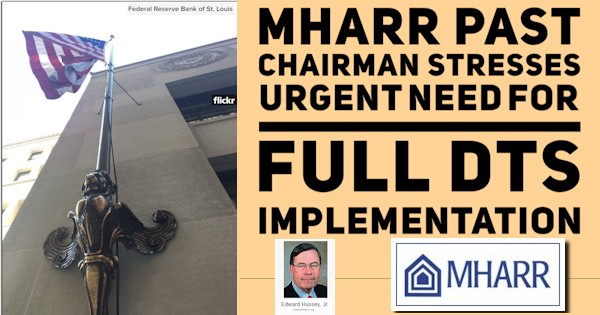 Blood. Brains. Why 2020 Could be Different than 2009-2019 in MHVille, plus Sunday Weekly Headline News Recap 1.5 to 1.12.2020