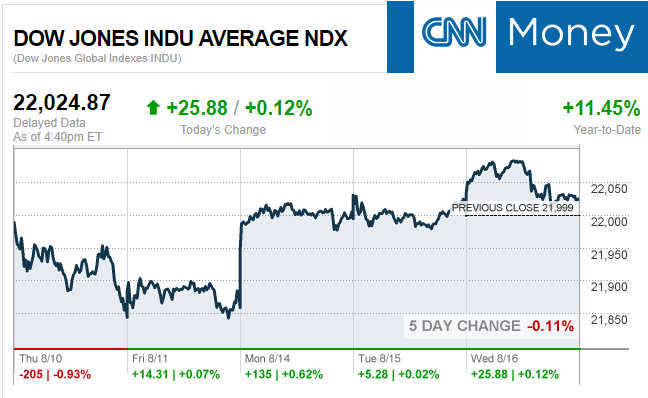 While much of the media on the left and right are unloading on the president, the White House is pointing to the actual words and deeds of POTUS Trump.
If you're new, already hooked on our new spotlight feature – or are ready to get the MH professional fever – our headline reports are found further below, just beyond the Manufactured Housing Composite Value for today.
The evolving Daily Business News market report sets the manufactured home industry's stocks in the broader context of the overall market stocks.
Part of this unique feature spotlights headlines – from both sides of the left-right media divide – that saves readers time, while underscoring topics that may be moving investors, which in turn move the markets.
Readers say this is also a useful quick-review tool that saves researchers time in getting a handle of the manufactured housing industry, through the lens of publicly-traded stocks.
MH "Industry News, Tips and Views, Pros Can Use." ©
Selected headlines and bullets from CNN Money:
Stunning rebuke for the CEO president
What CEOs are saying about Trump
White House business panels collapse Trending
The 'March on Google' is off
Fed leader: We're halfway there on interest rate hikes
Fox pulls 'plowing' through protesters how-to video Trending
Charlottesville is giving Vice News a breakout moment
Trump to pay key Obamacare subsidy in August
Charlottesville: How Corporate America responded
Young Indians are leaving US to find success back home
How Trump's business councils collapsed so quickly
Selected headlines and bullets from Fox Business:
JPMorgan CEO Dimon's memo on Trump to employees
Wall St ends up but off highs after Trump announcement, Fed minutes
Oil slides despite steep draw in U.S. crude stocks
NAFTA has 'failed' Americans, US prepared for drastic overhaul
Cisco's security business revenue growth misses estimates, shares drop
Trump announces end of Manufacturing Council, Strategic & Policy Forum
Fed: Portfolio cuts 'relatively soon,' December rate hike less certain
Mayweather, McGregor to fight in smaller boxing gloves on Aug. 26
Trump will make key ObamaCare subsidy payments in August
GM's hydrogen-powered Army truck put to the test
Goldman bets on Biogen's potential 'blockbuster' Alzheimer's drug
Foursquare co-founder: I wouldn't sell my company for $1B right now
Neo-Nazi site's publisher says he's got no home on internet
Powerball jackpot hits $430 million for tonight's drawing
The 3 best and worst states to retire
Prince honored by Pantone with own shade of purple
Legendary musician Prince is now getting his very own shade of purple.
AgroFresh Solutions Inc. Prepares to Harvest Earnings
ICYMI – for those not familiar with the "Full Measure," 'left-right' media chart, please click here. 
Today's markets and stocks, at the closing bell…
S&P 500 2,468.11 +3.50 (+0.14%)
Dow 30 22,024.87 +25.88 (+0.12%)
Nasdaq 6,345.11 +12.10 (+0.19%)
Crude Oil 46.77 -0.78 (-1.64%)
Gold 1,288.80 +9.10 (+0.71%)
Silver 17.11 +0.40 (+2.37%)
EUR/USD 1.177 -0.0001 (-0.01%)
10-Yr Bond 2.226 -0.04 (-1.77%)
Russell 2000 1,383.53 +0.30 (+0.02%)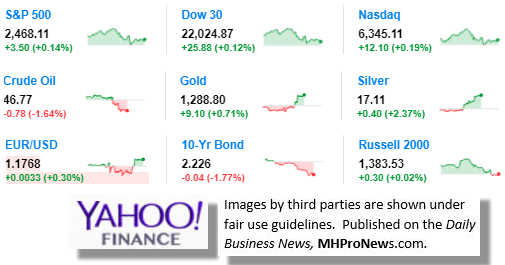 Manufactured Housing Composite Value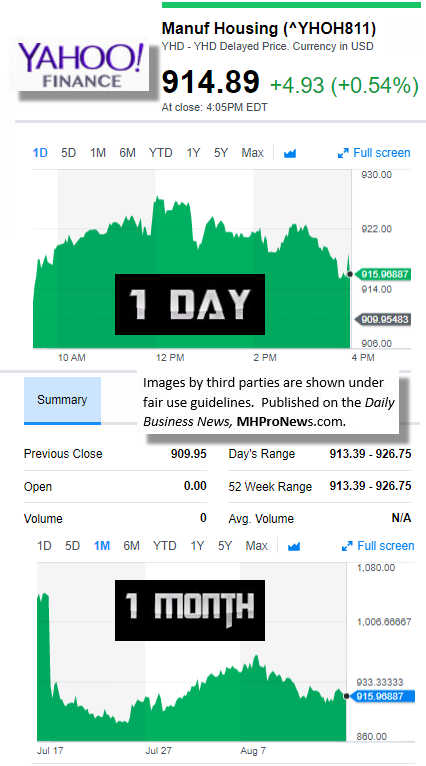 Today's Big Movers
Markets were mixed today.
For all the scores and highlights on tracked stocks today, see the Bloomberg graphic, posted below.
Today's MH Market Spotlight Report – 
White House tells MHProNews what its reading in the mainstream media, different from what many televised reports project.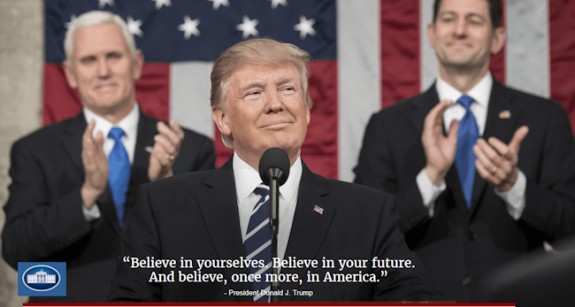 While media on the left and right are lashing out a what the president said (reposting that video below, because as what is being alleged by anti-Trump media is not what the president said), the White House is pointing out toe MHProNews those media outlets that are reporting economic and other advances.
The Washington Times editorial board writes there are "encouraging signs" that the Trump administration's regulatory rollback is helping put the economy back on track, and that passing the RAISE Act could provide even more economic relief to American families and workers.
————
In Connecticut's Hartford Courant, Pitney Bowes' President and CEO Marc Lautenbach makes the case for why American businesses of all sizes need tax reform, saying a "failure to pass tax reform this year could disrupt" the economy's current "positive momentum."
————
In The Hill, economist Stephen Moore touts the economic progress that black Americans have made under the Trump administration so far, writing that the President is "delivering positive results" in "creating jobs, higher incomes and trying to give a better education to every disadvantaged child in America," calling it "a pretty darn good civil rights record."
————
In U.S. News and World Report, the Manhattan Institute's Diana Furchtgott-Roth writes that the President is standing up to China by helping American companies fight intellectual property theft. She writes, "It's about time that China was taken to task, not just for intellectual property violations, but for making it difficult for American companies to operate within China."
————
The actual video of what the president said, that sparked such a firestorm, is below.
If you watch it, ask yourself.  Where would the logic be for the president to support any racist group, when it is such a tiny minority of the country?
Where in this video does he say a single thing that is pro-racist?
If We listened to the entire roughly 23 minutes. If you don't hear anything racist, we didn't either.  The 'dog-whistle' claims by his opponents that tried to keep him out of office don't make sense, and are pure spin. The anti-Trump media appear to be hoping that millions will not look at the facts, but will only listen to the media commentary.
Take the time to listen objectively exactly what he said, word for word. "We Provide, You Decide." ©

See Recent Exclusive 1 Year Snapshot of All Tracked Stocks
http://www.MHProNews.com/blogs/daily-business-news/manufactured-housing-industry-markets-wall-street-reacts-to-trumponomics-1-year-data-snapshot/
NOTE: the chart below covers a number of stocks NOT reflected in the Yahoo MHCV, shown above.
NOTE: Drew changed its name and trading symbol at the end of 2016 to Lippert (LCII).
Manufactured Home Industry Connected Stock Markets Data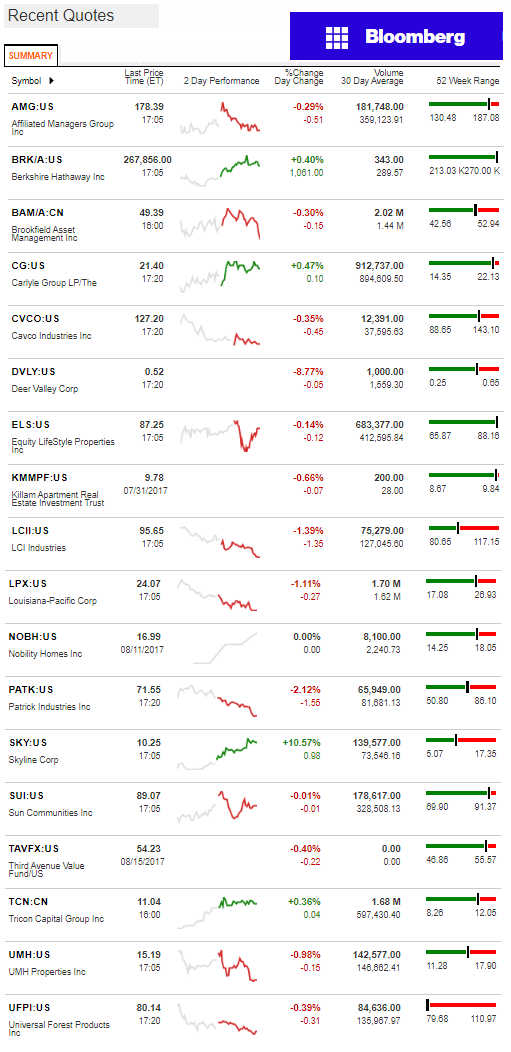 Berkshire Hathaway is the parent company to Clayton Homes, 21st Mortgage, Vanderbilt Mortgage and other factory built housing industry suppliers. LCI Industries, Patrick, UFPI and LP all supply manufactured housing, while AMG, CG and TAVFX have investments in manufactured housing related businesses.
Your link to a recent round of industry praise for our coverage, is found here.
For the examples of our kudos linked above…plus well over 1,000 positive, public comments, we say – "Thank You for your vote of confidence."
"We Provide, You Decide." © ##
(Image credits are as shown above, and when provided by third parties, are shared under fair use guidelines.)

Submitted by Soheyla Kovach to the Daily Business News for MHProNews.com.