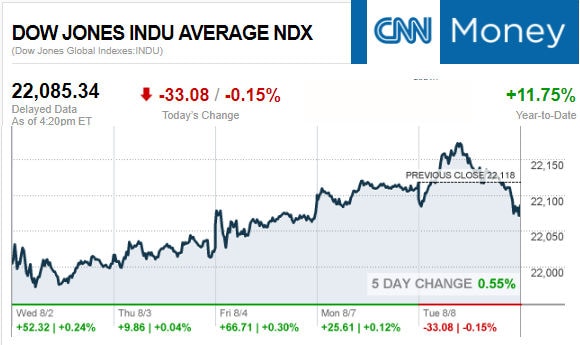 If you're new, already hooked on our new spotlight feature – or are ready to get the MH professional fever – our headline reports are found further below, just beyond the Manufactured Housing Composite Value for today.
The evolving Daily Business News market report sets the manufactured home industry's stocks in the broader context of the overall market stocks.
Part of this unique feature spotlights headlines – from both sides of the left-right media divide – that saves readers time, while underscoring topics that may be moving investors, which in turn move the markets.
Readers say this is also a useful quick-review tool that saves researchers time in getting a handle of the manufactured housing industry, through the lens of publicly-traded stocks.
MH "Industry News, Tips and Views, Pros Can Use." ©
Selected headlines and bullets from CNN Money:
Dow's nine days of records finally ends
Disney to pull content from Netflix
Millions can't feel the stock market boom
The US has a record number of job openings
Fact-checking Trump falling on deaf ears? Far from it
Engineer behind controversial memo is out
Wells Fargo customer's horror story
AI expert wants to bring deep learning to the masses
How many Fortune 500 CEOs are women?
Controversy in Wisconsin over handout to lure Foxconn
In Google memo author, conservative media finds martyr
Selected headlines and bullets from Fox Business:
Trump says North Korea will be met with 'fire and fury' if it threatens U.S.
Wall Street falls after Trump warning to North Korea
S. should strike first if North Korea develops nuclear warhead: Lt. Col. Peters
Wall Street clings to gains with tech leading
S. oil prices slip as some OPEC producers export more
S. job openings at record high; labor market tightening
'Strong possibility' Foxconn opens facility in Michigan: Gov. Snyder
'Fake news' drives advertisers to reputable brands: Time CEO
Bad news for Google worker fired for speaking his mind: if he sues, he'll probably lose: Judge Napolitano
Disney posts profit drop, to acquire BAMTech majority stake
Sage-grouse bird ruling to aid economic and job growth
Pilot-less planes expected within the decade, but are travelers on board?
Lynch documents reveal DOJ is keeping a 'dirty little secret,' says Judge Napolitano
SoftBank invests $1 billion in sports e-commerce firm Fanatics: sources
UPS center evacuated, 7 hospitalized after chemical leakarticle UPS center evacuated, 7 hospitalized after chemical leak
Firefighters in New Hampshire say seven people at a UPS distribution center have been hospitalized for minor respiratory problems.
Markets Right Now: Dow average ends a 10-day winning streak
Figures on government spending and debt
ICYMI – for those not familiar with the "Full Measure," 'left-right' media chart, please click here. 
Today's markets and stocks, at the closing bell…
S&P 500 2,474.92 -5.99 (-0.24%)
Dow 30 22,085.34 -33.08 (-0.15%)
Nasdaq 6,370.46 -13.31 (-0.21%)
Crude Oil 49.14 -0.25 (-0.51%)
Gold 1,265.90 +1.20 (+0.09%)
Silver 16.44 +0.19 (+1.16%)
EUR/USD 1.1747 -0.0047 (-0.40%)
10-Yr Bond 2.283 +0.026 (+1.15%)
Russell 2000 1,410.15 -4.02 (-0.28%)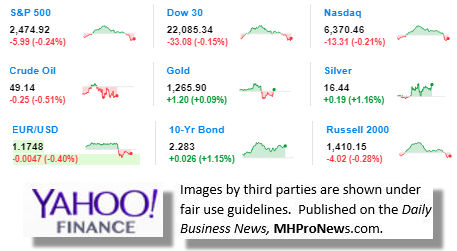 Manufactured Housing Composite Value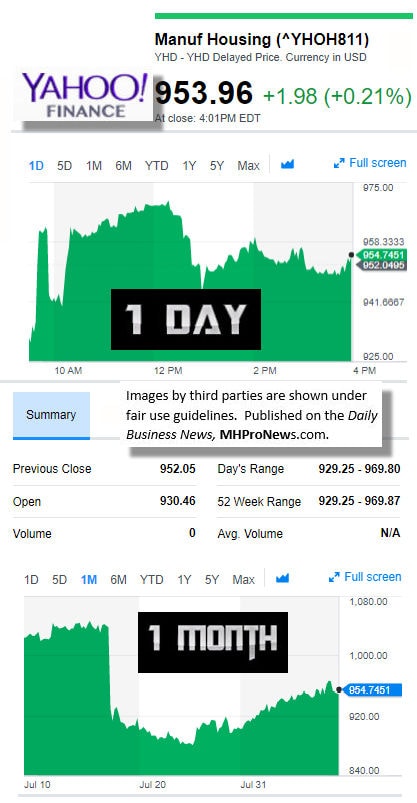 Today's Big Movers
CVCO, Tricon lead risers.
CG, NOB, LCI lead sliders.
For all the scores and highlights on tracked stocks today, see the Bloomberg graphic, posted below.
Today's MH Market Spotlight Report – The MH Industry, Capital and Manufactured Home Communities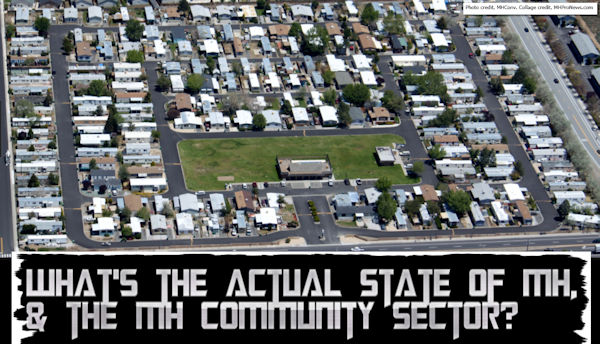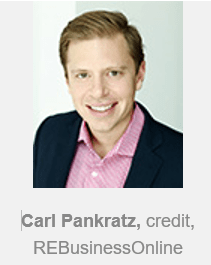 "The industry looks strong as we enter the second half of 2017 and beyond," said Carl Pankratz, a Vice President at commercial real estate firm NorthMarq, as quoted in REBusinessOnline.
He was addressing his view of the state of the manufactured home community and related lending sector.
While it's true that the business is much healthier today than it was 8 to 10 years ago, that's not the same as truly being "strong."
At least, not in the view of one Marty Lavin, JD.
Lavin, a community, finance, and retail veteran recently published an in-depth report on the current state of the community sector. Lavin's state of the industry commentary – which spends significant time on communities- is linked here. Lavin says the industry has slid from being every other new housing start about 4 decades ago, to being closer to one out of 10 starts today.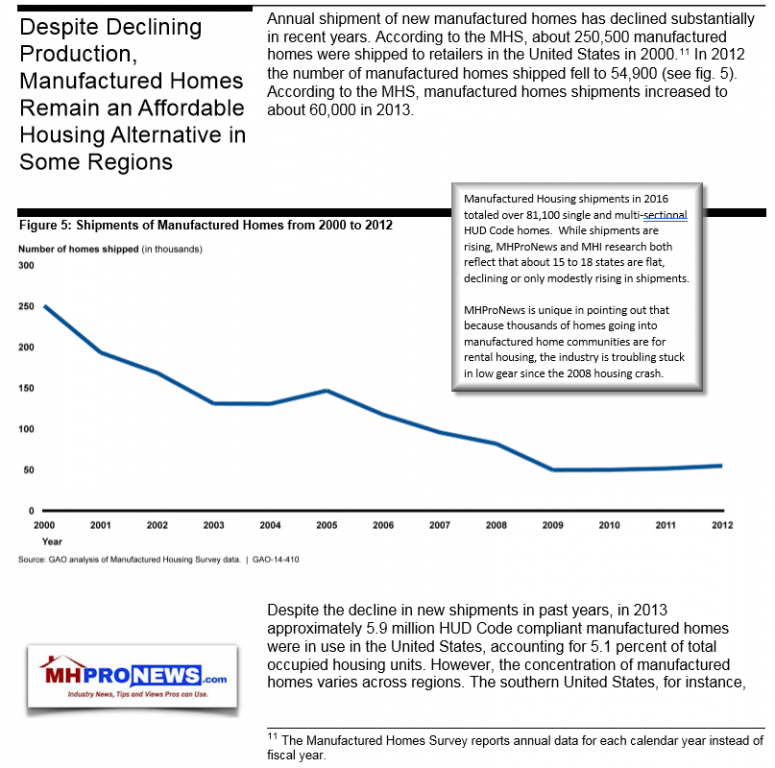 Pankratz cites several points, that are accurate enough.
"From the amount of capital in the market to the changes in the government agencies to continued reforms in financing for chattel, or homes, the industry of manufactured housing heads into the second half of 2017 with substantial momentum, thanks in part to a number of new entrants in the market," Pankratz says.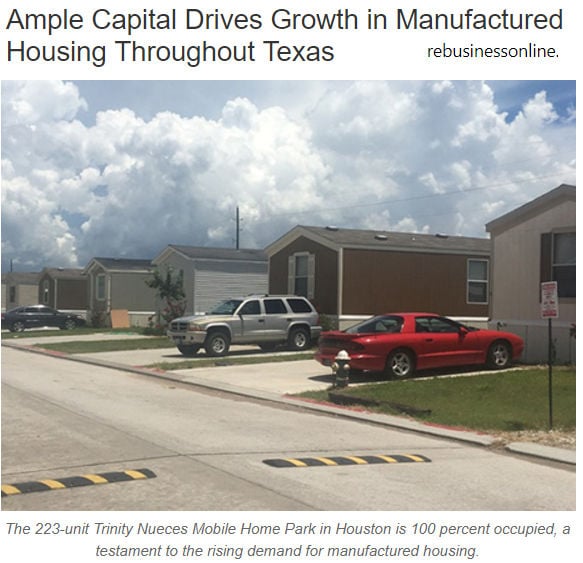 Many in the MHC world would agree as well with this comment of his, "But above all else, capital is plentiful, fueled by heightened interest in the industry in the private equity and REIT space, as well as low interest rates,"
Indeed, the rising values of communities is in part due to enhanced capital flow.
REBusinessOnline said, "Also fueling this competition is the very attractive debt offered by both Fannie Mae and Freddie Mac. Around three years ago, Freddie made a big push into financing manufactured housing communities via its ability to look at 3-star communities."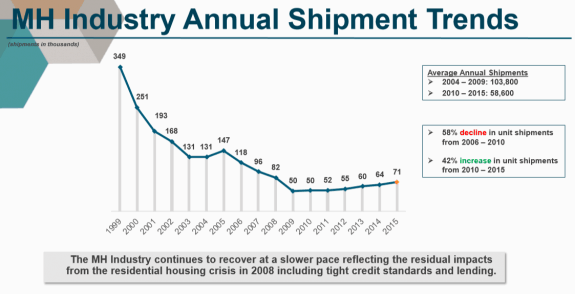 Part of the reason for that new capital is due to the strong performance of manufactured home communities during the 2008 crash, a.k.a. the 'great recession.' Compared to other sectors in real estate or commercial lending, manufactured home communities often outperformed them. So capital came back to communities several years ago.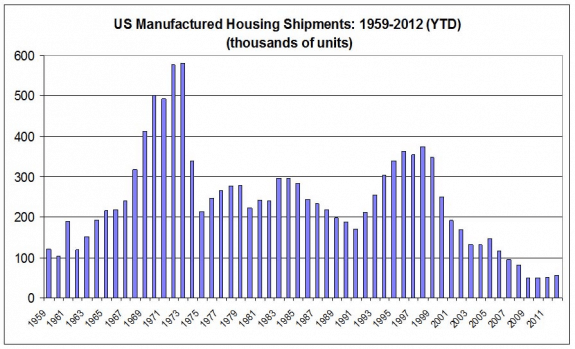 But until someone digs more deeply into the history of the industry – and begins to understand its true potential – what sounds great is actually just a pale shadow of the way this industry once was (see chart above, or Lavin's article linked above).
Or, says Barry Noffsinger of Credit Human, how it could be.
Placed in the context of the overall industry's history, while manufactured housing is recovering and has great potential (almost all informed professionals agree on that), there is a serious need to make adjustments to secure the industry's future.  A downturn like the one in 2008 likely could prove to be far less sustainable for the manufactured housing industry as a whole.  As MHProNews has spotlighted, numerous states are actually still in retreat on shipments.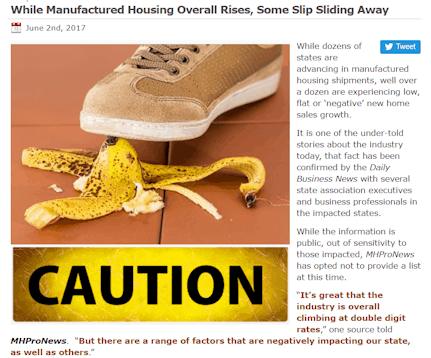 Thus, the desire of many to see the industry truly soar – rather than grow at the more modest levels seen today. (News, fisk, analysis – end of this segment.)
See Recent Exclusive 1 Year Snapshot of All Tracked Stocks
http://www.MHProNews.com/blogs/daily-business-news/manufactured-housing-industry-markets-wall-street-reacts-to-trumponomics-1-year-data-snapshot/
NOTE: the chart below covers a number of stocks NOT reflected in the Yahoo MHCV, shown above.
NOTE: Drew changed its name and trading symbol at the end of 2016 to Lippert (LCII).
Manufactured Home Industry Connected Stock Markets Data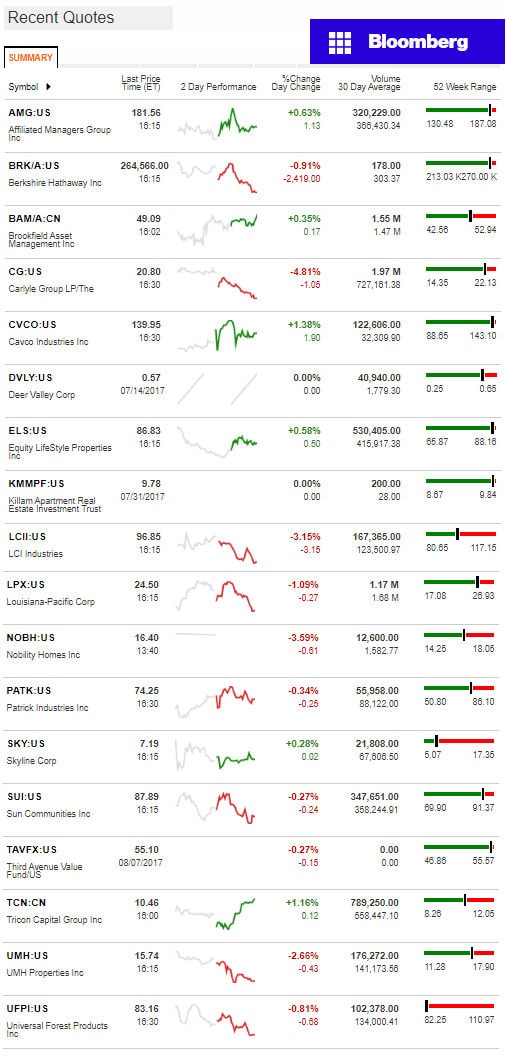 Berkshire Hathaway is the parent company to Clayton Homes, 21st Mortgage, Vanderbilt Mortgage and other factory built housing industry suppliers. LCI Industries, Patrick, UFPI and LP all supply manufactured housing, while AMG, CG and TAVFX have investments in manufactured housing related businesses.
Your link to a recent round of industry praise for our coverage, is found here.
For the examples of our kudos linked above…plus well over 1,000 positive, public comments, we say – "Thank You for your vote of confidence."

"We Provide, You Decide." © ##
(Image credits are as shown above, and when provided by third parties, are shared under fair use guidelines.)
Submitted by Soheyla Kovach to the Daily Business News for MHProNews.com.