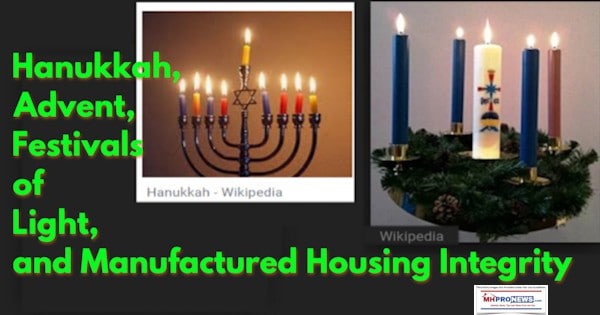 "It is better to light one candle than to curse the darkness."
– Motto of the Christophers.
Our friends, colleagues, clients, and readers in manufactured housing span the gamut of almost any groups or subgroups one cares to mention. While Muslims, New Age, Buddhists, atheists, agnostic, and other religious groups are among our readers, we'll spend a few moments on the Jewish festival of Hanukkah, which begins at sunset tonight, and the Christian feast of Advent.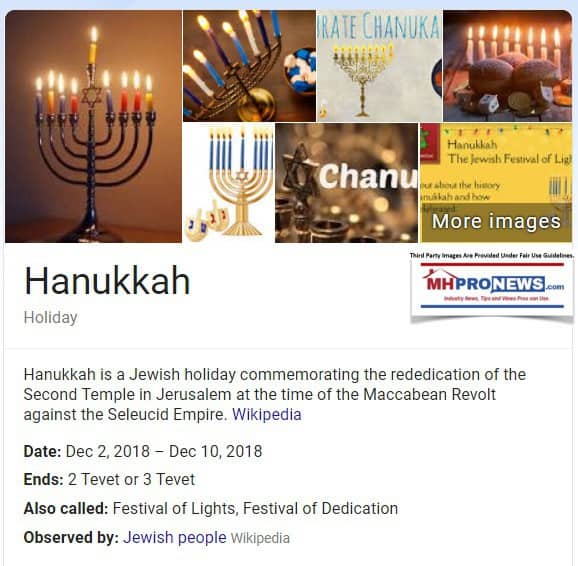 As an FYI, ICYMI, we have an article on MHLivingNews geared toward the public.  There are countless ways that our industry's professionals can honorably – with integrity – reach out to connect with those looking for a better lifestyle that costs them the same or less as other options.
Festivals of Light – Hanukkah and Advent in Manufactured Home Land – a.k.a – MHVille
There are people of integrity to be found from sea to shining sea in our industry.
They may work for big companies, or a small organization.  They may install homes, repair them, sell them, manage a community, build factory-crafted homes, provide financial services, offer legal or other professional services, or engage in the scores of other activities our industry requires.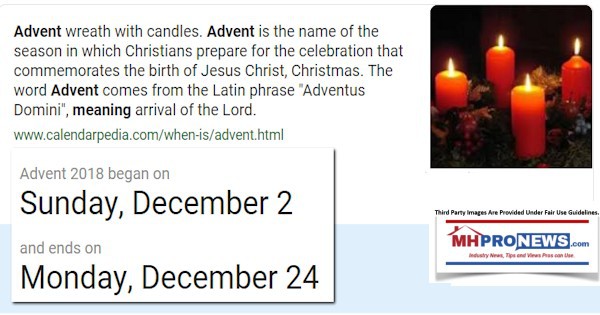 And while it may be politically incorrect these days to explicitly say so, those who are inspired by their faith to be their best are arguably part of the reason for that integrity.
So first, let's celebrate those who celebrate these festivals of light.  Let's note too that historically, and in our own time, people of conviction are often called upon to fight for worthwhile principles.  It's a mistake to believe that good things just happen by thought alone.  Faith without good works is dead (ref: Jas 2:26b).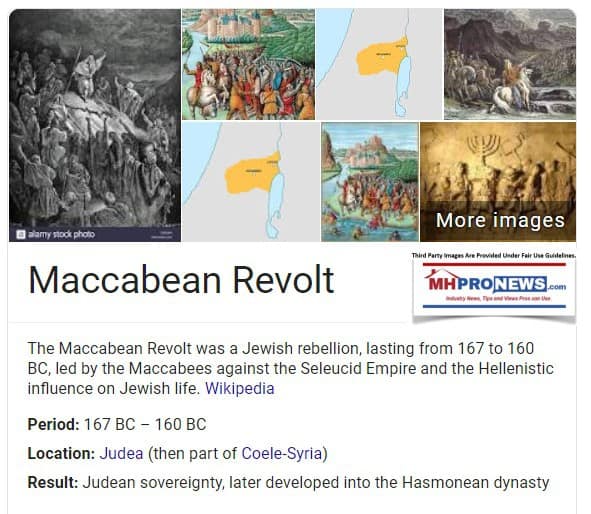 Next, those same faith categories are found among our manufactured home industry's residents and home owners too. Only, they far outnumber us professionals.
Those in or familiar with the manufactured home community sector know that Hanukkah menorahs are seen in the windows of some residences.
Others have more often seen the "Christmas lights" – which are more properly Advent lights – in the four weeks before Christmas.
Our industry needs light, as do all professions. Our industry needs the inspiration of people of good will.
From the Mail Room…
My wife and I have had a few smiles and a good laugh about some messages and calls that have come in during the last week, which we will explain how it relates to this in a moment.
From a non-MHARR sources, are these 2 quotes. The "You" below should be understood in both instances as a reference to our online trade publications.
"You are prolific and you keep the headlines sexy," and "You seem to have a conceptual IQ that is more important than spelling ability."
Thanks so much. There is always more, but that fits.  Because a man has to know and admit his own limitations. By way of disclosure, for Soheyla, English is her third language.  For me, my English teachers were driven crazy by my typos and glitches. In fact, my typing teacher told me I was the first person in her 40 years of teaching that she asked to drop her class.  Ouch, but sorry, but I stuck with it. Plus in an era of autocorrections, sometimes what you think you wrote isn't what in fact gets published, if you don't proof carefully enough.  Somehow, the good grades still happened for both of us.
The moral is that perfection isn't necessary for something to be worthwhile.
Light is shined into the darkness. Lighting a candle dispels darkness. In fairness to the darkness, God made both night and day for good reasons. Plant and human growth aren't just something that occurs during the daylight hours.
But light is needed to accomplish a variety of things after dark. For that, there are candles and other  more modern forms of illumination.
Neither you nor we have to be perfect to do some things well enough to make a positive difference in our industry and nation. In the places where darkness has reigned for too long, we quote the Creator of all things, who said:
"Let there be Light,"
"…and there was light."
(Gen 1:3)
Let's embrace and share that light, even though light is at times resisted. Because it is better to light that candle than to curse the darkness. That's a look at "Innovation – Information – Inspiration for Industry Professionals," where "We Provide, You, Decide." © ## (News, commentary, and analysis.)
(See Related Reports, further below. Third-party images and content are provided under fair use guidelines.)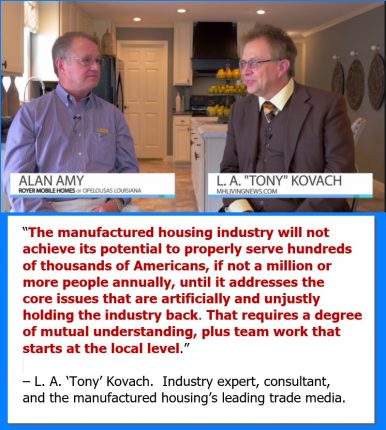 By L.A. "Tony" Kovach – for MHProNews.com.
Tony is the multiple award-winning managing member of LifeStyle Factory Homes, LLC, the parent company to MHProNews, and MHLivingNews.com.
Office 863-213-4090 |Connect on LinkedIn:
http://www.linkedin.com/in/latonykovach
Sign Up Today!
Click here to sign up in 5 seconds for the manufactured home industry's leading – and still growing – emailed headline news updates.
Related References: