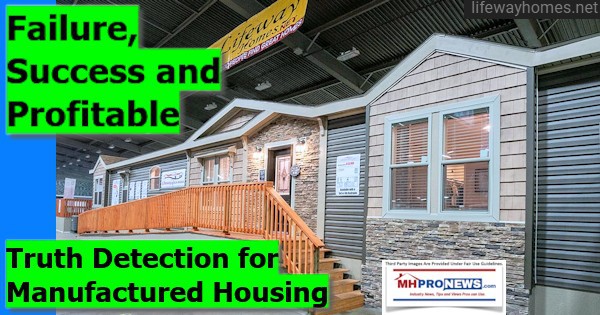 Everyone has had the experience of realizing that something that they had believed about a person, thing or group was untrue. 
There are scores of reasons that explain why and how that phenomenon of discovery occurs. But the reality is that it does happen, so it needs no more explanation than what's just been given.
Failure and success are often a matter of proper knowledge. Every parent has observed a child that was doing something wrong. If the child is not properly informed in a parental way of their error, perhaps they would just keep on making the mistake, and keep failing. It is innate for a normal parent to want the best for their child. So, the helping hand of correction is patently and lovingly given as needed.
So, when contradictory information is out there in the public, how does someone detect the truth? When contradictory examples or claims are made, how can one honorably discover and express the truth?
There are many ways. So, let me focus on a simple and proven notions, that anyone can do, and then relate it to achieving a greater degree of Manufactured Housing Professional Success.
Back to Basics  
Basics are the foundation of understanding. There are the ABCs of the English language. There are the 1-2-3s of math. There is gravity in science. But how about the basics for sustainable, profitable business? 
In Tulsa, OK there's a manufactured home retailer whose business name is LifeWay Homes. Clever name, packed with meaning. If you spend much time in their office, it is no secret that their faith – LifeWay – is a core concept for them. Housing is also a prerequisite to what most consider a good "way of life" – again, LifeWay. By the way, they never expressly said that to me, it is intuited.  
In Louisiana, there is another retailer named Alan Amy. He too has a marvelous way of expressing powerful yet simple notions. People come into office and sales center, they are interested, but are not always ready to buy. Why?
Because they have questions, concerns, and doubts.  Those doubts about manufactured homes occur from coast-to-coast, border-to-border with regards to our industry.  It is a phenomenon that few if any industries as well established as manufactured homes are has experienced. 
But back to Alan Amy…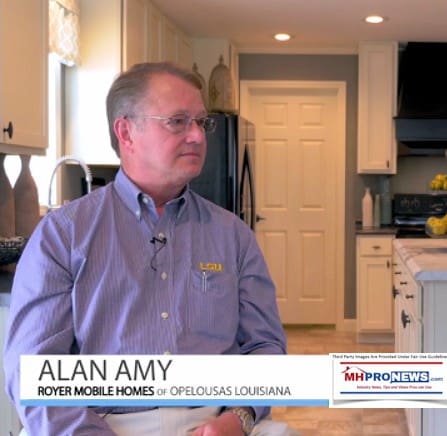 'Touch and feel,' Alan said during a video interview we did with him, as he described what he sometimes says to skeptical buyers.
Smart. Get someone to experience what manufactured homes are. That's similar to what the late, great Zig Ziglar taught me about the "puppy dog close" in sales. Experiencing a manufactured home is wise.
The five senses – including setting, touching, and hearing –  those can lead to believing.
Neither Amy nor the good folks at LifeWay knew it, but this writer has used some similar notions for years, although we might describe them differently. Our prime purpose with them was for interviews of them and some of their customers.
Getting someone to experience or confront a truth well told is powerful. We have an entire, formal marketing and sales process that can convert a site-built hosing shopper into a manufactured home buyer. Not 100 percent of the time, but more than often enough, and pleasantly enough, where it works for everyone involved. Happy customers and referrals flow.
But our sales and marketing successes aren't the point of this column, Truth Detection is. 
The truth will routinely become evident over time. The truth may or may not be so evident 'on the spot.' Confidence men or 'con men' know that, and they expect their deception to be relatively short lived, but long enough to separate someone from their money or some other valuable possession. 
By the way, in any con man movie that you ever watched, was the con artist – male or female – ever lacking in charm, or persuasiveness? Often dressed to fit the part, the con is about a well told lie, often based upon believable half-truths.
For a discerning, questioning, and open mind, the truth is knowable. Time and attention to the details vs. the claims made are among the keys to Truth Detection.
Truth Detection 101
Here's how people around the world have detected the truth from a lie or deception for thousands of years.
It's called, the 10 Commandments. Let's first note that the best of believers fails at always keeping these 10 divine commands, but that doesn't invalidate them. If you or I are periodically hypocritical or fail to live up to our own or another set of standards, that is human enough. I freely admit to errors, as any English major who carefully scopes out our publishing already knows.  
So why do thousands of manufactured home industry professionals flock to MHProNews daily, when there are typos? Why do thousands like yourself overlook our typos?  IMHO, because at some deep level, people know that we strive for the truth. We see value in telling the truth as we understand it. Our readers see value too, or they wouldn't be reading here. Because anyone's human understanding deepens over time, so has our writing.
I will focus for a few moments on only two of the Ten Commandments as keys to Truth Detection.  
•   You shall not steal.
•   You shall not bear false witness. 
That doesn't mean the other 8 commandments aren't important.  They are, or God would not have given them to Moses on Mount Sinai.  But let's focus on not stealing and the truth for the next few moments. Because if you get those 2, you will have a powerful secret of truth detection.  Those secrets, properly applied over time, yield routine, sustainable professional success. 
Here's the historic – the epic – secret.  
We may or may not know on the spot when someone has made a false statement, or if a falsehood was deliberate or accidental.
This is where history – experiences over time – are priceless. Because if you use the gift of memory, coupled with the gift of discernment, the truth becomes increasingly evident as time marches on.
So, with memory and attention to details, a false witness – a deception – becomes clear over time. Once deception is detected, and once patterns of deception are discerned, is there any reason to trust a deliberate deceiver?
The reverse is also true. Knowing that we all make mistakes, if one becomes aware that a source is routinely reliable, while another source is routinely deceptive or opaque, doesn't that understanding and clarity help foster success?
Of course it does, so long as truth is followed over falsehood. 
Finally, we come to the divine commandment of not stealing.
The law recognizes many forms of theft. They include, but are not limited to:
•   Shoplifting
•   Burglary
•   Robbery
•   Theft by fraud or deception – a "con job"
are among the more common types of stealing.  There is also racketeering, collusion that rigs a market, and more. 
But what about a political candidate who promises to 'tax the rich,' and give you 'free stuff' that 'the rich' will pay for? Is that sort of claim a form of stealing?
Absolutely, a scholar might argue, because time and again that false promise is proven to be a lie. It's a deception designed to rob someone of their opportunities.  Opportunities that go untapped costs our industry tens of billions annually, and per the applied understanding of scholars, costs the USA a stunning $2 trillion dollars a year in lost GDP, because of the harmful impact of our nation not having enough affordable homes. 
What become known as the American Way was a blending of those 10 Commandments with the notion that people could do for themselves better and more efficiently than what a government can often do. If the government can unjustly take from one person, and give it to another, that is only a form of legalized theft. 
When Candidate Z – whomever Z might be – promises 'free stuff' to millions of Americans, it's a lie. That lie is based upon a form of legalized theft.  There Is No Such Thing As  Free Lunch =TANSTAAFL. That was taught to me around junior high school, just as computer class taught me GIGO = Garbage In, Garbage Out. 
A repeated lie, half-truth, spin, or other form of deception are how people become brainwashed into believing something that is not true.  
Smart people can be brainwashed, as can the simple. I'd venture to say, you and we have all been brainwashed at some time about something, even if it was something as common as the federal government's dietary guidelines, which today are being medically questioned as contributing to obesity. 
And within that example lies the point.
We might believe something at first, but when time and experience reveals that those dietary guidelines were sold to the Feds by special interests, and those interests profited by their preferred guidelines being used, instead of using another diet that may have been more healthful. The result of poor dietary guidelines? Perhaps the richest nation on earth – the USA – has more than the norm of overnight people, and thus higher healthcare costs than would otherwise occur. 
The truth outs over time, for those who pay attention to the details. Paraphrasing what Marty Lavin has said: 
•   Follow the Money trail. 
•   Pay attention to what people say, but then pay more attention to the actual results of what they claimed produces.
If the Manufactured Housing Institute (MHI), or the power brokers behind them, back candidates for public office that tell the repeated lie of 'something for nothing,' why should MHI or those Candidate Zs be trusted?  
At times, for clarity on what may seem like confusing issues, we have to get back to basics.
There are a growing chorus within manufactured housing that are paying attention to the money trail.  More are following the track-record of what has been said vs what has been accomplished, which yielded dissatisfaction with MHI – and those in Omaha or Knoxville who arguably pull the strings for that Arlington, VA based trade group.  
When Warren Buffett backs candidates who promise higher taxes, who offer something for nothing, he is arguably too smart and too experienced in history to believe what he said about various Candidate Zs. The logical conclusion is akin to the dietary guidelines.  A special interest – Buffett and his Berkshire brands – are getting something that they want. That might help him, but not others.
A front person in politics delivers as best they can to their donor, whatever those deep pocket contributors desired.
There are two commandments that if we pay attention to them, will help us discern the truth.
Thou shall not steal.

Thou shall not bear false witness.

 
Couple that with the track record – the history of a person, a promise, or group – and much becomes clear over time.  Your failure or success depends upon facts, not fiction. Truth detection is profitable, buying a lie is costly. Indeed, truth and honesty in business are at the core of sustainable success.
Last point for today is this.  Just as a repeated lie or falsehood can deceive millions, so too the truth must be told often, and lies must be combated and refuted.  That can happen one-on-one, as Alan Amy's example reflects. It can also occur in the court of public opinion. Those are keys to local, regional, or national success. "We Provide, You Decide."    ©
NOTICE: a different Masthead than this topic was been put on hold to present the above, but the planned topic will likely be published next week. ## (News, commentary, and analysis.)
(See Related Reports, further below. Third-party images and content are provided under fair use guidelines.)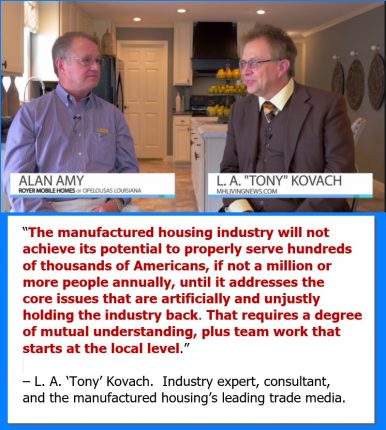 By L.A. "Tony" Kovach – for MHProNews.com.
Tony is the multiple award-winning managing member of LifeStyle Factory Homes, LLC, the parent company to MHProNews, and MHLivingNews.com.
Office 863-213-4090 |Connect on LinkedIn:
http://www.linkedin.com/in/latonykovach
Sign Up Today!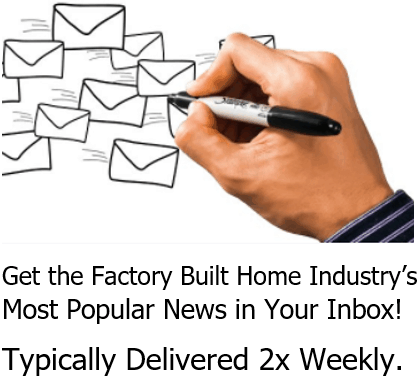 Click here to sign up in 5 seconds for the manufactured home industry's leading – and still growing – emailed headline news updates.
Related References:
https://www.manufacturedhomepronews.com/machiavellian-godfather-sam-zell-warren-buffett-capital-lending-and-crossed-lines-in-manufactured-housing/