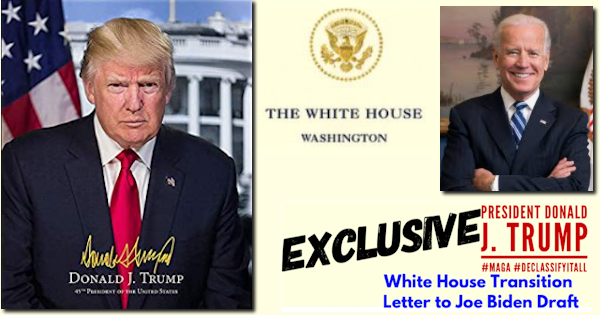 This EXCLUSIVE leaked draft from the 45th President of the United States to Joe Biden. It is apparently inspired by the Washington Free Beacon's prior leaked draft copy of a similar letter linked here. Following the screen capture of the document is the text of the letter and related references.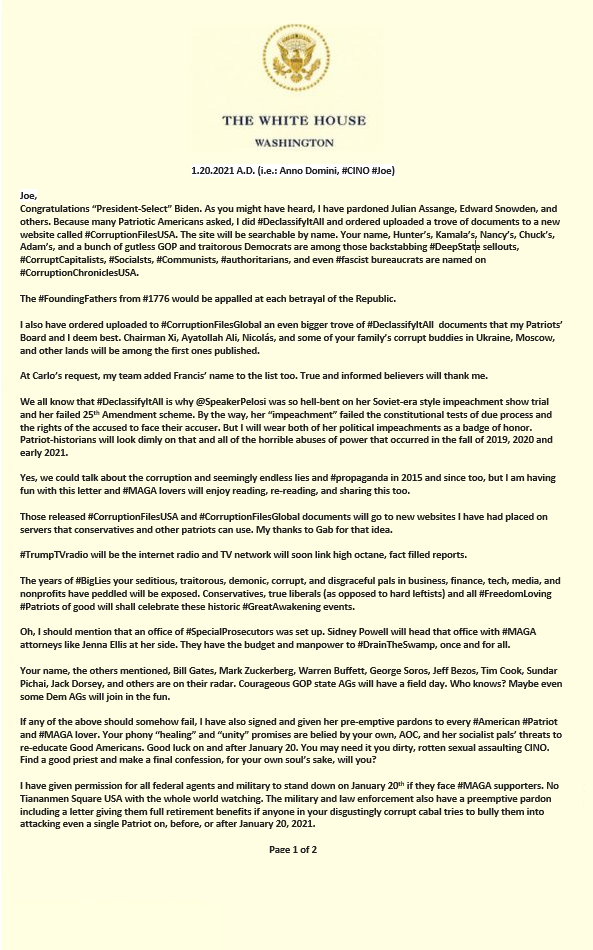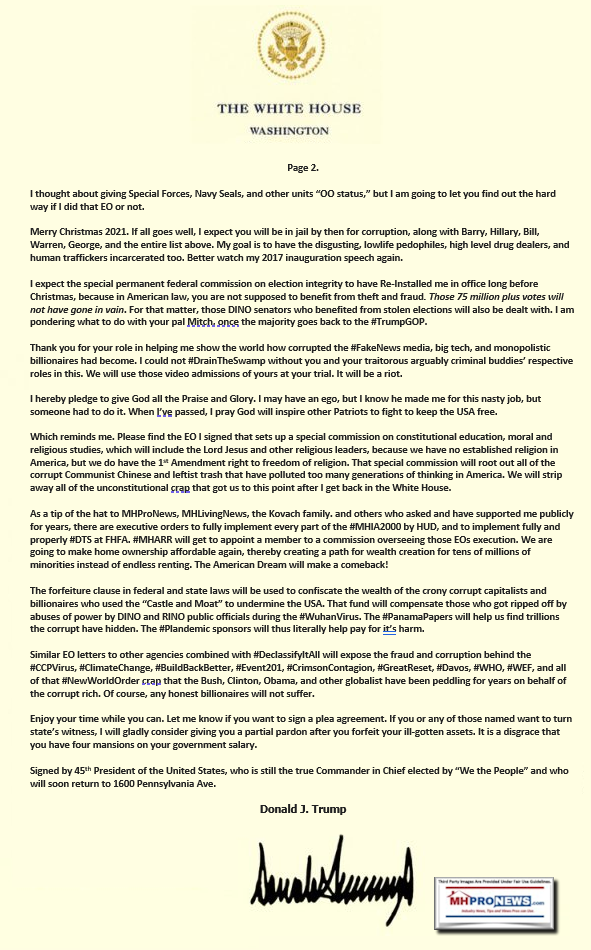 The text of the above document is found below, sans the page numbers and signature.
White House Seal and Letterhead
1.20.2021 A.D. (i.e.: Anno Domini, #CINO #Joe)
Joe,
Congratulations "President-Select" Biden. As you might have heard, I have pardoned Julian Assange, Edward Snowden, and others. Because many Patriotic Americans asked, I did #DeclassifyItAll and ordered uploaded a trove of documents to a new website called #CorruptionFilesUSA. The site will be searchable by name. Your name, Hunter's, Kamala's, Nancy's, Chuck's, Adam's, and a bunch of gutless GOP and traitorous Democrats are among those backstabbing #DeepState sellouts, #CorruptCapitalists, #Socialsts, #Communists, #authoritarians, and even #fascist bureaucrats are named on #CorruptionChroniclesUSA.
 The #FoundingFathers from #1776 would be appalled at each betrayal of the Republic.
 I also have ordered uploaded to #CorruptionFilesGlobal an even bigger trove of #DeclassifyItAll  documents that my Patriots' Board and I deem best. Chairman Xi, Ayatollah Ali, Nicolás, and some of your family's corrupt buddies in Ukraine, Moscow, and other lands will be among the first ones published.
 At Carlo's request, my team added Francis' name to the list too. True and informed believers will thank me.
 We all know that #DeclassifyItAll is why @SpeakerPelosi was so hell-bent on her Soviet-era style impeachment show trial and her failed 25th Amendment scheme. By the way, her "impeachment" failed the constitutional tests of due process and the rights of the accused to face their accuser. But I will wear both of her political impeachments as a badge of honor. Patriot-historians will look dimly on that and all of the horrible abuses of power that occurred in the fall of 2019, 2020 and early 2021.
 Yes, we could talk about the corruption and seemingly endless lies and #propaganda in 2015 and since too, but I am having fun with this letter and #MAGA lovers will enjoy reading, re-reading, and sharing this too.
 Those released #CorruptionFilesUSA and #CorruptionFilesGlobal documents will go to new websites I have had placed on servers that conservatives and other patriots can use. My thanks to Gab for that idea.
 #TrumpTVradio will be the internet radio and TV network will soon link high octane, fact filled reports.  
 The years of #BigLies your seditious, traitorous, demonic, corrupt, and disgraceful pals in business, finance, tech, media, and nonprofits have peddled will be exposed. Conservatives, true liberals (as opposed to hard leftists) and all #FreedomLoving #Patriots of good will shall celebrate these historic #GreatAwakening events.
Oh, I should mention that an office of #SpecialProsecutors was set up. Sidney Powell will head that office with #MAGA attorneys like Jenna Ellis at her side. They have the budget and manpower to #DrainTheSwamp, once and for all.
Your name, the others mentioned, Bill Gates, Mark Zuckerberg, Warren Buffett, George Soros, Jeff Bezos, Tim Cook, Sundar Pichai, Jack Dorsey, and others are on their radar. Courageous GOP state AGs will have a field day. Who knows? Maybe even some Dem AGs will join in the fun.
If any of the above should somehow fail, I have also signed and given her pre-emptive pardons to every #American #Patriot and #MAGA lover. Your phony "healing" and "unity" promises are belied by your own, AOC, and her socialist pals' threats to re-educate Good Americans. Good luck on and after January 20. You may need it you dirty, rotten sexual assaulting CINO. Find a good priest and make a final confession, for your own soul's sake, will you?
I have given permission for all federal agents and military to stand down on January 20th if they face #MAGA supporters. No Tiananmen Square USA with the whole world watching. The military and law enforcement also have a preemptive pardon including a letter giving them full retirement benefits if anyone in your disgustingly corrupt cabal tries to bully them into attacking even a single Patriot on, before, or after January 20, 2021.
 I thought about giving Special Forces, Navy Seals, and other units "OO status," but I am going to let you find out the hard way if I did that EO or not.
 Merry Christmas 2021. If all goes well, I expect you will be in jail by then for corruption, along with Barry, Hillary, Bill, Warren, George, and the entire list above. My goal is to have the disgusting, lowlife pedophiles, high level drug dealers, and human traffickers incarcerated too. Better watch my 2017 inauguration speech again.
 I expect the special permanent federal commission on election integrity to have Re-Installed me in office long before Christmas, because in American law, you are not supposed to benefit from theft and fraud. Those 75 million plus votes will not have gone in vain. For that matter, those DINO senators who benefited from stolen elections will also be dealt with. I am pondering what to do with your pal Mitch, once the majority goes back to the #TrumpGOP.
 Thank you for your role in helping me show the world how corrupted the #FakeNews media, big tech, and monopolistic billionaires had become. I could not #DrainTheSwamp without you and your traitorous arguably criminal buddies' respective roles in this. We will use those video admissions of yours at your trial. It will be a riot.
 I hereby pledge to give God all the Praise and Glory. I may have an ego, but I know he made me for this nasty job, but someone had to do it. When I've passed, I pray God will inspire other Patriots to fight to keep the USA free.
 Which reminds me. Please find the EO I signed that sets up a special commission on constitutional education, moral and religious studies, which will include the Lord Jesus and other religious leaders, because we have no established religion in America, but we do have the 1st Amendment right to freedom of religion. That special commission will root out all of the corrupt Communist Chinese and leftist trash that have polluted too many generations of thinking in America. We will strip away all of the unconstitutional crap that got us to this point after I get back in the White House.
 As a tip of the hat to MHProNews, MHLivingNews, the Kovach family. and others who asked and have supported me publicly for years, there are executive orders to fully implement every part of the #MHIA2000 by HUD, and to implement fully and properly #DTS at FHFA. #MHARR will get to appoint a member to a commission overseeing those EOs execution. We are going to make home ownership affordable again, thereby creating a path for wealth creation for tens of millions of minorities instead of endless renting. The American Dream will make a comeback!
 The forfeiture clause in federal and state laws will be used to confiscate the wealth of the crony corrupt capitalists and billionaires who used the "Castle and Moat" to undermine the USA. That fund will compensate those who got ripped off by abuses of power by DINO and RINO public officials during the #WuhanVirus. The #PanamaPapers will help us find trillions the corrupt have hidden. The #Plandemic sponsors will thus literally help pay for it's harm.
 Similar EO letters to other agencies combined with #DeclassifyItAll will expose the fraud and corruption behind the #CCPVirus, #ClimateChange, #BuildBackBetter, #Event201, #CrimsonContagion, #GreatReset, #Davos, #WHO, #WEF, and all of that #NewWorldOrder crap that the Bush, Clinton, Obama, and other globalist have been peddling for years on behalf of the corrupt rich. Of course, any honest billionaires will not suffer.
 Enjoy your time while you can. Let me know if you want to sign a plea agreement. If you or any of those named want to turn state's witness, I will gladly consider giving you a partial pardon after you forfeit your ill-gotten assets. It is a disgrace that you have four mansions on your government salary.  
 Signed by 45th President of the United States, who is still the true Commander in Chief elected by "We the People" and who will soon return to 1600 Pennsylvania Ave.
 Donald J. Trump 
##
Related reports are found linked below. Permission to share this copyrighted text and document unaltered is hereby granted, so long as there is a link back to this page and proper credits are given.
Notice: see the related reports to learn more about the facts and issues referenced in the above. Note too that word is heard on WMAL and Just the News that President Trump is seriously considering or already has declassified Russia hoax and other documents.
To sign up for our emails, click the sign up below. NOTICE to #DeepState (as opposed to those who honor their oath of office) #FBI and other #DeepState agents with no sense of humor, look up the law regarding satire.  We stand here on our God-given and Constitutionally protected rights. #God #Flag #MAGA #Family #Friends #Ethics #USA #SemperFi. #SayNoToCommunism. #SayNoToSocialism.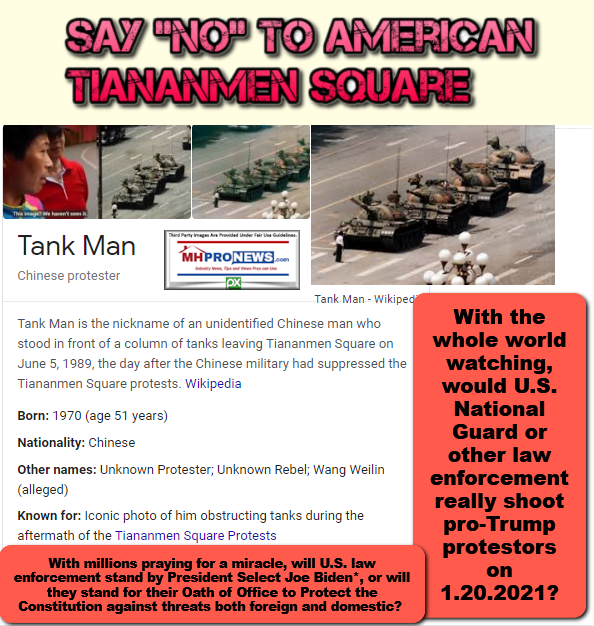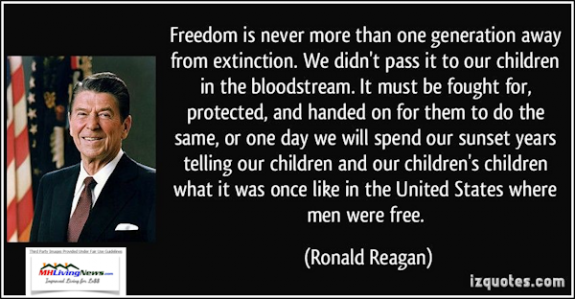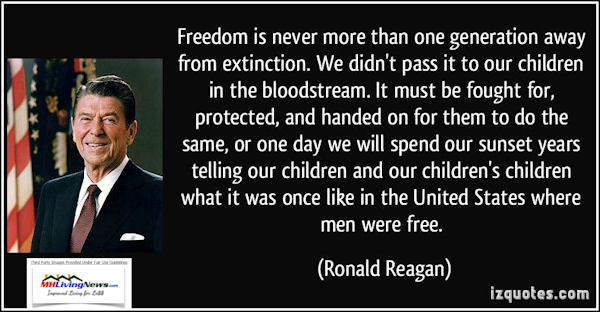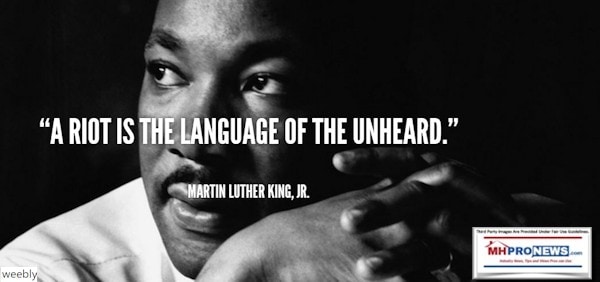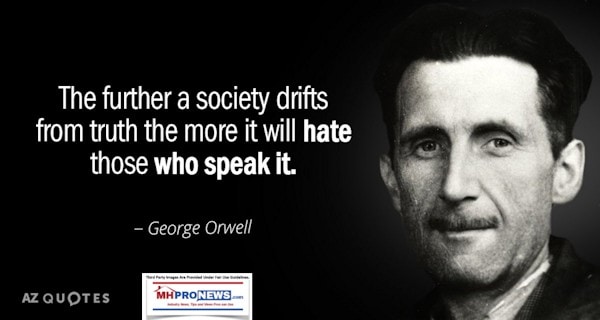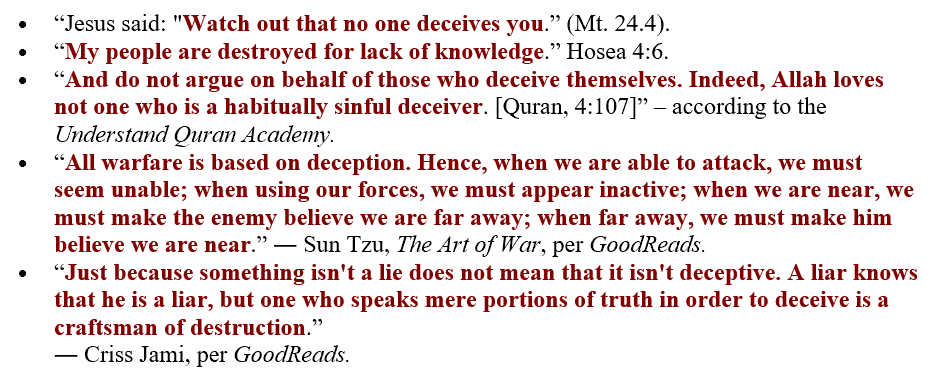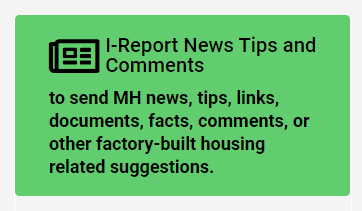 There are few things beyond prayer that could be more important than to share thought provoking insights that will lead to just and licit behavior.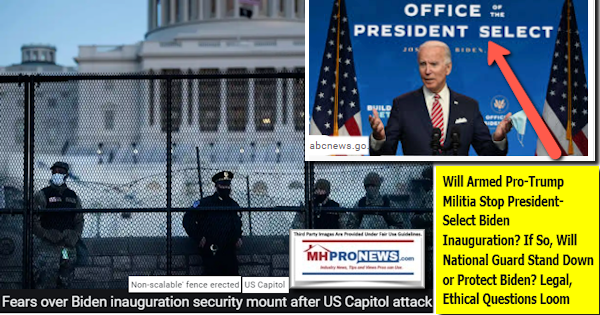 To learn more, see the related reports linked above and below. That's a wrap on this installment of manufactured housing "Industry News, Tips, and Views Pros Can Use" © where "We Provide, You Decide." © ## (Affordable housing, manufactured homes, reports, fact-checks, analysis, and commentary. Third-party images or content are provided under fair use guidelines for media.) (See Related Reports, further below. Text/image boxes often are hot-linked to other reports that can be access by clicking on them.)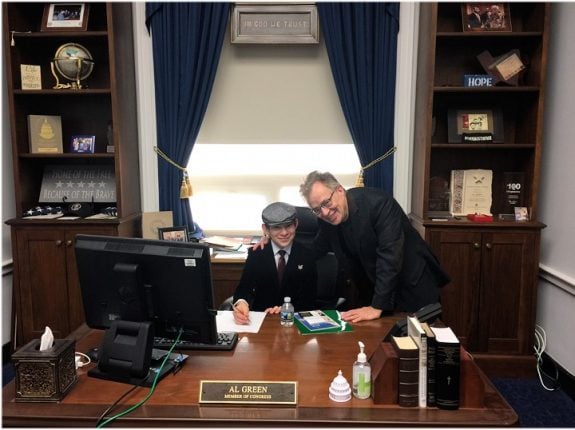 By L.A. "Tony" Kovach – for MHLivingNews.com.
Tony earned a journalism scholarship and earned numerous awards in history and in manufactured housing. For example, he earned the prestigious Lottinville Award in history from the University of Oklahoma, where he studied history and business management. He's a managing member and co-founder of LifeStyle Factory Homes, LLC, the parent company to MHProNews, and MHLivingNews.com. This article reflects the LLC's and/or the writer's position, and may or may not reflect the views of sponsors or supporters.
Connect on LinkedIn: http://www.linkedin.com/in/latonykovach
Recent and Related Reports:
The text/image boxes below are linked to other reports, which can be accessed by clicking on them.