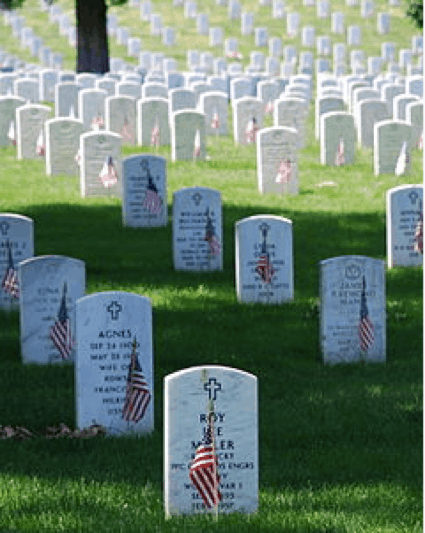 The U.S. Stock Markets are closed today, in deference to the Memorial Day holiday. Normally known in the U.S. as the "gateway to summer," Memorial Day is a significant homage to those who have made sacrifices.
Per Wikipedia, Memorial Day is a federal holiday in the United States for remembering the people who died while serving in the country's armed forces.
The holiday is currently observed every year on the last Monday of May. It marks the unofficial start of the summer vacation season, while Labor Day marks its unofficial end.
Many people visit cemeteries and memorials, particularly to honor those who have died in military service. Many volunteers place an American flag on each grave in national cemeteries.

Memorial Day is not to be confused with Veterans Day; Memorial Day recalls the men and women who died while serving our country, while Veterans Day celebrates the service of all U.S. military veterans.
Following President Abraham Lincoln's assassination in April 1865, commemorations were ubiquitous. The sheer number of soldiers of both sides who died in the Civil War (more than 600,000) meant that burial and memorialization took on new cultural significance. Under the leadership of women during the war, an increasingly formal practice of decorating graves had taken shape.
In 1865, the federal government began creating national military cemeteries for the Union war dead.
For a look at Friday's Market Report, click here.
The management and team of MHProNews would like to extend our deepest thanks to those who made the ultimate sacrifice for our safety and freedom. ##
(Image credits are as shown above, and when provided by third parties, are shared under fair use guidelines.)

Submitted by RC Williams to the Daily Business News for MHProNews.
(Copyright Notice: This and all content on MHProNews and MHLivingNews always have been and are Copyrighted, © 2017 by MHProNews.com a dba of LifeStyle Factory Homes, LLC – All Rights Reserved. No duplication is permitted without specific written permission. Headlines with link-backs are of course ok. A short-quoted clip, with proper attribution and link back to the specific article are also ok – but you must send a notice to iReportMHNewsTips@mhmsm.com of the exact page you've placed/posted such a use, once posted.)