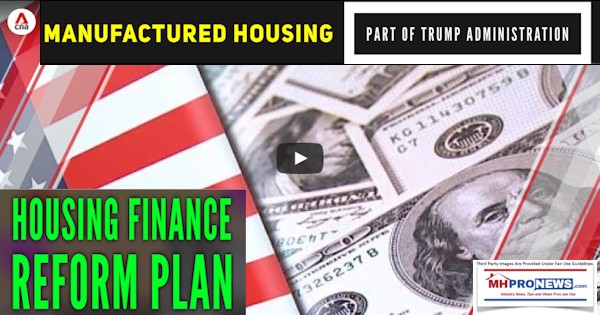 According to the Department of Housing and Urban Development HUD release to MHProNews, "As a direct result of the Trump Administration's pro-growth policies, unemployment is at 50-year low and American families are earning higher incomes and enjoying more opportunities than seemed possible just a few years ago. There is still one piece of unfinished business from the financial crisis: housing finance reform. These changes to our housing finance system will help more American families achieve their dream of owning a home." So said HUD Secretary Ben Carson
The information below is provided by HUD, but the yellow highlighting is provided by MHProNews so that the portion that directly mentions manufactured housing is more evident to industry professionals. It will be followed by a related video and some brief commentary and links. Industry pros should keep in mind that the Federal Housing Finance Agency (FHFA) will have their own plan.

KEY MESSAGES
o HUD plays a critical role in the Nation's housing finance system and has a duty to protect American taxpayers given the breadth of the roles the Federal Housing Administration (FHA) and Government National Mortgage Association (GNMA) play in our Nation's housing finance system.
o FHA provides credit enhancement for mortgages on more than 8.1 million forward single-family homes and nearly 500,000 reverse mortgages, and 15,500 multifamily and healthcare properties. And, GNMA attracts global capital to America's housing markets by utilizing the full faith and credit of the Federal Government to guarantee more than $2.2 trillion in mortgage-backed securities.
o Since the financial crisis, FHA and GNMA's portfolios have increased substantially and now stand at $1.425 trillion and $2.1 trillion. The FHA portfolio's risk profile has also deteriorated with lower credit score, and rising LTVs and DTIs, creating risks to taxpayers and undermining FHA's ability to provide countercyclical liquidity during stress events.
o The Trump Administration is taking action to ensure FHA and GNMA can continue to serve their important missions effectively, responsibly, and sustainably for many years to come.
o To do so, HUD is proposing reforms to (1) Refocus FHA and GNMA on its mission, (2) Protect American taxpayers, (3) Provide FHA and GNMA the tools to appropriately manage risk, and (4) Provide liquidity to the world's largest financial market.
o These reforms will help HUD continue to provide more American families with access to housing and ensure homeowners are provided with financing optimized for long-term success.
HUD'S FOUR PILLARS OF REFORM
1). Refocusing FHA's Mission: FHA programs provide homeowners with financing that is appropriate, sustainable, and optimized for long-term success. To achieve this, HUD is proposing reforms to improve targeting to its mission borrowers, strengthen Single-Family programs, appropriately target and enhance multifamily programs and provide regulatory certainty to FHA lenders.
Targeting FHA Programs To Benefit Creditworthy Borrowers 
o   Coordinate with FHFA to ensure that the GSEs and FHA serve defined roles within the marketplace.
o   Maintain its countercyclical role in the Nation's housing finance system in addition to its focus on low- and moderate-income families that cannot be served through traditional underwriting.
o   Clarify the prohibition on Down Payment Assistance that financially benefits providers.
Strengthening FHA Programs for Single-Family Borrowers
o   Streamline the default milestone timeline so it provides greater flexibility to servicers and incentivizes them to work toward more efficient resolutions with borrowers, with consideration given to market conditions.
o   Reduce penalties that do not match the severity of missed deadlines. 
o   Establish a paperless, data-centric platform for claims processing that would replace the current inefficient and paper-intensive process.
Appropriately Target and Enhance Multifamily Programs
o   Coordinate with FHFA to ensure that government supported programs are not competing and crowding out private capital. 
o   Modify current noise regulations to allow for development on properties with noise levels above 75 decibels.
o   Eliminate the 455,000-unit statutory cap in the Rental Assistance Demonstration (RAD) program, which will expand its reach and impact.
o   Modify environmental review policy to increase the 200-unit threshold to 300 units.
Provide Regulatory Certainty to FHA Lenders
o   Pursue a Memorandum of Understanding with the Department of Justice to provide more clarity on when the use of the False Claims Act is appropriate.
o   Revise and expand its defect taxonomy in order to remediate some of the industry-wide effects of the enforcement and compliance penalties under the False Claims Act.
o   Revise certifications which lenders attest for each FHA-insured loan as well as lenders' annual certifications.
2). Protecting American Taxpayers: HUD is proposing changes that will strengthen FHA risk management systems and governance; improve the financial viability of the Home Equity Conversion Mortgage (HECM) program; implement tiered pricing; and eliminate regulatory barriers to affordable housing.
Strengthen FHA Risk Management Systems and Governance
o   Adopt capital standards for the Mutual Mortgage Insurance Fund (MMIF) and General Insurance/Special Risk Insurance Fund that manage risk exposure to defined stress scenarios.
o   Pursue inter-agency agreements with peer agencies to coordinate on counterparty risk and credit policies. 
 Improve Financial Viability of the Home Equity Conversion Mortgage Program
o   Revise monitoring protocols of front- and back-end appraisal bias.
o   Develop servicing standards for HECM products that will result in reduced operational and financial burdens.
o   Maintain HUD's ability to contract with servicing vendors that can manage and scale to the program's needs.
 Implement Tiered Pricing to Address Adverse Selection
o   Implement a tiered pricing system in order to price appropriately for higher-risk loans and protect the MMIF. 
Eliminating Regulatory Barriers to Affordable Housing
o   Create a formal framework for identifying and evaluating new building and construction developments to ensure HUD regulations do not unnecessarily impede their adoption.
o   Encourage innovation in manufactured housing by creating a formal framework for identifying and evaluating new building, construction, and design developments and ensuring that HUD's regulations do not unnecessarily impede their adoption.
o   Elevate Manufactured Housing Programs within the Office of Housing under a Deputy Assistant Secretary.
3). Provide FHA and GNMA Tools to Appropriately Manage Risk: In order to protect taxpayers, HUD is proposing to improve current risk management efforts by establishing FHA as an autonomous corporation within HUD; hiring and retaining talent to mitigate risks; aligning contracting and procurement processes with business needs; bringing FHA technology into 21st Century; and realigning housing assistance programs into a new Office of Rental Subsidy and Asset Oversight within HUD.
Establish FHA as an Autonomous Corporation within HUD
Hire and Retain the Right Talent to Mitigate Risks to Taxpayers
o   Like GNMA, FHA will explore the targeted use of pay flexibilities available to improve hiring and retention of key positions requiring specialized technical skills related to the mortgage and securitization markets. 
· Align Contracting and Procurement Processes with Business Needs
o   Establish an alternative set of contracting standards that better reflect the nature of FHA's operations as an entity responsible for managing more than a trillion dollars of risk to the taxpayer.
· Modernize FHA Technology
o   Explore agreements to share technology with other government supported mortgage programs when feasible.
o   Develop a mortgage origination risk tool integrating an automated underwriting system (AUS) platform, appraisal scorecard, risk assessment tool, and third-party verification services. 
· Realign Housing Assistance Programs into a new Office of Rental Subsidy and Asset Oversight within HUD
o   The department should pursue a reorganization that separates its mortgage insurance and rental assistance programs into separate offices.
4). Provide Liquidity to the Housing Finance System: Issuers pay GNMA an on-going guarantee fee, as well as other incidental fees, for provision of GNMA's guaranty and certain other services. To continue providing services and liquidity, GNMA will advance counterparty risk management, and guaranty fee-setting flexibility.
· Advance GNMA Counterparty Risk Management
o   Develop a loan level functionality which will enhance the desirability and value of the MSR asset and improve risk management capabilities.
o   Maximize the value of GNMA servicing portfolios.
o   Evaluate and consider additional issuer requirements, including updated capital standards.
o   Develop policies, technology and operational capabilities necessary to accept digital promissory notes (eNotes) and other digitized loan files as acceptable collateral for our securities.
o   Allow for additional sources of capital in the GNMA program.
o   Organizational re-alignment to address emergent sources of risk.
· Guarantee Fee-setting Flexibility
o   Grant GNMA the authority to administratively adjust its guaranty fee within a narrow, permissible range.
###
The video below is provided for several reasons, one being that it offers an overview of the FHFA reform plan, which as noted above is separate from HUD's. This video is from CNA. "Mediacorp is funded in whole or in part by the Singaporean government." – per YouTube, citing Wikipedia. Rephrased, think about Chinese influence, a charge that they deny. But it reflects how closely this Asian funded media tracks American news.  Their report is a decent snapshot, though it doesn't mention manufactured homes at all.
Expect the Manufactured Housing Institute (MHI) to come out with a statement soon that based upon history, will likely tout how much they influence this process. Either way, we plan to review their statement on this issue, as well as that of the Manufactured Housing Association for Regulatory Reform (MHARR).
This is a subject that will continue to periodically pop up, so stay tuned for updates. The industry's best coverage is found here at the home of HUDHousing-Finance-Reform-PlanManufacturedHousingIndustryMHProNews manufactured home "Industry News, Tips, and Views Pros Can Use," © where "We Provide, You Decide." © ## (News, analysis, inspiration, and commentary.)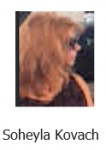 Submitted by Soheyla Kovach for MHProNews.com.
Soheyla is a managing member of LifeStyle Factory Homes, LLC, the parent company to MHProNews, and MHLivingNews.com. Connect with us on LinkedIn here and here.
Related Reports:
Click the image/text box below to access relevant, related information.
FHFA's Mark Calabria, Ph.D., Address at HUD, NAHB's Innovative Housing Showcase
Dr. Mark Calabria, FHFA Director Interview, Front Lines of GSE Reform, Manufactured Housing Impacts Ahead
Manufactured Homes Aren't "Trailers" in "Trailer Parks" – HUD Secretary Ben Carson on Affordable Housing, Manufactured Homes, Zoning and Placement Barriers