A list of manufactured home industry attendees at the recent Fannie Mae Duty to Serve (DTS) meeting in Washington, D.C. included the name of Tom Heinemann.
As regular MHProNews readers know, Heinemann and Lois Starkey both quietly left the Manufactured Housing Institute (MHI).
'Quietly,' that is, in terms of MHI's revelations as to why the pair left, or what the plans were.  The Daily Business News spotlighted that Starkey/MHI/HUD matter, several times, a recent report is linked here.
At least some of that mystery about Heinemann has been cleared up.
And that mystery is connected to manufactured home industry lending efforts.
Heinemann is using an email address attached to HeinemannConsulting.com.  But no such site is active at press time, and a Google search redirects people to the site shown below, which may or may not be related to Tom.

While Heinemann has remained active on LinkedIn, his profile there still reflects his position as being with the Manufactured Housing Institute.
Note that in the photo collage below, while the data comes from LinkedIn, his photo is from Housing Now.
Per multiple industry sources, Heinemann is working in a consulting capacity with Fannie Mae.
Heinemann's role?
Per sources, to help forge the evolution of Fannie Mae's MH Select program.
MH Select has been critiqued by another well known industry lender as a program that tells consumers 'not to buy a manufactured home,' because it involves an added "penalty rate" over the standard rate charged consumer who opt to buy conventional housing.
Heinemann at the Fannie Mae Washington, D.C. Meeting
It's worth noting that at the D.C. meeting, beyond Heinemann, were several members of MHI, as was Mark Weiss with the Manufactured Housing Association for Regulatory Reform (MHARR).  MHARR provided a recent commentary called "More of the Same" regarding that meeting, linked here.
This Daily Business News report will go beyond that independent producer's association's comments.
Kristian Jensen III – Communities
Glen James – Communities
Nathan Smith – Communities, MHI prior Chairman.
Joe Stegmayer – current MHI chairman, Chairmen and President of Cavco Industries.
Lesli Gooch – MHI Sr VP.
Marc Lifset – MHI outside counsel.
Dick Ernst – Chairman of MHI's financial services committee, and recent MHI award winner.
Among several others in lending, production, community, academic, and other manufactured home interested groups.
Neither Heinemann nor MHI Are Talking…
All of the above are facts, per our industry sources.
Given MHI's stating officially that they are
promoting engagement by the GSEs in chattel lending and the Duty to Serve,
meanwhile the GSEs, MHARR and MHProNews have all reported that two key Berkshire Hathaway lenders have not at last report released the data that the GSEs say they need to do chattel lending beyond a modest pilot program,
numerous questions and concerns remain.
What those retailers, communities, producers and others who are hoping to see DTS in chattel become a reality need to keep in mind, is that MH Select isn't at this time a chattel program. It's land home.
Is that a signal?
While Heinemann spent roughly a year at MHI, and no doubt was exposed to several discussions on industry lending, his background doesn't suggest an otherwise robust understanding of the factory built home industry.
Says who?  Let's look…
A Partial Bio on Heinemann, Per LinkedIn, Industry Sources
Housing Now, likely based upon information provided by the Manufactured Housing Institute, and likely Heinemann said in July 2016 of MHI's now former VP the following.
"Tom Heinemann, Vice President for Federal Government Affairs Manufactured Housing Institute (MHI).
Mr. Heinemann recently joined MHI where he is responsible for managing MHI's relationships with the Federal agencies and helps advance MHIs policy priorities.
Mr. Heinemann enjoys a strong reputation on both sides of the aisle in Congress, with the Administration, and at the relevant agencies (HUD, CFPB, FHFA, Treasury).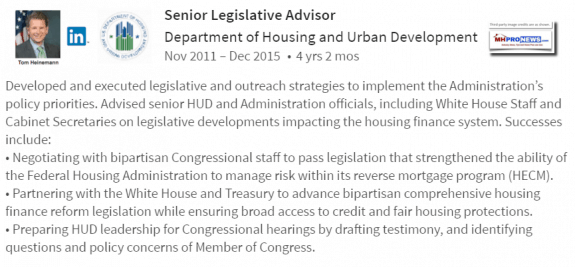 His extensive experience in Federal Housing Policy will help MHI advance its priorities across the policy spectrum, from housing finance to manufacturing standards.
Prior to joining MHI, Mr. Heinemann served over 6 years in the Obama Administration in positions that helped guide the response to the housing crisis and advance policies to strengthen the housing market's recovery.
From 2011 to 2015, Mr. Heinemann served as a Senior Legislative Advisor in the Dept of HUD, where he developed and executed legislative strategies to implement the housing priorities of the Department and the Administration.
As part of an interagency team, Mr. Heinemann led HUD's efforts to guide comprehensive housing finance reform through the Senate Banking Committee that preserved broad access to credit and fair lending standards.
In addition, he worked with bipartisan members of the House and Senate to advance legislation that strengthened FHA programs.

His work at HUD also included educating Congressional offices on the importance of manufactured housing to the supply of affordable housing, as well as the industry's regulatory structure.
Prior to joining HUD in 2011, Tom helped launch Treasury's Homeownership Preservation Office which manages the Making Home Affordable programs.
He served as the Director of Intergovernmental and Industry Affairs and was responsible for advising Treasury leadership on Congressional and stakeholder developments.
Mr. Heinemann spent over 20 years working on housing issues from a variety of perspectives: local government, nonprofit, industry, and trade association, and as a result has a unique understanding how policy changes impacts all facets of housing."
So how did he land this plumb consulting role? Why isn't MHI talking about Heinemann?
Why isn't Heinemann himself responding to questions from the most read, independent publication of record for the industry, MHProNews?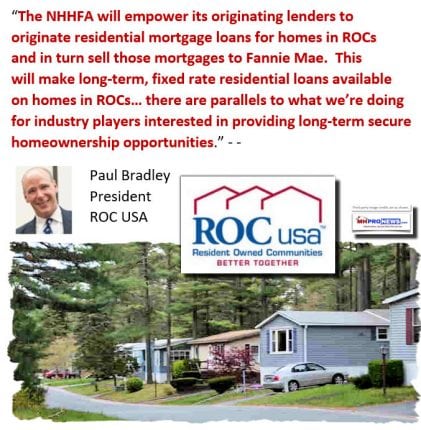 Is this another variation of the theme where Lois Starkey left MHI, only to appear at HUD a few weeks later?
The Daily Business News on MHProNews will continue to track these matters, which directly or indirectly impact every corner of the industry.
Does silence by the parties involved suggest some level of mutual consent? ## (News, analysis, commentary.)
For a related report on Fannie Mae making loans in land lease now, click the report linked here.
(Image credits are as shown above, and when provided by third parties, are shared under fair use guidelines.)

Submitted by Soheyla Kovach to the Daily Business News for MHProNews.com.