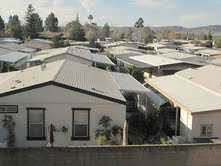 The Mississippi Supreme Court upheld an appeal's court ruling which gives the Cleveland Mobile Home Park in Richland, MS the right to re-rent vacated homesites in the manufactured home community (MHC). The city of Richland wanted to reduce density in the MHC, arguing homesite re-use was non-conforming and therefore in violation of the city's ordinance.
The Court ruled Richland's zoning law was "arbitrary and capricious" and violated Cleveland's "constitutional right to enjoy its property." The Madison-Rankin Circuit Court had ruled in Richland's favor, as msbusiness informs MHProNews.
The owners of Cleveland appealed that ruling, saying that re-filling a vacancy was continuation of an established use, not expansion of a non-conforming use. The Mississippi Manufactured Housing Association (MMHA) said upholding Richland's zoning law interpretation would have "devastating effects on manufactured-housing parks across Mississippi."
Noting the government cannot manufacture a zoning violation by changing the rules, Attorney Ben Williams, who was involved in challenging Richland's ordinance, said, "Citing both the Mississippi Constitution and the U.S. Constitution, the Mississippi Supreme Court reiterated its 1923 opinion that a citizen's 'lawful use of his property is one of the most sacred rights reserved to him under our Constitution."' ##
(Photo credit: MHProNews-manufactured home)

Article submitted by Matthew J. Silver to Daily Business News-MHProNews.