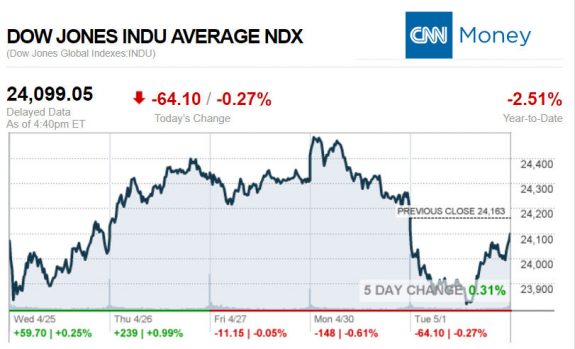 For long-time industry readers, do you recall the stir on July 30, 2014 when Sun Communities (SUI) $1.32 billion deal with privately held Green Courte Partners (GCP) sold American Land Lease (ALL) to Sun deal hit the wires?  There was periodic chatter about GCP before, but then the deal was announced.
Or do you remember the buzz on August 15, 2016, when affiliates of GIC, the sovereign wealth fund of Singapore, bought a 71 percent stake in privately held YES! Communities? We'll be looking at the latest deal – and the periodic talk about – privately held RHP Properties this evening, as part of our broader market focus.
If you're new, already hooked on our new spotlight feature – or are ready to get the MH professional fever – our headline reports are found further below, just beyond the Manufactured Housing Composite Value for today.
The evolving Daily Business News market report sets the manufactured home industry's stocks in the broader context of the overall markets.
Part of this unique feature provides headlines – from both sides of the left-right media divide – that saves readers time, while underscoring topics that may be moving investors, which in turn move the markets.
Readers say this is also a useful quick-review tool that saves researchers time in getting a handle of the manufactured housing industry, through the lens of publicly-traded stocks connected with the manufactured home industry.
MH "Industry News, Tips and Views, Pros Can Use." ©
ICYMI – for those not familiar with the "Full Measure," 'left-right' media chart, please click here.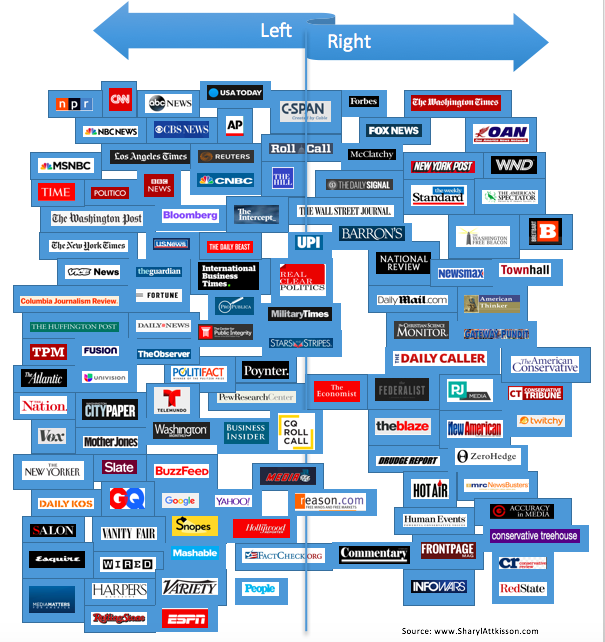 Selected headlines and bullets from CNN Money:
Oil markets brace for Trump to kill Iran deal
California leads states in suing EPA over rollback of car emission rules
California ruling puts pressure on Uber, Lyft and other gig economy employers
Guggenheim Partners managing director Scott Minerd joins us on 'Markets Now'
Goldman Sachs traders shared confidential info in chat rooms, regulators say
Snapchat user growth stagnant amid redesign backlash
Mark Zuckerberg jokes about testimony
Watch out, Tinder, Facebook is getting into online dating
NAFTA talks on 'thin ice' after two more weeks, top US negotiator says
These self-flying drones keep a constant eye on your business
Iconic guitar maker Gibson files for bankruptcy
Why own a car when you can subscribe to one instead
103 Uber drivers accused of sexual assault or abuse
5 signs you need to clean up your finances
Before she became a CEO, Sarah Robb O'Hagan was fired and laid off
Carmakers and big tech struggle to keep batteries free from child labor
CEO caught singing 'We're in the Money' as Walmart deal lifts shares
Your inbox is being flooded with emails about privacy. Here's why
Robots invade the Smithsonian museums
Retirees are losing their faith in Social Security
What the T-Mobile-Sprint deal could mean for wireless prices
Mnuchin: Trade wars are not easy to win
T-Mobile-Sprint deal will be a tough sell to antitrust regulators
Selected headlines and bullets from Fox Business:
Apple boosts dividend, rallies on earnings beat
Tesla shareholders to vote on ousting Musk as chairman
Dow declines, S&P rises as investors parse earnings
Families can't afford rent, housing prices: Fannie CEO
Tinder parent sinks as Facebook announces dating service
'Avengers: Infinity War' poised for China box office record: IMAX CEO
Presales contribute to bullish outlook for Marvel blockbuster.
Trump lawyer Michael Cohen cab tax bill said to reach $282K
Ketel One's new vodka brand tests less-alcohol-is-more theory
Sarah Sanders acted with 'grace' during Michelle Wolf roast: Corey Lewandowski
Gibson files for bankruptcy, legendary guitar maker to operate while reorganizing
Vista Outdoor considers selling gun business
This cholesterol drug is dropping from $14,600 to as low as $4,500
Tesla Model 3 production, cash burn in earnings spotlight
AT&T's $85B quest for Time Warner: The trial's greatest hits and misses
Trump's decision to postpone tariffs on US allies applauded by ex-Sen. Lieberman
Today's markets and stocks, at the closing bell…
S&P 500 2,654.80 +6.75(+0.25%)
Dow 30 24,099.05 -64.10(-0.27%)
Nasdaq 7,130.70 +64.44(+0.91%)
Russell 2000 1,550.33 +8.44(+0.55%)
Crude Oil 67.50 -1.07(-1.56%)
Gold 1,304.60 -14.60(-1.11%)
Silver 16.18 -0.22(-1.35%)
EUR/USD 1.1992 0.00(+0.0025%)
10-Yr Bond 2.98 +0.04(+1.36%)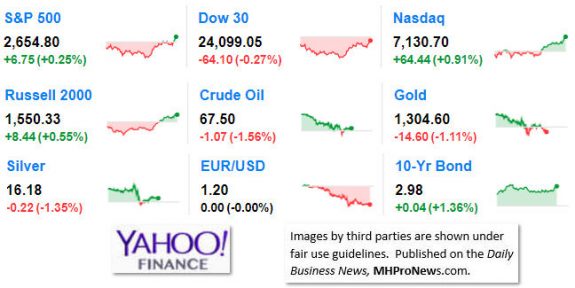 Manufactured Housing Composite Value (MHCV)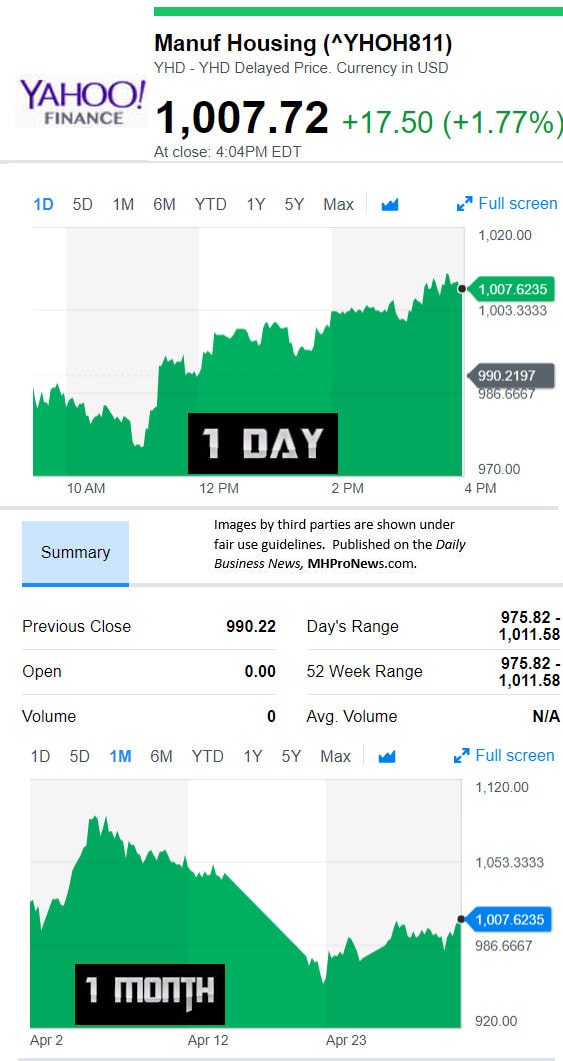 Today's Big Movers
For all the scores and highlights on tracked manufactured home connected stocks today, see the Bloomberg graphic, posted below.
Today's MH Market Spotlight Report –
Snapshot of the MH Communities Sector, through the lens of
Privately Held, RHP Properties
This picture of the communities sector is from 28,000 feet, not 40,000 feet. It won't be granular, but it will bring some facts linked in previous Daily Business News reports about the manufactured home community sector.
A number of sources say that roughly half of the manufactured home shipments are going into land-lease communities.  That's good news for community operators, positive news for producers of HUD Code manufactured homes, financial. and other service providers to the industry.
For example, this report is a reminder that so-called 'street retailers" – a.k.a. dealers of manufactured homes – while still vital to the industry, are in terms of total shipments not as numerous or dominant as they were say 20 or even 15 years ago. When one says that half the sales are by communities, that means that retailers are getting most of the remainder. Developers will get the balance.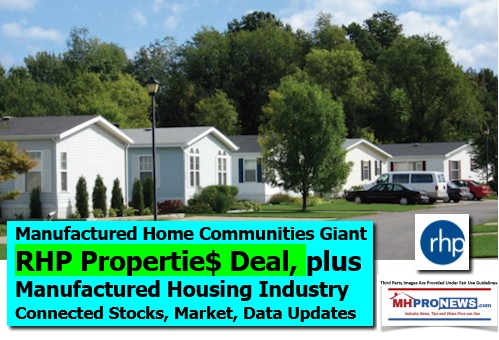 RHP is currently listed as #3 in the NCC's latest "top 50" listing of manufactured home communities (MHCs), see that report, linked below.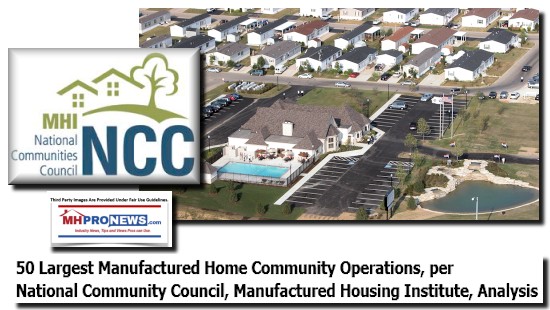 RHP has closed on some additional properties since last year's NCC top 50 MHCs list.  In a release to MHProNews, RHP said there most recent acquisition was "421 Home Sites Brookside Country Club in El Monte, CA."  That deal was announced on March 16th, 2018.
Prior releases to the Daily Business News about the firm stated that their acquisitions in 2017 included:
a property with 786 sites, Murray Manor in Wilmington, their first in Delaware,
and two communities in Michigan, totaling 1,151 sites.
Those brought RHP Properties up to a total of 60,163 sites, per their website.
As brokers, commercial lenders, and communities all have generally reported, there's a lot of competition for communities now. A more specific report on that will be posted in the next few days on the Daily Business News.
We'll will note for now that RHP is the topic of periodic conversation.  Deals are routinely being discussed by community operators of all sizes. Will RHP continue to grow as an independent?  Or will something along the lines of the GIC/Yes! or Sun/ALL deal occur?
Time will tell.  But while there are some that hear the call for 'going public,' others feel there is more flexibility and less ongoing pressure to answer to Wall Street and institutional investors by staying privately held.
One of the challenges found in the community sector is that some larger operations are ordering dozens to hundreds of homes from HUD Code manufactured home producers, but often those are being ordered as rental units to fill vacant home sites.
During the early 2000s, for a variety of broader housing market factors, vacancy rates began to grow in MHCs. So filling vacancies are important to community operators to maximize ROI on their property. As the numbers of independent retailers has dwindled, MHCs of all sizes have had to fill their own voids.
RHP has a reputation for being a well-run operation.  They feature:
the RHP communities themselves,
Newbury for third-party property management, and
Bayshore for on-site home sales.
Vacancy rates for communities are generally falling.  To rephrase, occupancy is rising, and that's often from a rental home placed/leased, or new home sales.
RHP's website is professional and appealing.  We Based upon news-flow, we may take a look in the near term at their marketing.  Stay tuned.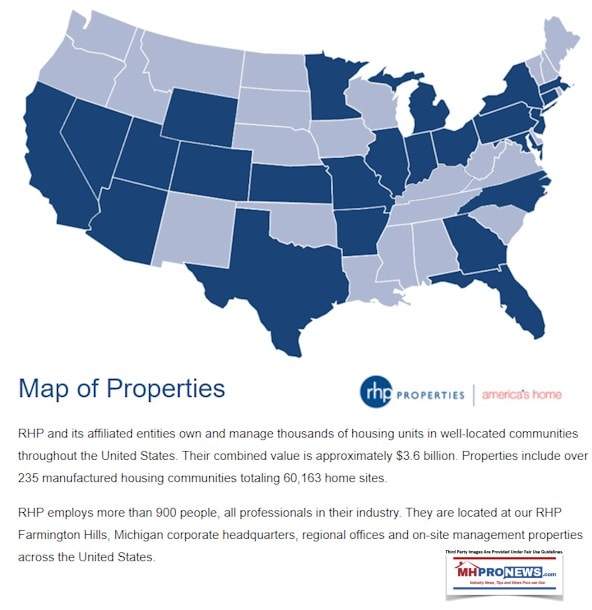 Bloomberg Closing Ticker for MHProNews…
NOTE: The chart below includes the Canadian stock, ECN, which purchased Triad Financial Services.
NOTE: The chart below covers a number of stocks NOT reflected in the Yahoo MHCV, shown above.
NOTE: Drew changed its name and trading symbol at the end of 2016 to Lippert (LCII).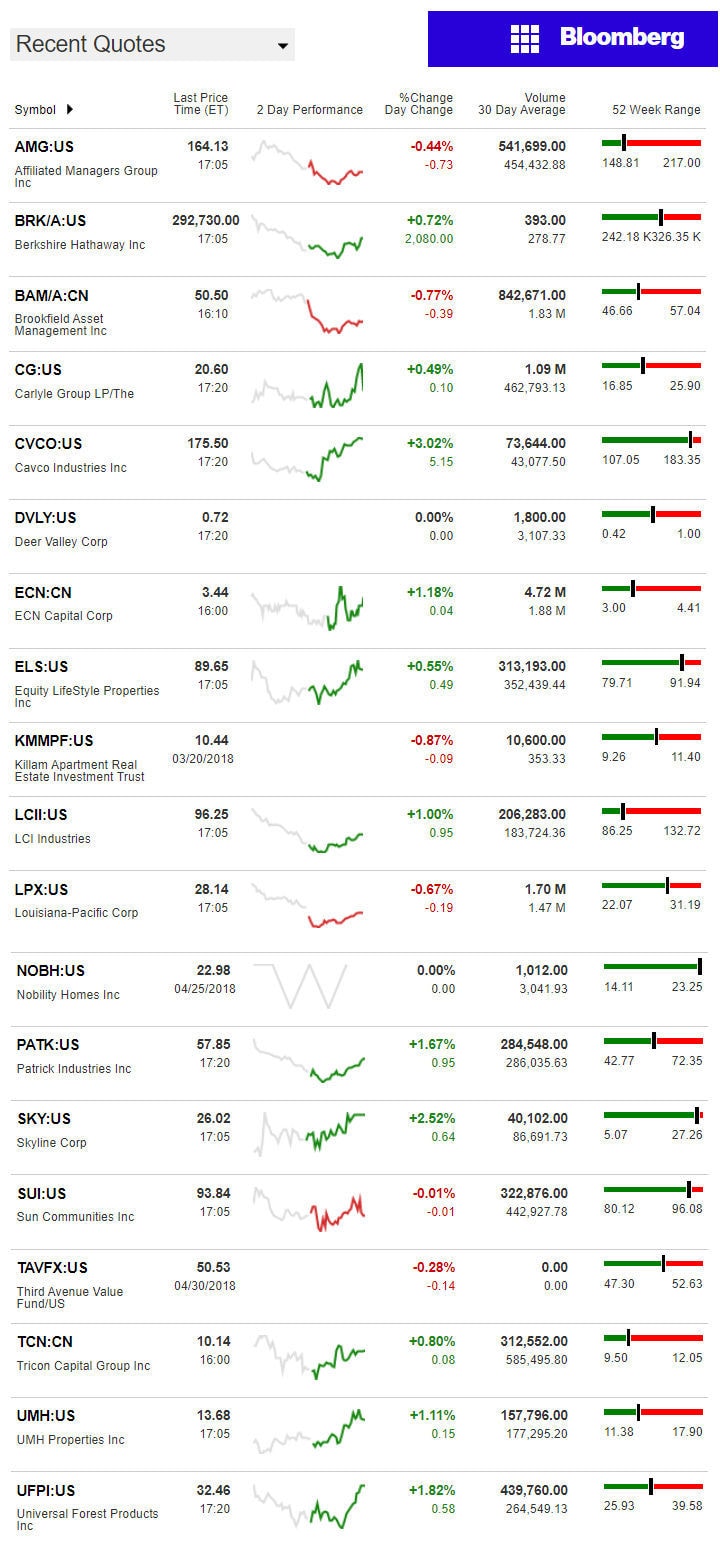 Berkshire Hathaway is the parent company to Clayton Homes, 21st Mortgage, Vanderbilt Mortgage and other factory built housing industry suppliers.
LCI Industries, Patrick, UFPI and LP all supply manufactured housing.
AMG, CG and TAVFX have investments in manufactured housing related businesses.
Your link to industry praise for our coverage, is found here.
For the examples of our kudos linked above…plus well over 1,000 positive, public comments, we say – "Thank You for your vote of confidence."
"We Provide, You Decide." © ## (News, analysis and commentary.)
(Image credits and information are as shown above, and when provided by third parties, are shared under fair use guidelines.)

Submitted by Soheyla Kovach to the Daily Business News for MHProNews.com.