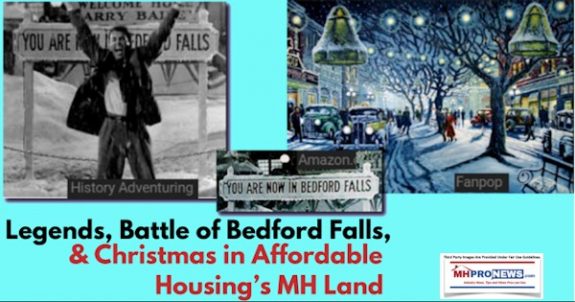 In the days before GPS, Apple or Google Maps a good paper road-map had a rectangular box with 'the legend.' The legend in this sense of the word explained the meaning of the various circles, lines, symbols and how many miles-to-an-inch. 'The legend' unlocked the meaning of the map.  In storytelling like the Christmas classic It's a Wonderful Life, a metaphorical legend is useful to reveal the hidden meaning within a powerful, whimsical-yet-engaging narrative tale.
Advertise with MHProNews to be seen
It's a Wonderful Life is in good measure a potent tale of affordable housing via access to capital, financing, and opening the door to the American Dream, all set with Christmas in the backdrop.
George Bailey is the tragi-comic hero of It's a Wonderful Life who finds himself locked in a battle against a wealthy monopolist. "Henry F. Potter is a fictional character and the main antagonist in the 1946 Frank Capra film It's a Wonderful Life. He occupies slot #6 on the American Film Institute's list of the 50 Greatest Villains in American film history. Mr. Potter was portrayed by veteran actor Lionel Barrymore," says Wikipedia.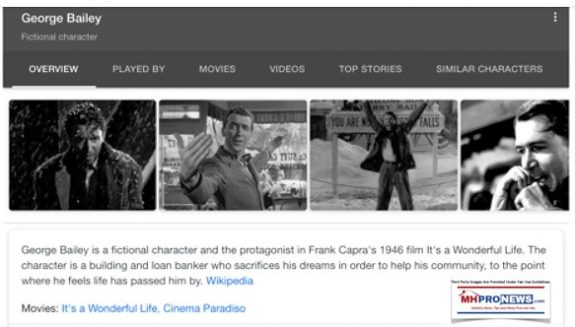 George Bailey is a rich personality, who has hopes, dreams, and aspirations.  He's smart, thrifty, and hard working. Bailey has a temper, a sharp wit, can be moody, is loquacious, and is an awkward romantic.
Mr. Henry Potter is financially rich. The Frank Capra storytelling deftly implies Potter's leveraging money to gain control of the bank at fictional Bedford Falls. But the narrative also unmasks Potter's influence over a congressional representative, with the local law enforcement establishment, news media, and so on.  Potter is a slumlord, lender, and has other businesses too.
Put differently, Potter is the epitome of the modern Berkshire Hathaway conglomerate.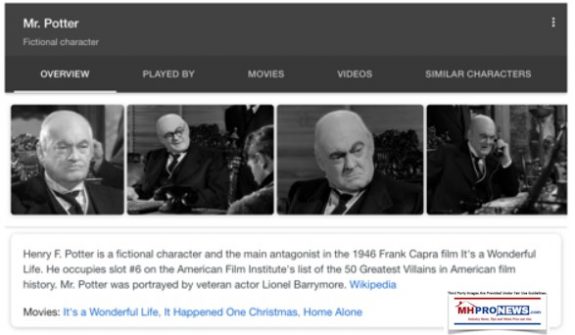 Potter is a schemer, who knows how to manipulate 'the system' – the establishment order – as a means of separating people from their earning power and money.
In It's a Wonderful Life, Clarence Odbody is an AS2, an Angel Second Class. The theology is flawed, but the storytelling is terrific.
Clarence must "earn his [angelic] wings." God is in the background of the story from the start.  In this movie, God gives humanity free will to choose between good and evil deeds. God reveals paternal love by sending the angel Odbody to Bailey as an answer to a yet unasked prayer.  AS2 Clarence – in the highly-rated 1946 original version of the story, which can be streamed online free –  uses reason and imagery to plead with George to not throw away the gift of life.
Put another way, Clarence also uses storytelling to make his case with George, and through Bailey, to the viewers.
As the climax approaches, Clarence provided George a glimpse into an alternative reality of his life and that of Bedford Falls.  In that hypothetical substitute universe, the Bailey Building and Loan and George Bailey himself don't exist.  In that opposite reality of Bedford Falls absent Bailey, reasonable loans, and affordable housing, the town becomes Pottersville, and is a dark, escapist-focused, and hellish place
So instead of a wholesome town of homeowners – Bedford Falls, a symbolic good place to raise a family – becomes Pottersville, a place where people drink and party to escape their woes. Police sirens are sounding in the background, because there is more crime in Pottersville too.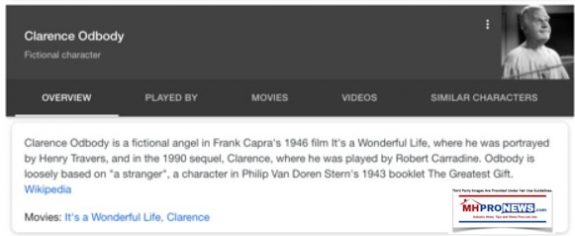 There are several thoughts that the story It's a Wonderful Life should inspire in affordable housing professionals, advocates, and investors in the manufactured housing industry.  While there is more, the story subtly teaches the following lessons:
How important affordable housing is for the masses and is good for society.
How affordable home ownership is liberating from the trap of renting, but also from the trap of monopolistic forces.
The It's a Wonderful Life video relates how homeownership requires accessible lending. That ease of financing is symbolized by the Bailey Building and Loan in the movie.
The movie also creatively spotlights how monopolistic forces can manipulate 'the establishment system.' Note that in the classic flick, 'the establishment' carries no party labels. It isn't Democrats or Republicans that Mr. Potter is identified with.
Mark too that the theology of It's a Wonderful Life is loosely Christian, but make no mention of any branch of Christianity, nor that of Judaism, Islam, or any other major world religion. God is ever in the background, but keenly aware of all that is occurring.  God reveals a Fatherly love in the tale by sending Clarence to George Bailey in the latter's hour of greatest need.  The answer to George's prayer for help was Clarence, and his lesson of just how wonderful life was because of Bailey with his building and loan.
It's a Wonderful Life could thus be adopted as an educational and inspirational motif for manufactured homes and affordable housing in general.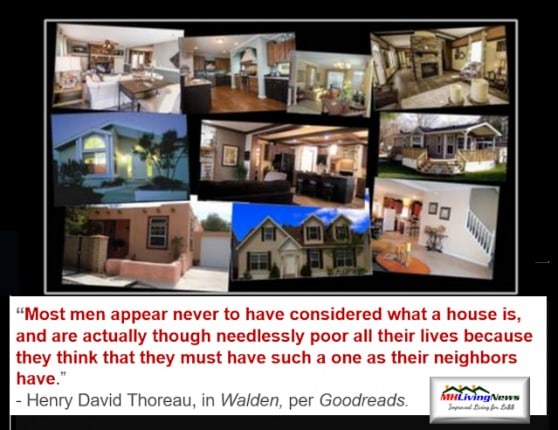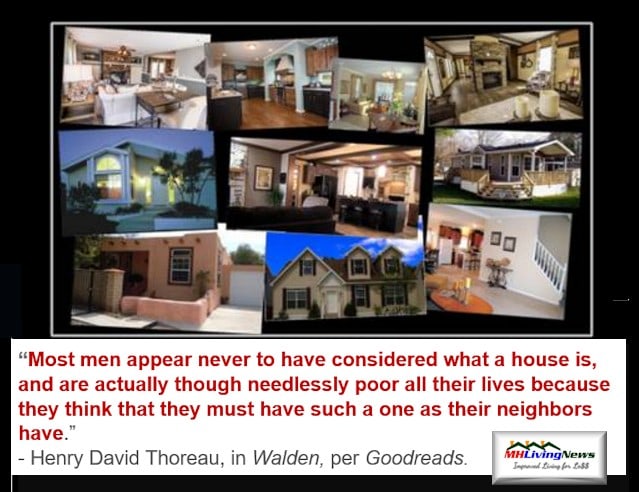 Lending and Affordable Housing, and the Struggles within MHVille
Lending – an access to capital for building affordable homes – makes the dream of home ownership possible. It is worth noting that over a decade ago, the Manufactured Housing Association for Regulatory Reform (MHARR) made access to easier and more affordable lending a key issue for their independent home producers.
The battle over the Duty to Serve (DTS) by the Government Sponsored Enterprises (GSEs) of Fannie Mae and Freddie Mac are part of that struggle with MHARR vs. the Arlington, VA based Potterish tool, the satirical Monopolistic Housing Institute (MHI). Logically that DTS lending should be applied to all federally regulated HUD Code homes, including the most affordable manufactured homes.  That's what makes Bedford Falls a more heavenly place.  By contrast, diverting DTS to the so-called new class of homes – which the Buffett-Clayton-MHI axis have arguably manipulated in a shrewdly monopolistic fashion – can lead to hellish conclusions.
Industry members and advocates should be pressing the FHFA, Congress, and the administration for corrections to DTS that makes it apply to all manufactured homes, including those who now carry higher-rate MH Pottersville-loans. Members and representatives of the major and minor parties or independents should also press HUD and the FHA for a reform of the so-called 10/10 rule.  That 10/10 rule was essentially written for the purported benefit of Berkshire Hathaway owned 21st and Vanderbilt during the aftermath of the 2008 financial crisis, and it gave them a practical monopoly over FHA Title I lending.
Potter in It's a Wonderful Life is a schemer, building his moat. In contemporary terms he is akin to Warren Buffett, building his Clayton Homes and related Berkshire lending moats. Cut off or manipulate lending or the access to capital, and you force people down certain paths instead of others.
That type of scheme may work for the benefit of the manipulative few.  But the consequences of that path are what Clarence revealed in the movie to George Bailey as hellish.
In communities and homes across the U.S. and Canada, millions of manufactured home residents enjoy the benefits of affordable home ownership. At Christmastime, the holiday classic " It's A Wonderful Life " ought to be a reminder of just how important home ownership is.
Watch It's a Wonderful Life through this narrative lens, and you will not only better understand the movie, you will also have a keener grasp for what has gone wrong for our manufactured home industry's important contribution to affordable housing.  This lens also sheds light on how the issue of affordable housing impacts the U.S.A. today.
Like George Bailey, we each need an Odbody to help rouse key figures from the slumber of the meaning and purpose of life, and the consequences of their choices. Doing what's right for small businesses and individuals makes millions richer. Because a key to increasing prosperity is to make affordable home ownership and small businesses a reality for more, day-by-day.
Other Vibrant It's a Wonderful Life Characters  
Mary Hatch Bailey is a crucial figure in the movie's story. Mary is wise, inspired, warm, and inspirational to others, including George Bailey.  But Mary's role is not at all limited to her spouse. For example, without Mary's intervention, would the building and loan have survived Potter's takeover plot?  The Wiki below does not do the Mary Hatch Bailey character justice.  Why?  Because she is every bit as important to winning the battle of Bedford Falls as her husband George was. Mary sacrificed too, and the story reveals how she too was 'richly reward.'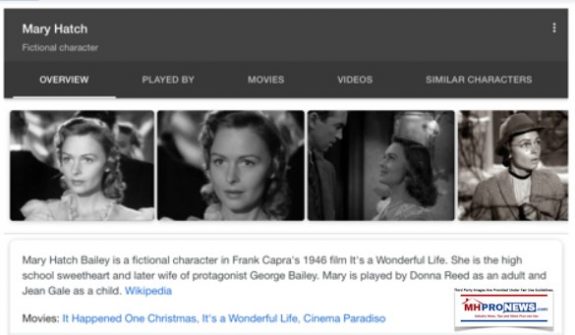 There are different aspirations in life, which Mary and every character in this well-rounded period movie underscored.
For a few moments, dwell on the movie character of Sam Wainwright. Sam goes into plastics in the story and he strikes it rich. Wainwright apparently made his money honestly, at least there is no hint to the contrary in the carefully-crafted movie. That stands in stark contrast to Potter, who seems to have gained or expanded his wealth through manipulations and Buffett-esque 'strategic Moat' style schemes.
Wainwright is a younger success and seems very happy.  Meanwhile, Potter is shown to be a sour, old man. There are others who become affordable homeowners, some of whom are small business professionals.  They too are revealed to be 'a success' and happily so in the storyline.
Advertise with MHProNews to be seen
The Wrap
Affordable housing truly is a battle for access to credit, capital, and against manipulative monopolists. By using this narrative legend, the above 'interpretive key,' will help unlock and inspire a deeper understanding of the It's a Wonderful Life movie classic.  It's a pragmatic story, as well as an uplifting one.
That tale in turn reveals a message that could illuminate the way to a more Merry Christmas for millions. Because the alternative reality of the more wholesome life of Bedford Falls is the hellish life of dark Pottersville.  As AS2 Odbody uncovers in the story, living in rental slums and at the mercy of monopolists is a literally and figuratively darker life.
Affordable housing made possible with accessible credit are the means that George and Mary Bailey worked to spread 'Christmas joy.'  That not only foiled the monopolistic forces of Potter that keep people in poverty, it provided the key celebrated in happy homeownership.
Clarence revealed that reasonable credit and good homes that are owned are like the choice between Heaven or Hell.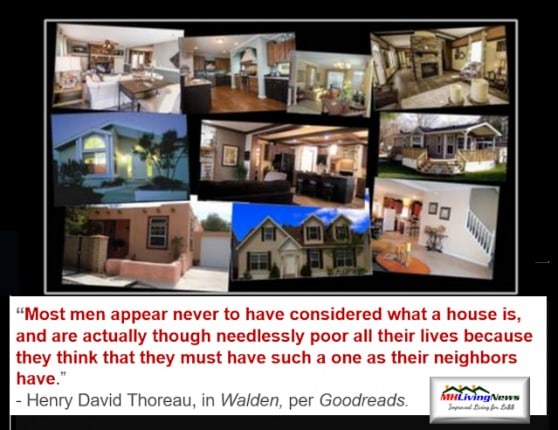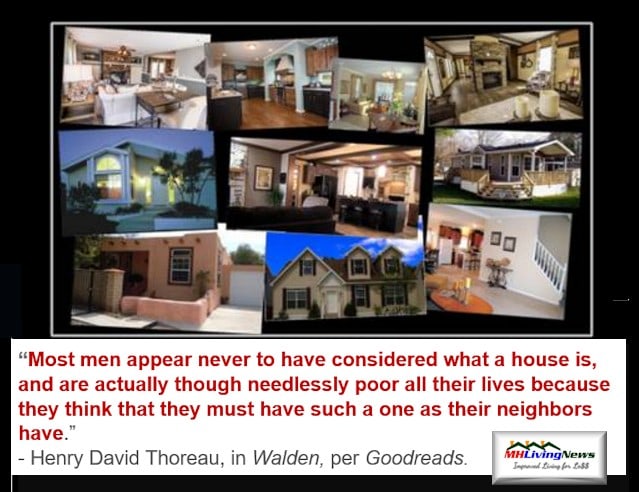 Frank Capra created a masterpiece of storytelling with his film, It's a Wonderful Life.  We can personally make this an inspirational and educational theme for manufactured home pros, and all those who are advocates for truly affordable living made possible through #HousingChoice.  
People are people. Rich, or poor. Small or tall. Every able bodied person pretty much put our pants on the same way as others do. Christmas and the holidays are " The Most Wonderful Time of the Year ," as Andy Williams sang, decades ago in this video snippet from a performance.
From the Kovach family to you, Merry Christmas to all. ## ("We Provide, You Decide." © – News, commentary, and analysis.)
(See Related Reports, further below. Text/image boxes often are hot-linked to other reports that can be access by clicking on them. Third-party images and content are provided under fair use guidelines.)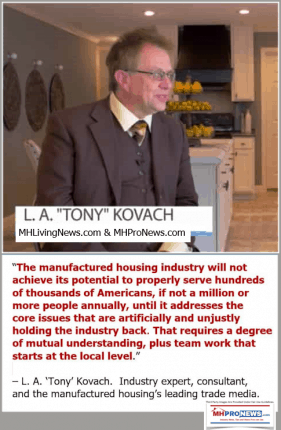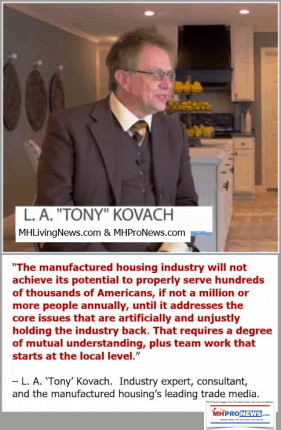 By L.A. "Tony" Kovach – for MHProNews.com.
Tony is the multiple award-winning managing member of LifeStyle Factory Homes, LLC, the parent company to MHProNews, and MHLivingNews.com.
Office 863-213-4090 |Connect on LinkedIn:
http://www.linkedin.com/in/latonykovach
Click here to sign up in 5 seconds for the manufactured home industry's leading – and still growing – emailed headline news updates.
Related References:
The text/image boxes below are linked to other reports, which an be accessed by clicking on them.
Depending on who's estimate we accept, there's some 550,000 to 660,000 homeless in the richest nation on earth, the U.S.A. As rents rise, so does homelessness, says Zillow's research, which supplied the higher homeless count.
http://mhmarketingsalesmanagement.com/blogs/tonykovach/its-your-profession-investment-of-time-talent-treasure-so-whats-next/
A recent study reflected that pay gaps have largely been proven to be a matter of choices. Men, per that study, earn more because they put in more overtime. That's a choice. Within the norms of morality and good laws, choices should be honored. says roughly 97% of our audience is domestic U.S.