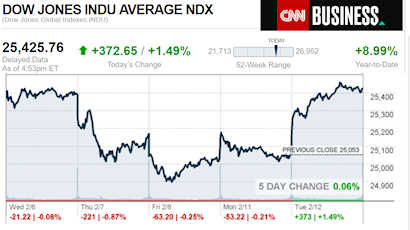 The markets rocked up today, as a possible deal in Washington on "the Wall" may be brewing.  Most tracked stocks rose.  Our focus this evening will be the headline, mandated changes at Legacy Housing.
If you're new, already hooked on our new spotlight feature – or are ready to get the MH professional fever – our headline report is found further below, after the newsmaker bullets and major indexes closing tickers.
The evolving Daily Business News market report sets the manufactured home industry's stocks in the broader context of the overall markets.  Headlines – at home and abroad – often move the markets.  So, this is an example of "News through the lens of manufactured homes, and factory-built housing." ©
Part of this unique evening feature provides headlines – from both sides of the left-right media divide – which saves busy readers time, while underscoring topics that may be moving investors, which in turn move the markets.
Readers say this is also a useful quick-review tool that saves researchers time in getting a handle of the manufactured housing industry, through the lens of publicly-traded stocks connected with the manufactured home industry.
This is an exclusive evening or nightly example of MH "Industry News, Tips and Views, Pros Can Use." © It is fascinating to see just how similar, and different, these two lists of headlines can be.
Want to know more about the left-right media divide from third party research?  ICYMI – for those not familiar with the "Full Measure," 'left-center-right' media chart, please click here.
Select bullets from CNN Money…
Investors are cheering a reversal of two trends weighing on Wall Street: US politics and oil
The next round of bank mergers has finally arrived
Tariffs prompt US Steel to restart construction on an Alabama mill
Market may be ignoring risks of an earnings slowdown
LIVE UPDATES Marlboro owner taps bond market to finance $13 billion Juul deal
Electronic Arts continues to wow Wall Street
BBC says its cameraman was attacked at Trump rally
Activision Blizzard to cut 8% of its workforce
Nissan cuts profit forecast in first report since ousting Ghosn
Hannity questions 'garbage compromise' as lawmakers seek to avoid shutdown
Google Maps' latest tool to stop you from getting lost
Pinterest wants to be the anti-social media platform
Marco Rubio wants to end stock buybacks' tax advantage
Climate groups threaten lawsuit to force Shell to ditch oil
Every business should have at least one of these cards
How bad is China's economic slowdown? It's impossible to tell
Who's hurting (and who isn't yet) from China's slump
Luxury brands are already feeling the China burn
Car sales drop in China for the first time in 20 years
China's factory sector contracts for the first time since 2016
Top French journalists used Facebook group to harass women
The barrier for future female CEOs: Access to the boss
What images of women at work tell us about sexism
How toxic ideas about masculinity corrode the workplace
#MeToo identified a disease that infects business. We still have a long way to go
Select Bullets from Fox Business…
Stocks surge on US-China trade talks, tentative budget deal
Taxpayers hit back over IRS refunds
Democrat 2020 hopefuls press Trump to sink T-Mobile, Sprint $26.5 billion merger
Chevron CEO committed to Venezuela amid US sanctions: Report
2019 Grammys: Border wall dress ignites liberal Hollywood hatred, Joy Villa says
Toys R Us plans big comeback this holiday season
The home where Jeff Bezos launched Amazon is up for sale
Marco Rubio backs proposal to limit stock buybacks, a frequent target of Dems
Mexico's 'El Chapo,' notorious cartel boss, convicted in US trial
Bill Belichick renames boat 'VIII Rings' after Patriots Super Bowl victory
California scrapping plan for $77B high-speed rail from LA to San Francisco
College students' beginning salaries: Expectations vs. reality
Paul Volcker rips Trump administration over tax reform, China trade dispute
Valentine's Day: Companies that profit the most off love
Smith & Wesson: Reputation among gun supporters is main concern
Former Google president: AI 'displaces' these US jobs
Today's markets and stocks, at the closing bell…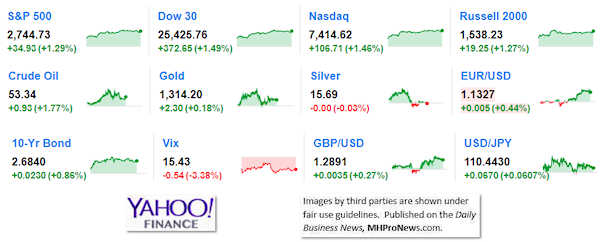 Today's Big Movers
For all the scores and highlights on tracked manufactured home connected stocks today, see the Bloomberg graphic, posted below.
Today's MH Market Spotlight Report –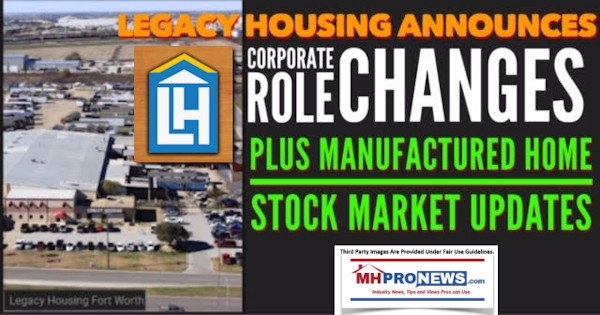 In a news release to the Daily Business News on MHProNews, Legacy Housing (LEGH) said the following.

BEDFORD, Texas, Feb. 11, 2019 Legacy Housing Corporation (NASDAQ:LEGH) today announced that, consistent with corporate governance best practices, the Company will separate the roles of Chief Executive Officer and Executive Chairman of the Board. Accordingly, Curtis D. Hodgson is transitioning from his role as Co-Chief Executive Officer of Legacy Housing to become its Executive Chairman of the Board of Directors, as approved by the company's Board of Directors. This transition was effective immediately. Mr. Hodgson will remain actively involved with Legacy in this role, including with respect to overall corporate strategy and manufactured home park development and financing.
Kenneth E. Shipley, who previously managed the company with Mr. Hodgson as Co-Chief Executive Officers, will become the sole Chief Executive Officer of Legacy Housing.  Mr. Shipley has also been appointed by the Board of Directors to serve as Legacy Housing's President.
Mr. Hodgson and Mr. Shipley co-founded Legacy Housing in 2005.
Mr. Shipley stated: "I look forward to continuing to work with Curt in his new role as Executive Chairman of the Board. Titles may have changed, but Curt will continue to be a critical part of our company and we will continue to rely on his strategic guidance and vision with him leading the company's Board of Directors. Curt and I founded and built this company together, and Curt will be just as big a part of our company's future as he is our past.  But this new role will enable him to focus on overall corporate strategy in addition to key, critical projects that will require his expertise and attention. I am excited about the future of Legacy and, in my role as CEO and President, I will continue to work as hard as I can, along with the rest of our management, to grow Legacy and find ways to provide value to our shareholders."
About Legacy Housing Corporation
Legacy Housing Corporation builds, sells and finances manufactured homes and "tiny houses" that are distributed through a network of independent retailers and company-owned stores and are sold directly to manufactured housing communities. We are the fourth largest producer of manufactured homes in the United States as ranked by number of homes manufactured based on information available from the Manufactured Housing Institute and IBTS for the second quarter of 2018. With current operations focused primarily in the southern United States, we offer our customers an array of quality homes ranging in size from approximately 390 to 2,667 square feet consisting of 1 to 5 bedrooms, with 1 to 3 1/2 bathrooms. Our homes range in price, at retail, from approximately $22,000 to $95,000. The common stock of the company is traded on The Nasdaq Global Select Market under the symbol "LEGH."
Forward-Looking Statement
This release contains forward-looking statements within the meaning of Section 27A of the Securities Act of 1933, as amended, and Section 21E of the Securities Exchange Act of 1934, as amended. All forward-looking statements are inherently uncertain as they are based on current expectations and assumptions concerning future events or future performance of the company. Readers are cautioned not to place undue reliance on these forward-looking statements, which are only predictions and speak only as of the date hereof. In evaluating such statements, prospective investors should review carefully various risks and uncertainties identified in this release and matters set in the company's SEC filings. These risks and uncertainties could cause the company's actual results to differ materially from those indicated in the forward-looking statements.
Investor Inquiries:
Neal Suit
(817) 799-4906
investors@legacyhousingcorp.com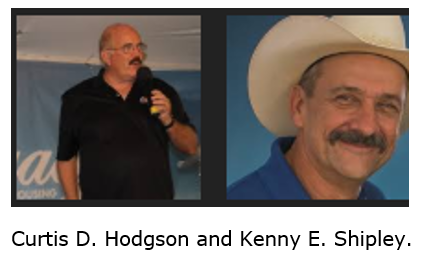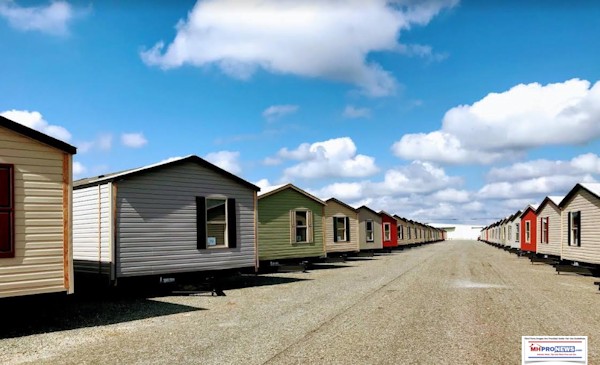 Bloomberg Closing Ticker for MHProNews…
NOTE: The chart below includes the Canadian stock, ECN, which purchased Triad Financial Services.
NOTE: The chart below covers a number of stocks NOT reflected in the Yahoo MHCV, shown above.
NOTE: Drew changed its name and trading symbol at the end of 2016 to Lippert (LCII).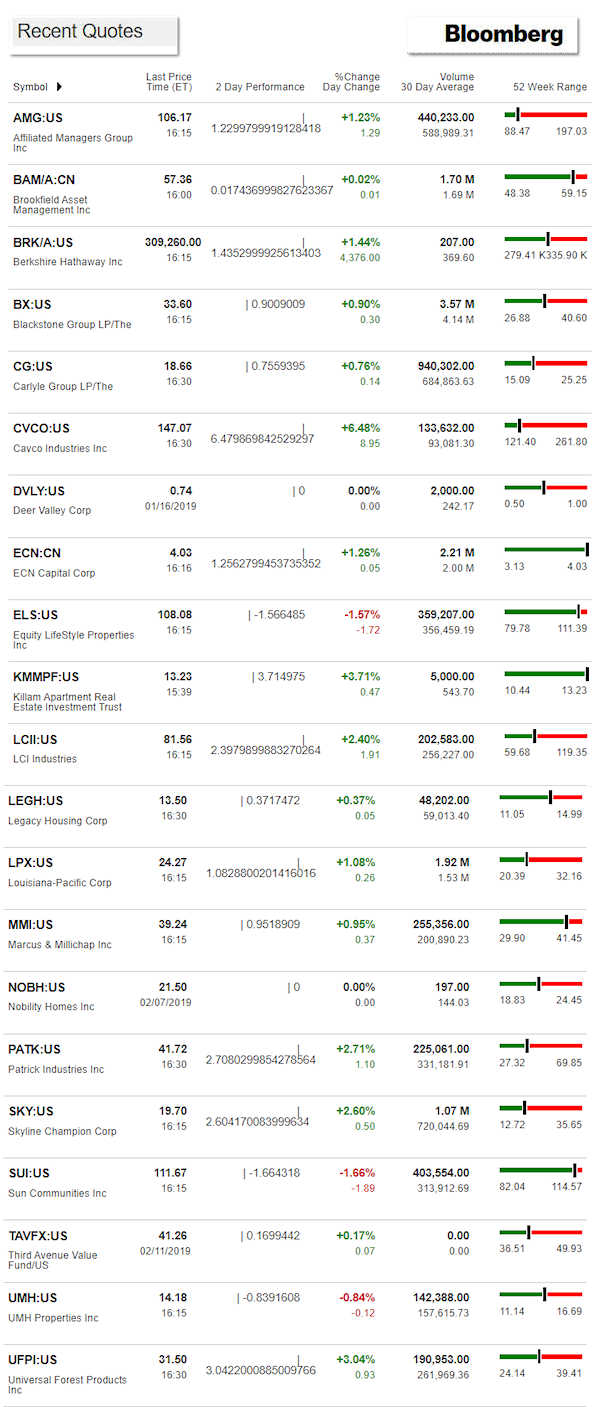 Berkshire Hathaway is the parent company to Clayton Homes, 21st Mortgage, Vanderbilt Mortgage and other factory built housing industry suppliers.
LCI Industries, Patrick, UFPI and LP all supply manufactured housing.
AMG, CG and TAVFX have investments in manufactured housing related businesses.
Your link to industry praise for our coverage, is found here.
For the examples of our kudos linked above…plus well over 1,000 positive, public comments, we say – "Thank You for your vote of confidence."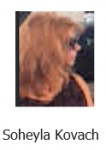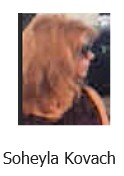 "We Provide, You Decide." © ## (News, analysis and commentary.)
(Image credits and information are as shown above, and when provided by third parties, are shared under fair use guidelines.)
Submitted by Soheyla Kovach to the Daily Business News for MHProNews.com.