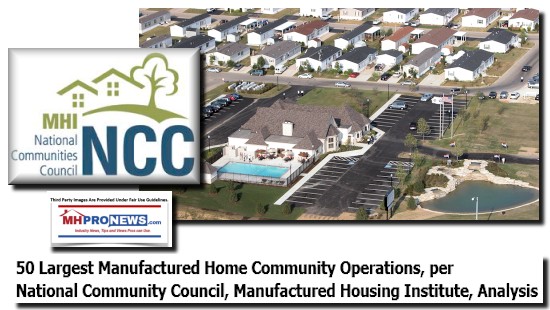 "Sun Communities of Southfield, Michigan, took the top spot with 83,294 home sites under management, followed by Equity LifeStyle Properties of Chicago with 73,700 home sites, RHP Properties of Farmington Hills, Michigan, with 60,163 sites, YES! Communities of Denver with 47,278 sites and MHP Funds of Cedaredge, Colorado, with 31,652 sites." said the Manufactured Housing Institute (MHI) National Communities Council (NCC) release to the Daily Business News.
"These 50 organizations have a total of more than 693,000 home sites with portfolios ranging in size from more than 80,000 sites to just under 3,000,"said the NCC's statement.
The prior 2017 list was faulted by MHI/NCC members as double-counting some sites listed by RHP and Brookfield Asset Management, then shown as #3 and #5, respectively.
"The NCC serves its members by being an effective advocate before public policy makers, the media and the general public," is another standard line that has drawn the ire of members, who have told MHProNews that MHI (and by implication, the NCC) is "irrelevant" – ineffective at their own agenda – or fails to defend the industry's members from flawed media reports.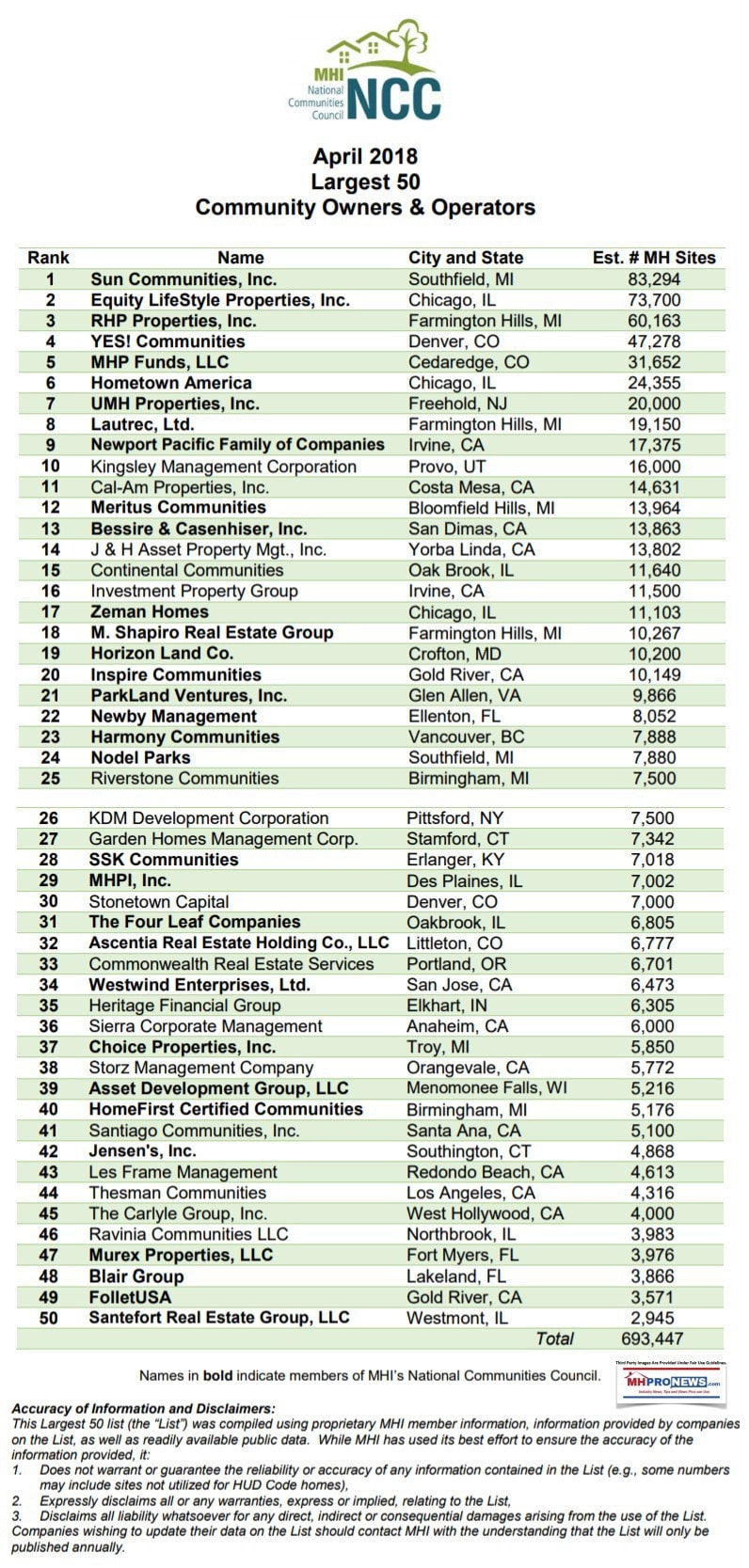 MHP Funds, currently #5, is a tandem of well known partners/investors headlined by Frank Rolfe and Dave Reynolds.  While Rolfe has 'gone quiet' on critics of MHI late last year, he has not walked back his stinging criticism of MHI in failing to defend the industry, harming all of those in the business.


Bob Crawford, president of award winning Dick Moore Housing, which sold its last community fairly recently, has given MHI a "5 out of 10" – a failing grade – in its lobbying efforts.
Jenny Hodge for NCC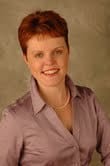 Jenny Hodge is a talented, well liked and respected member of the MHI team. At one point, she was seen by some as the heir apparent to the "floundering" or worse view held by some regarding their president, Richard "Dick" Jennison.
Jennison has since, say sources, gained the upper hand in the Arlington inner-office struggles.
Hodge's release said, "With the tens of thousands of communities, we are trying to responsibly identify with this list who the up and coming operators are as we see signs of continued consolidation as the industry evolves into a more mature phase," said Jenny Hodge, Vice President of Research and Market Analysis for MHI, according to their release.
Hodge added, "We are seeing more interest in manufactured housing from large institutional investors and smaller independent developers as well as individuals who want to live in high-quality affordable housing."
Each of these statements by Hodge is upon considered examination, accurate.
What her first point obliquely underscore is part of the reason for MHI's existence, which is to foster consolidation, according to a number of their critics. Thus the spreading nick-name for MHI, "the Monopolistic Housing Institute," which the "I want them all for myself" statement by Nathan Smith nurtured.  Smith is the former MHI Chairman, a prominent Democratic operative, a NCC member, and a partner in SSK Communities.
MHProNews & MHI – Who is Telling it Like It Is?
It is natural to believe that your side, whichever side that may be, is the 'right side.'
That said, it is important to note that MHProNews' publisher has for over a year offered to publicly meet and debate the issues, concerns, and topics raised by MHProNews and/or MHLivingNews.  MHI has ducked, dodged, detracted and declined to accept the invite.
One must ask, why?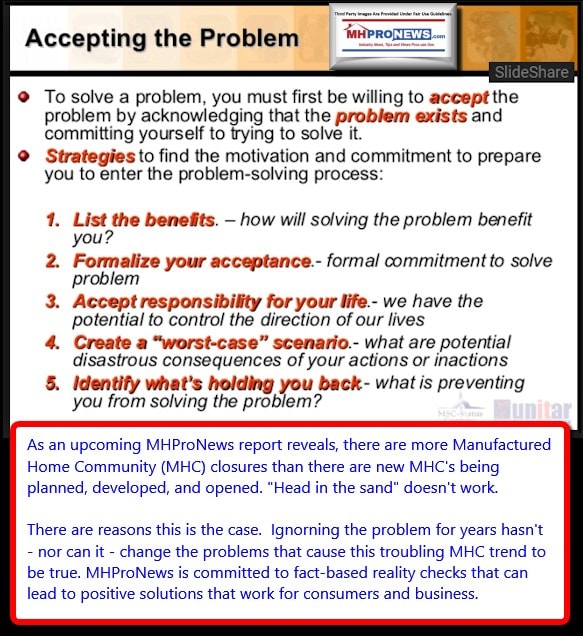 The MHI statistics are a mix of accurate and inaccurate. This year's list appears to be clean and controversy free. The same can't be said about the statistics that claim there are some 38,000 communities.  Their own members dispute that number, and that goes to the heart of what's wrong with MHI, or NCC.
Frank Rolfe, Dave Reynolds, George Allen, Manufactured Home Community Controversy Continues
This isn't a critique of Jenny Hodge, who is "following orders."  It is a critique of those who are seen as manipulating and "weaponizing" data and messages to their members.
If they had a good come-back, why don't they present it?
Rather, they dodge those concerns by what a long-time MHI member told MHProNews is "Razzle Dazzle." While his example was on a different topic, the principle is the same.
"Razzle Dazzle," Says Former Manufactured Housing Institute Member
There are concerns by some that HUD Secretary Carson might, might by intent or not, give MHI an apparent win, when there is nothing that MHI has arguably done save keep the industry's growth at lower levels, by failing to accomplish their own claimed agenda. For more details, the related reports will dot i's and cross t's that have as of this writing, gone unanswered by MHI, and which their surrogates have used only "razzle dazzle," hoping to distract people with smoke and mirrors.
It's a great industry, with numbers of very fine professionals, but some are holding up the industry from within, as Frank Rolfe and others have said.  "We Provide, You Decide." © ## (News, analysis, and commentary.)
(Third party images are provided under fair use guidelines.)
Related Reports: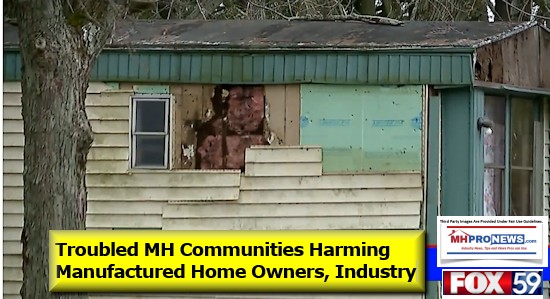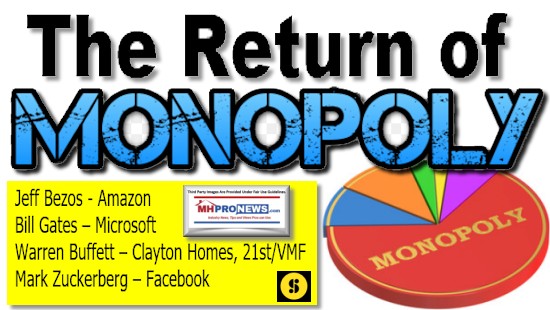 Manufactured Housing – Regulatory, Other Roadblocks and Potential Solutions, Up for Growth Research, plus Urban Institute Report Revisited
1) To sign up in seconds for our MH Industry leading emailed news updates, click here.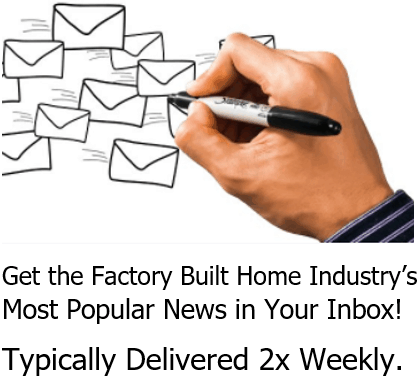 2) To provide a News Tips and/or Commentary, click the link to the left. Please note if comments are on-or-off the record, thank you.
3) Marketing, Web, Video, Consulting, Recruiting and Training Resources

Submitted by Soheyla Kovach to the Daily Business News for MHProNews.com.
Soheyla is a managing member of LifeStyle Factory Homes, LLC, the parent company to MHProNews, and MHLivingNews.com.