"Congratulations to all the Members of Morning Star. A job well done by you and NeighborWorks Montana! Welcome to the ROC USA family of 202 Resident-Owned Communities," reads the post on the ROC USA Facebook page.
The Daily Interlake reports that Kalispell, Montana's Morning Star community has closed on their resident-ownership loan.  The $1.55 million dollar deal is a step toward greater control over their financial future, says ROC USA and the Daily Interlake.
"Morning Star Community Homes is the second resident-owned community in Kalispell — and the 202nd such community in the United States. It has 41 mobile homes [sic] and is located on South Woodland Drive, next to Green Acres, which became the first resident-owned community in the Flathead Valley six years ago," said Lynnette Hintze.
When Morning Star's owner, Tim Ohler, decided to sell his land-lease community, he contacted NeighborWorks Montana about creating a resident-owned community, states Danielle Maiden.
Maiden is a cooperative housing specialist with NeighborWorks.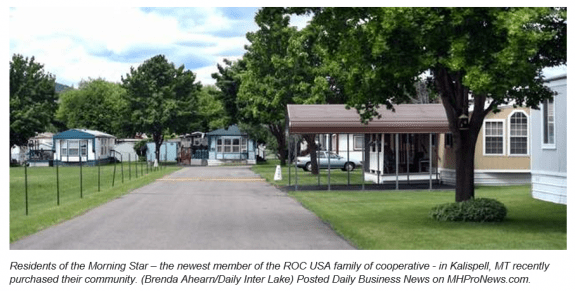 "The owner knew about Green Acres and when he got ready to sell he reached out to us," Maiden said. "We came in and knocked on doors and told them what we could offer."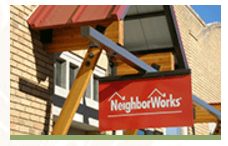 "We have a special structure [that] makes it so their down payment is membership in the cooperative," Maiden said. She said what the residents, and the seller, believe too, "It's a really amazing program."
Daily Interlake states there's a $100 one-time membership fee to belong to the resident-owned community. That fee is refunded when a home owner moves out of the community. Incoming residents are required to belong to the cooperative.
Its first successful ROC project was with homeowners in Mountain Springs Villa in Red Lodge. There are reportedly now eight resident-owned communities in Montana. Others include two in Missoula, two in Great Falls and one in Pablo. ##
(Image credits are as shown above, and when provided by third parties, are shown under fair use guidelines.)

Submitted by Soheyla Kovach to the Daily Business News for MHProNews.