Alabama's Geneva City Council approved a new "mobile home" [sic] ordinance this month, removing an 'age limit' for manufactured homes allowed in their city.
Previously, the town barred manufactured homes more than 12 years old from being placed.
WTVY Channel 4 reports that now the city's building inspector will determine if a "mobile home [sic] meets quality standards."
The community owner, William Kelly, said he is in favor of the new regulations.


But Kelly may not be fully informed about manufactured housing's enhanced preemption under the Manufactured Housing Improvement Act of 2000 (MHIA 2000).
What a DC Attorney and MH Industry Veteran Says
"A locality, obviously, cannot maintain its own "quality" standards for manufactured homes subject to federal regulation, as that field is occupied and preempted by federal authority," said Mark Weiss, JD, President and CEO of the Manufactured Housing Association for Regulatory Reform (MHARR).
"Nor would a local inspector – absent anything else – have independent authority to determine compliance with federal "quality" standards, or any local "quality" standards that would/should be preempted by federal authority," said Weiss.
One of the homes shown in the video could be a pre-HUD Code mobile home, based upon limited visual evidence.  But any home built since June 15, 1976 would be covered by federal law, to learn more, click here.
Another problem with this local report, as informed professionals know,  is their mixing of terminology.
An older manufactured home that may need repairs or updates doesn't become a 'trailer house.'
Manufactured housing is a legal definition, not one subject to taste or prejudice. To learn about the proper use of terminology, and why journalistic standards are being missed in such stories, see the report linked below.
https://www.manufacturedhomelivingnews.com/schooling-public-officials-media-on-trailers-mobile-homes-tiny-homes-and-manufactured-homes/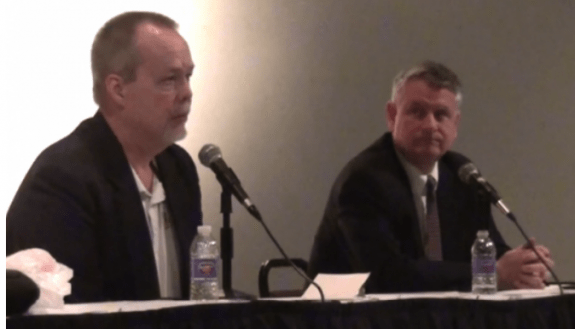 The Need for National Independent Retailers and Communities Association
Incidents such as this one are all too common, as state association executives have often reported to MHProNews. MHI rarely gets involved in such matters.
The solution?  Community owner Frank Rolfe told the Daily Business News that in the billboard industry, their association aggressively "went after" any jurisdiction that attempted to restrict their members.  Rolfe has expressed his disappointment with MHI for not doing the same.
Bob Crawford, president of award-winning Dick Moore Housing, has said that this is why the "post-production side" (meaning, retailers, communities, installers, etc.) of the manufactured home industry needs its own national representation.
MHARR historically – and still currently – represents the interests of HUD Code manufactured home producers.  But they voted at their Tunica Show meeting to explore the concept of broadening their membership base, to allow them to represent independent retailers, communities and the post-production side of the industry.
Given that federal law supports preemption of local entities, per Weiss' statement and the views of others in the industry, the legal foundation exists to do what Rolfe and others think could dramatically change the legal landscape for the industry. ## (News, Analysis.)
(Image credits are as shown above, and when provided by third parties, are shared under fair use guidelines.)

Submitted by Soheyla Kovach to the Daily Business News on MHProNews.com.