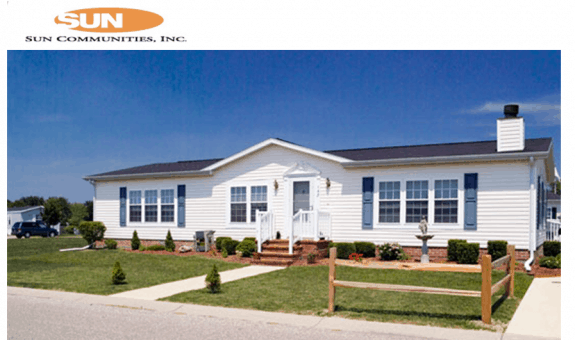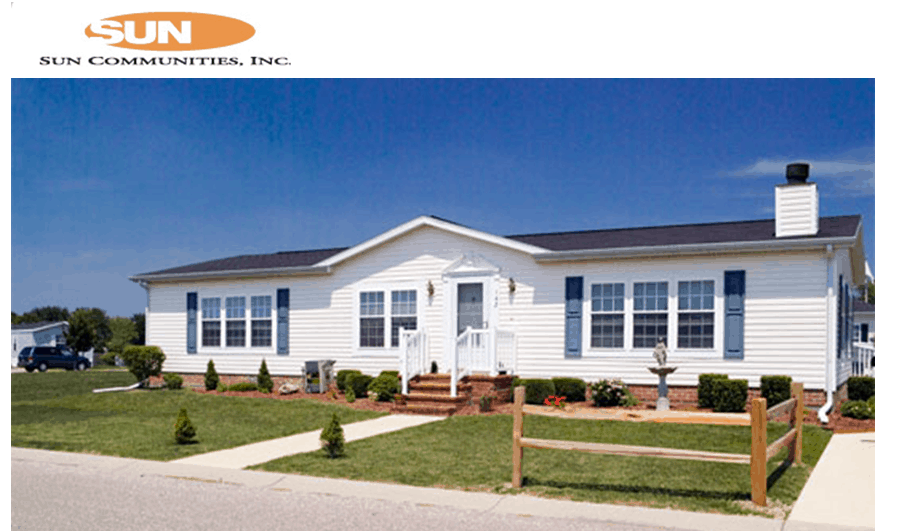 Sun Communities Inc. (NYSE:SUI) has seen several insiders, investors and analysts taking action recently.
According to Community Financial News, Director Stephanie W. Bergeron sold 4,850 shares of stock on November 17th. The stock was sold at an average price of $70.63, for a total value of $342,555.50.
Bergeron now owns 16,000 shares in the company, valued at approximately $1,130,080.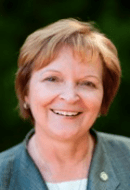 Insiders own 5.14 percent of the company's stock.
During its quarterly earnings report on November 1st, Sun Communities reported earnings per share (EPS) of $1.13 for the quarter, topping the consensus estimate of $1.10, and had a return on equity of 6.38 percent and a net margin of 16.21 percent.
Sun also "beat the street" with revenues of $249.70 million for the quarter, compared to analyst estimates of $146.83 million.
Corporate Announcements, Analysts, Investor Moves
The company has also announced a quarterly dividend, which will be paid on Friday, January 20th. Stockholders of record on Saturday, December 31st will be paid a $0.65 dividend. This represents a $2.60 dividend on an annualized basis and a dividend yield of 3.43 percent.
Research analysts have also weighed in on Sun Communities:
Evercore ISI issued a "buy" rating and a $85.00 price objective for the company on October 14th;
Zacks Investment Research moved the company from a "buy" rating to a "hold" rating in a report on October 5th;
BMO Capital Markets upgraded the company from a "market perform" rating to an "outperform" rating and set a $85.00 price objective on September 16th.
Citigroup Inc. also upgraded the company from a "neutral" rating to a "buy" rating and increased their price objective for the stock from $80.00 to $86.00 on September 12th.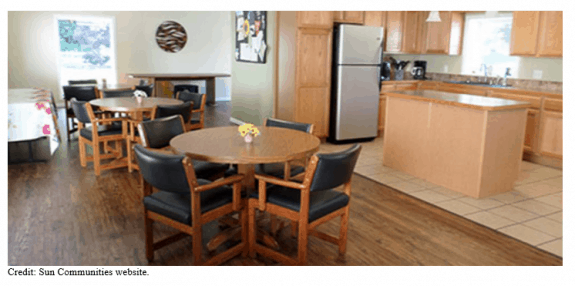 Investors also made moves in their positions:
NP Paribas Arbitrage SA boosted its position in Sun Communities by 24,600 percent in the second quarter, with a value of $719,000.
Fox Run Management LLC bought a new position in the company during the second quarter worth $322,000.
1st Global Advisors Inc. increased its stake in Sun Communities by 4.9 percent in the second quarter.
IBM Retirement Fund bought a new position in the company during the second quarter worth $484,000.
Shinko Asset Management Co. Ltd. (SAMCo) raised its position in Sun Communities by 14,305 percent in the second quarter, which the Daily Business News covered in a report linked here.
Shinko… 

Shinko Asset Management has been taking an active interest in another U.S. based manufactured home connected operation, see report – linked here. It is part of a trend in international interest in the factory built housing sector, as reported by the Daily Business News, which has also covered:
China's People's Architecture Office (PAO) developing a prefab home you can take with you and
British insurance giant Legal & General has also been working to increase its influence in the industry, upping its stake in Cavco. That story is linked here, among several other examples.
Sun's Portfolio
Sun owns and operates some 338 manufactured home and recreational vehicle communities located in 29 states throughout of the United States and Ontario, Canada. Sun Communities' portfolio consists of approximately 117,000 developed sites. The firm is one of the largest portfolios of manufactured home communities in the United States.
Sun one of the industry stocks monitored each business day on the MH Industry's leading professional news resource, the Daily Business News, on MHProNews.  For the most recent closing numbers on all MH industry-connected tracked stocks, please click here. ##
(Image credits are as shown above.)

Submitted by RC Williams to the Daily Business News for MHProNews.