Tony, I have a long history with rent control and have thoroughly studied the issue.
If you do a manufactured home community with all rental units, I suspect you will never have to deal with rent control.
When a resident makes an investment in their house – which with modern manufactured homes could now be over $100,000 – the possibility exists that some community owner will raise rents in a inequitable fashion. When that happens, the home-owning residents will scream for rent control. Once rent control is adopted, it is a nightmare for the landlord and it is costly for the municipality.
The fact is if we raise our rents too high we will have no sales and no occupancy.
No reasonable landlord would do such a thing.
Our rents have to make economic sense or we have no business.
Therefore, in the long term, there is never a need for rent control.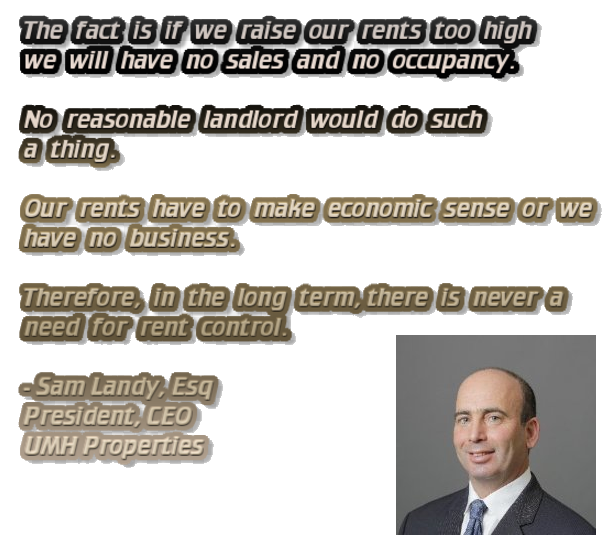 In the short term, however, a single landlord can create a bad situation for hundreds of home-owning residents by raising rents in excess of market rent. The market will force the landlord to lower rent over time, but many residents may object strongly before that happens.
Once rent control is adopted, politicians will – by the tenants votes – be giving the landlord's property to the tenants. It happens all the time.
UMH never raises rents more than 4% or CPI. By doing so, the municipality understands we are treating our residents fairly.
UMH would not buy a rent controlled community and believes all community owners should work with residents to avoid rent control.
One way to work with residents is increase rents for existing residents in a smaller amount than for new residents. That reduces the opposition to rent increases. ##
Sam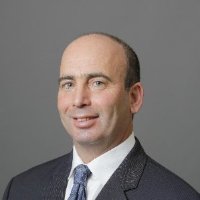 Sam Landy Esq.
President and CEO
UMH Properties, Inc.
(Editor's note: this letter to the editor came in response to the Daily Business News article by guest writer, Joe Dyton, linked here. Headlines are routinely supplied by MHProNews, as was the case in this Op-Ed with Mr. Landy.)
To read an in-depth interview, A Cup of Coffee with…Sam Landy, click here.