Hi Tony,
The short answer is that – at least in Canada – "trailer park" connotes exactly the type of persons portrayed in Trailer Park Boys.  This is a long-standing stereotype that was perhaps somewhat relevant 25 or more years ago.
Today, manufactured home communities – our preferred term, and one more common in the USA than in Canada – are the antithesis of what "TPBoys" represents.  Are there still a few that fit the stereotype?  Yes, just as there a few run-down apartment buildings whose owners only care about receiving rent.
In Canada, manufactured homes must be built to a federal building code standard – Z240.  They are 2 x 4 or 2 x 6 construction, fully insulated with strong frames and roofs and sheetrock walls – the same as a fixed building.  A new home can sell for $150,000 to $300,000 CAD.  Compare this with the price of a similar sized fixed building: in the million-dollar range in Toronto and Vancouver; half a million plus almost anywhere else.
More important are the residents.  Typically, manufactured home community residents in Canada own their homes and have lived in the community for 10 to 30 years.  They aren't drug dealers or [drug] producers; they aren't partyers or uncontrolled alcoholics; they don't get into fist fights, or do anything else that would make for an "interesting??" TV show.  Also, more and more young couples and families are moving in to manufactured home communities. recognizing them as an affordable housing alternative to renting an apartment, and because home ownership is otherwise out of their reach.

We say "communities" intentionally.  An apartment dweller, whether in an owned condo or a rental unit, might know one or two others, often just to say hello in the elevator. Because of the structure of manufactured home communities, and the tenure of residents, everyone not only knows most everyone else, they look out for each other, take care of a neighbour's home while they go to Arizona for the winter.  The community has barbeques and pot luck dinners, bingo nights and garage sales.
Pretty well everything I've described above wouldn't play well on TPBoys!
The harmful aspect of the show was that it reinforced the negative stereotype that most politicians hold of our industry.  I once spoke to the Mayor of a small town in northern BC [British Columbia] and asked him how many communities there were in the area.  He replied, "Three, and I'd like to get rid of all four of them!"  Two of the three were members of our association, and I know they abided by our code of ethics, provided much needed housing (and property taxes) in the area, etc.
Our industry in Canada faces the ongoing challenge of a demand for more communities against a political resistance to their development.  We did a survey of our members earlier this year; the average vacancy rate was one site for every two communities.
What we need – and it would never attract sponsors – is a show called, "Manufactured Home Communities – the Ignored Affordable Housing Alternative."
We will be launching a separate web site shortly, the content of which will be targeted at the 25 – 45 generation; ready to buy a home, but needing thousands more to do so.  It will contain stories from community residents, descriptions of homes, manufacturing processes, etc.  I'd be happy to send you the link once it is up and running early next year. ##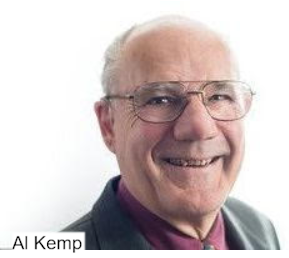 Al Kemp
Executive Director
Manufactured Home Park Owners Alliance of British Columbia (BC)
250-213-2627