The McCrory lawsuit is a significant victory against zoning discrimination that many working families in Arkansas face from cities and towns when they attempt to place a factory-built dwelling unit in a territorial jurisdiction governed by municipal ordinances and regulations.
Although federal regulation preempts cities from out-and-out discrimination against units built in compliance with the Federal Manufactured Home Construction and Safety Standards – the Department of Housing and Urban Development (HUD) has been hesitant to enforce the 'enhanced preemption' granted in the MHIA of 2000 – –  or even the Department's own 'preemption policy' or statement of 'internal guidance' on local zoning matters.
And, even though state law in Arkansas prohibits cities from totally banning manufactured/modular home placements; restricting them only to rented lots in 'parks'; or setting conditions/restrictions that are dissimilar to those for 'site-built units' – a number of cities still attempt to unduly restrict MH placements due to unsubstantiated fears of plummeting property values and 'undesirables' that their decisions-makers fear will inhabit such domiciles.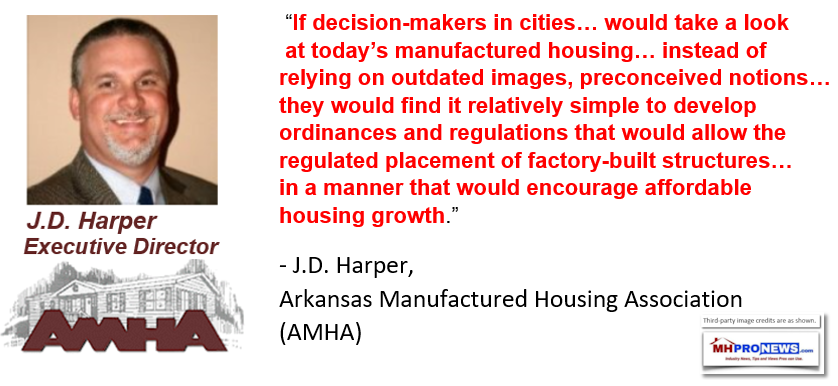 We hope this decision will cause city leaders to consider other, non-arbitrary factors when making decisions about home placement within their towns.
When our organization is allowed to provide advice to cities on how to address the placement of factory-built units within their boundaries – we always caution against arbitrary restrictions (i.e. home value, age, etc.) that would determine if a home would be allowed.
Several tiny cities around McCrory had enacted similar restrictions, and have made changes to their ordinances in response to this lawsuit.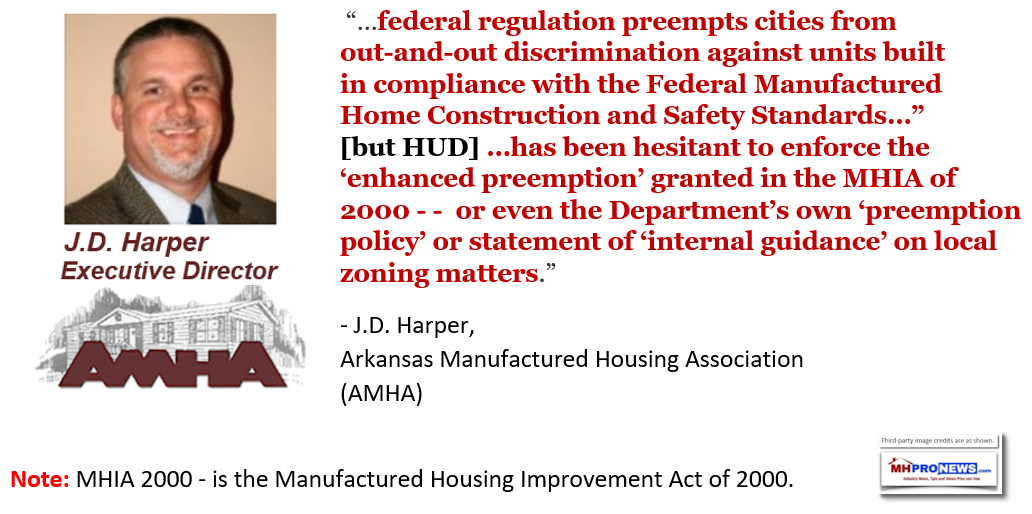 If decision-makers in cities [particularly smaller towns] would take a look at today's manufactured housing – instead of relying on outdated images, preconceived notions, and the myths, misconceptions and stereotypes that seem to be inextricably linked to this product – I believe they would find it relatively simple to develop ordinances and regulations that would allow the regulated placement of factory-built structures on individual lots and in multi-site developments in a manner that would encourage affordable housing growth.
The McCrory settlement is just another arrow in the quiver to use when city leaders attempt to discriminate against people who might not make as much money as the members of the planning commission or city council – or at least don't want to spend more for a site-built home. ##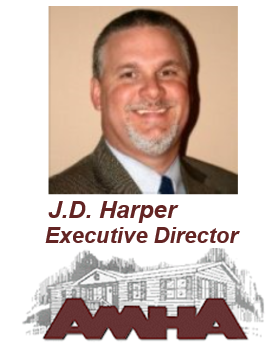 By JD Harper
AMHA