Tony, this news story out of Dover, DE is yet another example of blatant agenda and discrimination against our industry. More importantly, this is discrimination against affordable housing and the individuals who live in manufactured or pre-fabricated homes.
If anything, this Dover zoning/MHC story is a case of officials harming their own constituents. Rent control is proven not to work, save to drive out more affordable housing over time. Further, in neighboring Maryland, there are conventional houses built on land-lease.  Do you see the excuses used against manufactured homes in Dover being used against those conventional houses built on a land-lease in Maryland?  No.
TMHA's D. J. Pendleton, quoted in the article linked here, was correct.  Excuses by public officials to deny manufactured homes are often fig leaves, mere window-dressing used to discriminate against manufactured housing, land-lease communities and sizeable groups of Americans.
The problems with the ABC TV news story out of Houston is also a case of media ignorance or bias.  By saying what kind of housing the shooting took place, almost implies that the house had something to do with the crime.
When have you ever heard a reporter say, "there's been a murder in a site-built home"…?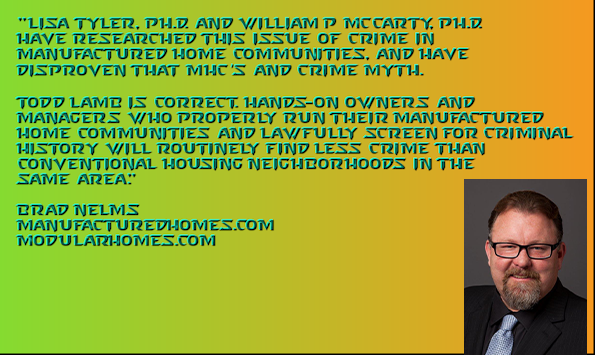 Lisa Tyler, Ph.D. and William P McCarty, Ph.D. have researched this issue of crime in manufactured home communities, and have disproven the old MHC's and crime myth.
Todd Lamb is correct. Hands-on owners and managers who properly run their manufactured home communities – and lawfully screen for criminal history – will routinely find less crime than conventional housing neighborhoods in the same area.
However, I believe more than anything that these injustices should be motivation for us as an industry to do everything we can to elevate our brand identity.
If we continue to be complacent, history will continue to repeat itself and we will see more and more zoning laws that harm and hinder our much needed American manufactured home industry. ##
Editor's Note, the comments above were submitted in reply to the story linked here, and to another story we will link up soon.)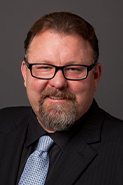 Brad W. Nelms
Mr. Nelms works with ManufacturedHomes.com and ModularHomes.com,
two companies dedicated to raising the brand image of manufactured homes and modular homes.