Tony, you are so right on the HUD Code has become a deadly "discrimination code," especially as it applies to manufactured home financing.
But it doesn't end there.
Recent stories here and elsewhere have chronicled the inability to site a manufactured home in certain areas, where MODs pass, but HUDs fail, in spite of the fact the exterior and interior may be indistinguishable.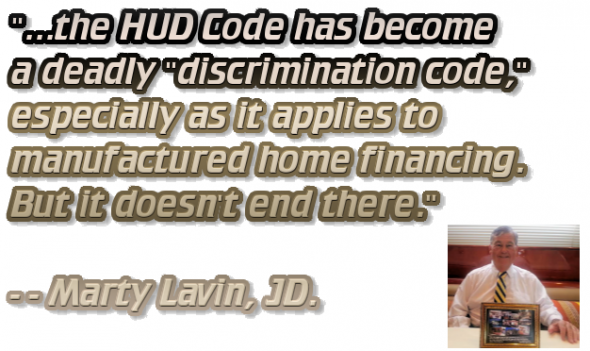 Methinks we may have to face how much we want to continue to allow the "Scarlet Code" to continue to damage our brand. ##
(Editor's note: Marty's comments are in reference to a Daily Business News article on zoning and connected challenges, linked here, and related commentary, linked here. For an indepth video interview with award-winning MH finance pro and community owner, Marty Lavin, click here.)

MARTIN (Marty) LAVIN
att'y, consultant, expert witness
350 Main Street
BURLINGTON, VT 05401
802.238.7777
only in factory built housing