Stories like this are the kind of thing that generally helps cast such a negative light on our industry.  It is very hard for me to advocate for manufactured housing when not only do I have to overcome the typical negative stereotyping of our product but also stories such as this.
As in most types of reporting, the stories that get the most traction are the ones that focus on negative aspects, and a quick look at mainstream media in this election year only bolsters this.
I am a firm believer in the notion of two sides to every story albeit in this case it would appear to be hard to justify the opposing side.
Admittedly I have had limited experience in communities, as my experiences has been 25 years in retail and a little over a year in quality control at a HUD code manufacturer.

However, recently we had an experience purchasing and taking over two communities similar to the one in this article.  In our case, this involved the removal and demolition of approximately 20 old homes.
We had to jump several hurdles to obtain permits to make needed repairs, convince city planners and staffers that while their experiences from the prior owner we in fact negative, our desire was to take something decrepit and turn it once again into a source of affordable housing for residents of the city.
Not all communities can be "5 star" resort type destinations, but there is a strong need for basic, secure, well-kept communities to serve affordable housing.
Ultimately we decided our expertise was more in retail and sold the communities and I am happy to say that the first one is up and running, nearly full, and fulfilling that housing need.
It would seem to be worthwhile to know how the community got in the state it is in.  Obviously neglect in maintenance was a contributing factor, but it would also seem there is possibly some oversight by city officials for whatever reasons.
At the end of the day it takes everyone working together to better the situation, and that must include reasonable, fair and balanced regulations by cities and towns – and not the trend to have outright bans on all manufactured housing.  Our product is a good one and I for one will do all I can to promote it. ##
(Editor's Note, this Op-Ed is in response to the Daily Business News story, linked here, in which Karl Radde was quoted. Radde is the past Chairman of Texas Manufactured Housing Association (TMHA), and is currently the Chairman of the National Retailers Council of the Manufactured Housing Institute (MHI).)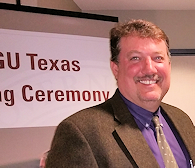 Karl Radde, President & GM
Southern Comfort Homes
979-778-8224