For the last three or four years, the South Carolina association's focus is to move beyond killing bad zoning proposals and working to reopen areas that have been closed to manufactured homes for many years.
In some areas it's been easy. Progressive planning officials in several towns have been very interested in using manufactured homes for "urban" infill.
Here's a case where the people of Georgetown actually petitioned to allow manufactured homes.  Sometimes citizens have a better understanding of the role manufactured homes can play in meeting local needs for work-force housing than many officials.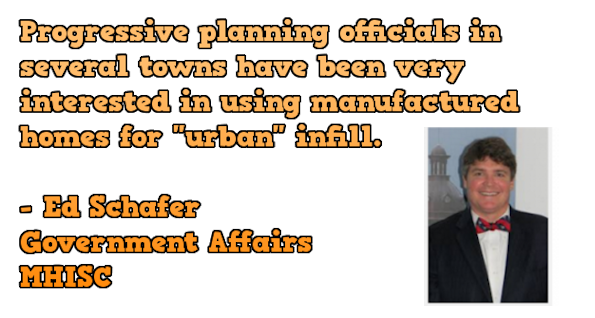 This effort is still on-going.  MHISC will work with the members of the subcommittee to make sure the voices of the 150 residents that asked for the rezoning to accommodate manufactured homes are heard. ##
(Editor's note: These thoughtful comments were sent in the wake of the Daily Business News report on a zoning related case, linked here. Two more Op-Eds on zoning are linked here and here.)

Ed Schafer
Government Affairs Director
Manufactured Housing Institute of SC