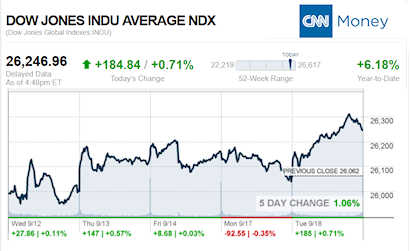 Let's note that new tariffs between China and the U.S. today still witnessed a strong day on Wall Street. There's growing signs that the market is 'getting it' on the "America First," POTUS Trump trade battle. That said, let's pivot to a key Senate contest. If Democrats are going to do more than talk about trying to capture the U.S. Senate in the upcoming midterms, they will have to go through Texas. Democrat Beto O'Rourke has had a ton of money pouring in. Will that make the difference? The latest will be our spotlight this evening.
If you're new, already hooked on our new spotlight feature – or are ready to get the MH professional fever – our headline report is found further below, after the newsmaker bullets and major indexes closing tickers.
The evolving Daily Business News market report sets the manufactured home industry's stocks in the broader context of the overall markets.  Headlines – at home and abroad – often move the markets.  So, this is an example of "News through the lens of manufactured homes, and factory-built housing." ©
Part of this unique evening feature provides headlines – from both sides of the left-right media divide – which saves busy readers time, while underscoring topics that may be moving investors, which in turn move the markets.
Readers say this is also a useful quick-review tool that saves researchers time in getting a handle of the manufactured housing industry, through the lens of publicly-traded stocks connected with the manufactured home industry.
This is an exclusive evening or nightly example of MH "Industry News, Tips and Views, Pros Can Use." © It is fascinating to see just how similar, and different, these two lists of headlines can be.
Want to know more about the left-right media divide from third party research?  ICYMI – for those not familiar with the "Full Measure," 'left-center-right' media chart, please click here.
Select bullets from CNN Money…
Investors are starting to worry about the economy
United courts fliers with fewer lines
Tesla stock tumbles on report of criminal probe of Musk claims
SeaWorld will pay $5 million to settle fraud probe
The trade war is growing. Is it time for investors to worry?
The holiday season will be so huge it will overwhelm stores
Visa and MasterCard agree to settle swipe fee class action for $6.2 billion
Early Emmys ratings are at an all-time low
Julie Chen officially leaves 'The Talk'
BMW will shutter Mini factory for a month because of Brexit risks
ACLU says Facebook allows employers to post discriminatory ads
Instagram just made it a lot easier to shop on the app
Reddit founder Alexis Ohanian gets yet another job
What they're saying about the trade war at China's 'Davos'
FedEx CEO lashes out against tariffs and trade war
TomTom killer? Your next car could come with Google Android
The EU is investigating Volkswagen, BMW and Daimler for possible collusion
Apple, Dell and Cisco: Who could get hit by new US tariffs on China
China says it will strike back after latest US tariffs
Julie Chen leaving 'The Talk' after husband Les Moonves exits CBS
Gary Cohn: Jamie Dimon would be a 'phenomenal' president
Caver sues Elon Musk for defamation
Netflix and HBO come to a draw in Emmy fight night
The keto craze is hitting the mainstream
Black-led VC firm raises largest debut fund: $137 million
Legendary investor Jim Rogers: 'All-time lows excite me'
MoviePass wants to prop up its stock price again
Applause and anticipation from staffers the day after Time Magazine's sale
Select Bullets from Fox Business…
Your Social Security checks are about to get bigger
Optimism over US corporate profits hits record
Trump tariffs a slap on China's wrist, experts say
Housing market warms to buyers
Musk comments reportedly spur criminal investigation
Areas in the US with the best economic growth and quality of life
Papa John's moves on from John Schnatter in new TV campaign
Pro Football Hall of Famers demand NFL health insurance, salaries
Ferrari names SUV, eyes 15 new models in 'ambitious' plan
Joy Villa: Colin Kaepernick Nike ad worn at Emmys by Black-ish star is 'degrading'
US retailers struggling to fill holiday jobs
McDonald's workers strike over sexual harassment policies
SeaWorld and former CEO fined $5 million for 'Blackfish' fallout
Billion-dollar 'energy revolution' is on the horizon: Interior Secretary Zinke
Audi e-tron SUV is the brand's first all-electric model
Walmart, FedEx, IBM vow new opportunities for millions of US workers
Looters arrested as hurricane wreaks havoc in North Carolina
Florence recovery 'will take years:' North Carolina Congressman
Tips for getting financial help after a natural disaster
Meet Marc Benioff, new Time Magazine owner and billionaire tech CEO
WD-40 enrolls armed security to move its 'secret formula' after 65 years
Amazon's latest effort to help small business
Today's markets and stocks, at the closing bell…

Manufactured Housing Composite Value (MHCV)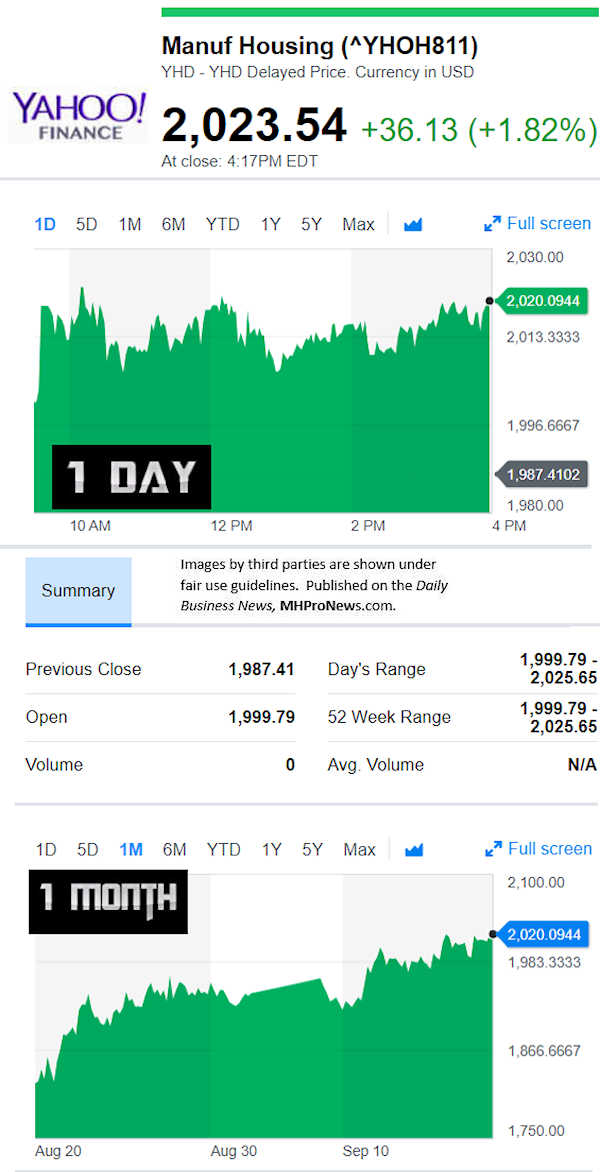 Today's Big Movers
For all the scores and highlights on tracked manufactured home connected stocks today, see the Bloomberg graphic, posted below.
Today's MH Market Spotlight Report –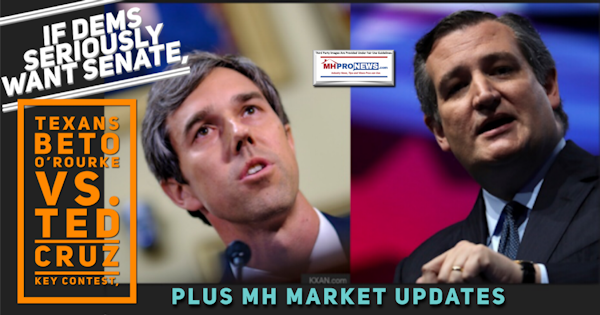 The Fort Worth, TX Star Telegram has two brief videos that give each of the two major Senate Candidates their respective say.
Beto O'Rourke
Ted Cruz
In spite of what Representative O'Rourke (D) said, the big money is actually more on his side of the aisle. Some of the world's richest people are pro-Democratic, and those Democratic billionaires support that party with their wallets and with their considerable influence.
Much of the mainstream media has hyped this as a looming upset.  But the latest polling by Quinnipiac University, which routinely tilt's left, shows the Democratic O'Rourke 9 points behind the incumbent Cruz.  Per Quinnipiac, Cruz gets the nod from 54 percent of likely voters, versus 45 percent for the Democratic challenger.
The Daily Business News on MHProNews has noted in editorial analysis that Democrats pledge to reverse tax cuts, and want to impeach the president, even though there is no material evidence after two years of investigations of alleged 'collusion' between his campaign and Russia. In the upcoming book, Fear, but reporter Bob Woodward, he shook the tree for any sign of any collusion.  He's in that anti-Trump orbit, and said he found no evidence.  But as MHProNews has reported for over a year, the alleged 'collusion' is not a crime.
With 7 weeks until the midterms, it will be all about turnout.  The left is loud, and has a wide array of mainstream news and social media support that creates an echo chamber effect.  But with black, Hispanic, women, Asian unemployment at record low levels, and more blacks and Hispanics saying the favor President Trump and his policies, can it be as bad as some tilted polling suggests?
Record consumer and small business confidence should play to the President Trump's favor, and he's proven he has coattails for candidates he supports.
It will be an exciting ride in the next 7 weeks.  Don't just stay tuned, share the information that will cause the undecided to get out and vote for more growth. See the related report, linked below.
There are some who can't win based upon sound reason and the truth. So, to obtain their goals, they lie, play act, and deceive others to get what they want. That pattern impacts independent businesses, our industry's home owners and millions of potential customers.
Bloomberg Closing Ticker for MHProNews…
NOTE: The chart below includes the Canadian stock, ECN, which purchased Triad Financial Services.
NOTE: The chart below covers a number of stocks NOT reflected in the Yahoo MHCV, shown above.
NOTE: Drew changed its name and trading symbol at the end of 2016 to Lippert (LCII).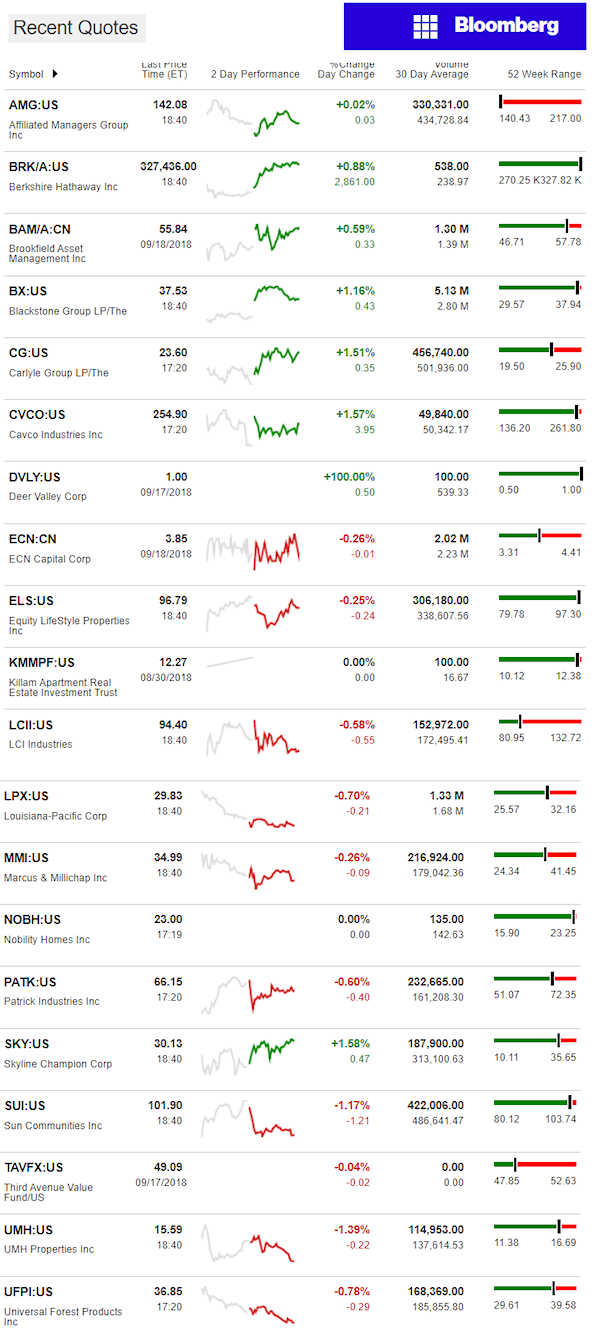 Berkshire Hathaway is the parent company to Clayton Homes, 21st Mortgage, Vanderbilt Mortgage and other factory built housing industry suppliers.
LCI Industries, Patrick, UFPI and LP all supply manufactured housing.
AMG, CG and TAVFX have investments in manufactured housing related businesses.
Your link to industry praise for our coverage, is found here.
For the examples of our kudos linked above…plus well over 1,000 positive, public comments, we say – "Thank You for your vote of confidence."
"We Provide, You Decide." © ## (News, analysis and commentary.)
(Image credits and information are as shown above, and when provided by third parties, are shared under fair use guidelines.)
Submitted by Soheyla Kovach to the Daily Business News for MHProNews.com.