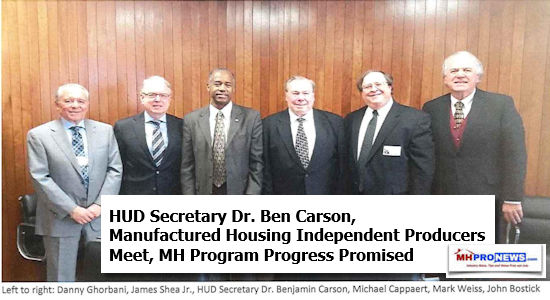 Washington, D.C., January 30, 2018 – On January 29, 2018, HUD Secretary Dr. Benjamin Carson met with a delegation of officials from the Manufactured Housing Association for Regulatory Reform (MHARR).
"MHARR's delegation provided the Secretary with a first-hand opportunity to hear the concerns of smaller industry businesses regarding the operation of the federal manufactured housing program and its failure to fully and properly implement the Manufactured Housing Improvement Act of 2000 (2000 reform law)," Mark Weiss, J.D., President and MHARR told MHProNews.
"The agenda for the meeting focused on the most critical issues currently facing the industry and its consumers, both with respect to the full and proper implementation of the 2000 reform law and consumer financing, including the Federal Housing Administration's (FHA) Title I manufactured housing program (see, copy of meeting agenda, attached)," MHARR's release stated.
Participants in the meeting included:
James Shea, Jr., Chairman,
Mike Cappaert, Vice Chairman,
John Bostick, Immediate Past-Chairman,
Mark Weiss, President and CEO,
and Danny Ghorbani, Senior Advisor.
MHARR's delegation briefed Secretary Carson on "HUD's 18-year failure to fully and properly implement the 2000 reform law, which was enacted with overwhelming bi-partisan support in both houses of Congress."
MHARR outlined, during the meeting, four main components of the 2000 reform law that HUD has not only failed to implement under prior administrations, "but has…affirmatively distorted, ignored and/or misapplied.  This has not only caused significant and unnecessary harm to the industry's smaller businesses, but, more importantly, has deprived hundreds-of-thousands of moderate and lower-income families of the affordable, non-subsidized homeownership opportunities that only manufactured housing can provide."
MHARR's delegation thanked Secretary Carson for having initiated action to address critical regulatory matters within the federal manufactured housing program in accordance with Trump Administration Executive Orders 13771 and 13777.
See the recent and related Daily Business News report, which includes HUD's release, and other details, linked below.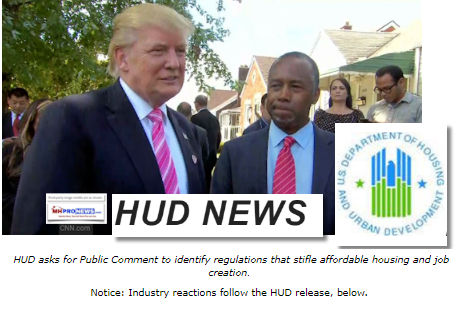 Pledged to Work to Reform HUD Code Manufactured Housing Program
"The MHARR officials pledged to work with the Secretary and HUD to advance this crucial undertaking, and as the only industry organization with institutional memory dating back to the original federal manufactured housing law more than 40 years ago, promised to provide the Department – during the current 30-day regulatory review comment period – with relevant historical background and remedial suggestions/solutions to restore the unique and essential federal manufactured housing program to full compliance with both the terms and objectives of the 2000 reform law," MHARR told the Daily Business News.
Shake Up at HUD Manufactured Housing Program May Stop Industry Overregulation, per MH State Association
"As part of this dialogue, the MHARR officials also emphasized non-regulatory aspects of the 2000 reform law that should – and must – be properly implemented," Weiss' statement said.
These include, but are not limited to:
the appointment of a new non-career program administrator;
the reform of program contracting procedures and the selection of a new monitoring contractor;
full utilization of the MHCC in accordance with the 2000 reform law; and
full implementation and enforcement of the enhanced federal preemption mandated by the 2000 reform law.
Further, the MHARR delegation advised the Secretary that with the:
failure of the Federal Housing Finance Administration (FHFA) to fully implement the Duty to Serve Underserved Markets directive of the Housing and Economic Recovery Act of 2008 (HERA),
lower and moderate-income Americans would need, more than ever, the full utilization and incorporation of manufactured housing by HUD into all of its housing programs,
as well as the reform and/or repeal of the "10-10" rule implemented by Ginnie Mae in 2010, which has largely eliminated Ginne Mae-supported FHA Title I financing for the 80% of manufactured homes that are sold and financed as personal property (chattel, "home only" loans).
Sources with Berkshire Hathaway (BH) companies have told MHProNews that 21st Mortgage – which 21st and BH owned Vanderbilt Mortgage are the only two industry lenders that have met the 10/10 standard for years – suspended use of the FHA Title 1 program some time ago.
Duty To Serve, "Complete Waste of Time" per Tim Williams, CEO/21st Mortgage; POTUS Trump, Warren Buffett Insight$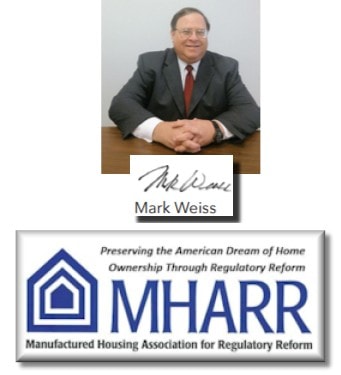 Weiss said, "MHARR sincerely appreciates meeting with Secretary Carson in order to thank him for the regulatory reform initiatives that he has started to undertake, and to fully apprise him and other key officials at HUD of the specific concerns of smaller industry businesses. MHARR looks forward to continuing to work with Secretary Carson and his team at HUD in order to restore the manufactured housing program to its original mission and goal – to not only ensure the safety of manufactured homes, but also to ensure their availability as the nation's premier source of affordable, non-subsidized housing and home-ownership for millions of Americans."
About MHARR
The Manufactured Housing Association for Regulatory Reform is a Washington, D.C.-based national trade association representing the views and interests of independent producers of federally-regulated manufactured housing. ## (News, analysis, and commentary.)
http://mhmarketingsalesmanagement.com/blogs/tonykovach/facts-matter-mr-obamas-alternative-universe-trump-admin-investors-politicized-manufactured-housing-data/
Sign Up Today! Click here to sign up in 5 seconds for our factory-built home industry-leading and growing emailed headline news updates. You'll see in the first issue or two why big, medium and 'mom-and-pop' professionals are reading them by the thousands.  These are typically delivered twice weekly to your in box.
Follow us on Twitter:
ManufacturedHomes
@mhmsmcom
(Image credits are as shown above, and when provided by third parties, are shared under fair use guidelines.)

Submitted by Soheyla Kovach to the Daily Business News for MHProNews.com.
Soheyla is a managing member of LifeStyle Factory Homes, LLC, the parent company to MHProNews, and MHLivingNews.com.