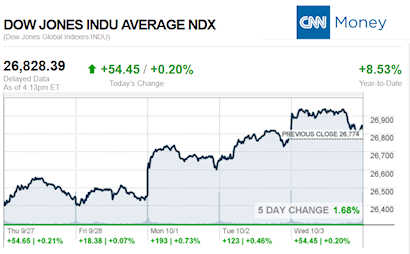 When left-of-center Axios recent survey revealed that some 72 percent of Americans have a level of distrust for the mainstream media, that's not new, but it is an interesting data – and tipping – point. If – as much of the nation believes – news is slanted to advance an agenda, then the need for news/analysis and fact-checks becomes all the more important.  That will be our focus for this evening
If you're new, already hooked on our new spotlight feature – or are ready to get the MH professional fever – our headline report is found further below, after the newsmaker bullets and major indexes closing tickers.
The evolving Daily Business News market report sets the manufactured home industry's stocks in the broader context of the overall markets.  Headlines – at home and abroad – often move the markets.  So, this is an example of "News through the lens of manufactured homes, and factory-built housing." ©
Part of this unique evening feature provides headlines – from both sides of the left-right media divide – which saves busy readers time, while underscoring topics that may be moving investors, which in turn move the markets.
Readers say this is also a useful quick-review tool that saves researchers time in getting a handle of the manufactured housing industry, through the lens of publicly-traded stocks connected with the manufactured home industry.
This is an exclusive evening or nightly example of MH "Industry News, Tips and Views, Pros Can Use." © It is fascinating to see just how similar, and different, these two lists of headlines can be.
Want to know more about the left-right media divide from third party research?  ICYMI – for those not familiar with the "Full Measure," 'left-center-right' media chart, please click here.
Select bullets from CNN Money…
Toys 'R' Us brand may be brought back to life
Priyanka Chopra is helping Bumble expand in India
Getting health insurance through work now costs nearly $20,000
Honda teams up with GM on self-driving cars
Aston Martin falls 5% in London IPO
JCPenney names Jill Soltau as its new CEO
Tencent Music aims to raise $1 billion by going public
S&P downgrades debt-riddled GE and GE Capital
Meet GE's new boss
Facebook doesn't think hackers accessed third-party sites
Amazon ups its minimum wage to $15 an hour
Alexis Ohanian's VC firm just raised a new $225 million fund
How the NYT uncovered new info about Trump's wealth
NYT says it was a mistake to enlist writer who posted anti-Kavanaugh tweet to report on him
Goldman Sachs slants research to help Democrats, top White House adviser says
Goldman Sachs' new CEO has a lot of work to do
Jemele Hill is joining The Atlantic
Microsoft co-founder Paul Allen is being treated for cancer
There was only one White House press briefing in the entire month of September
California has a new law: No more all-male boards
She was the first openly gay CEO at a Fortune 500 company
Katie Couric: News need more diversity at the top
Washington Times settles lawsuit with Seth Rich's brother, issuing a retraction and apology
Facebook hack exposed 50 million users' info
New York DA probing allegations of sexual misconduct at CBS
SEC charges LendingClub unit with mishandling investors' money
10 years after the crisis, many investors haven't come back
Amazon's newest physical store has a twist
These 3 startups are here to save local news in their communities
How to catch up on retirement savings in your 50s
How do you know you're really ready to retire early?
Select Bullets from Fox Business…
Bernie Sanders introduces bill that would break up biggest US banks
Stocks soar as another all-time high is reached
How the new NAFTA deal affects US farmers
Americans are lying on mortgage applications more than ever
Amazon CEO makes this much money a day
Why NFL's Roger Goodell just thanked Donald Trump
Hyperloop's first full-scale passenger capsule revealed
Saudi Arabia, Russia in secret pact to lower oil prices?
Famed Harvard economist Martin Feldstein warns of looming recession
Sears plans to close more stores days before Christmas: report
Credibility of Kavanaugh accusers is eroding: Varney
Trump pulled golf out of the 'doldrums': Greg Norman
Self-made millionaire reveals the secret to success
Toys 'R' Us revival is coming
These stores are closed on Thanksgiving
Mattress Firm prepping bankruptcy filing: Report
GM, Honda strike deal to build self-driving cars
Aston Martin prices IPO at $5.6 billion, sputters in debut
Ferrari's newest million-dollar supercar already sold out
Today's markets and stocks, at the closing bell…

Manufactured Housing Composite Value (MHCV)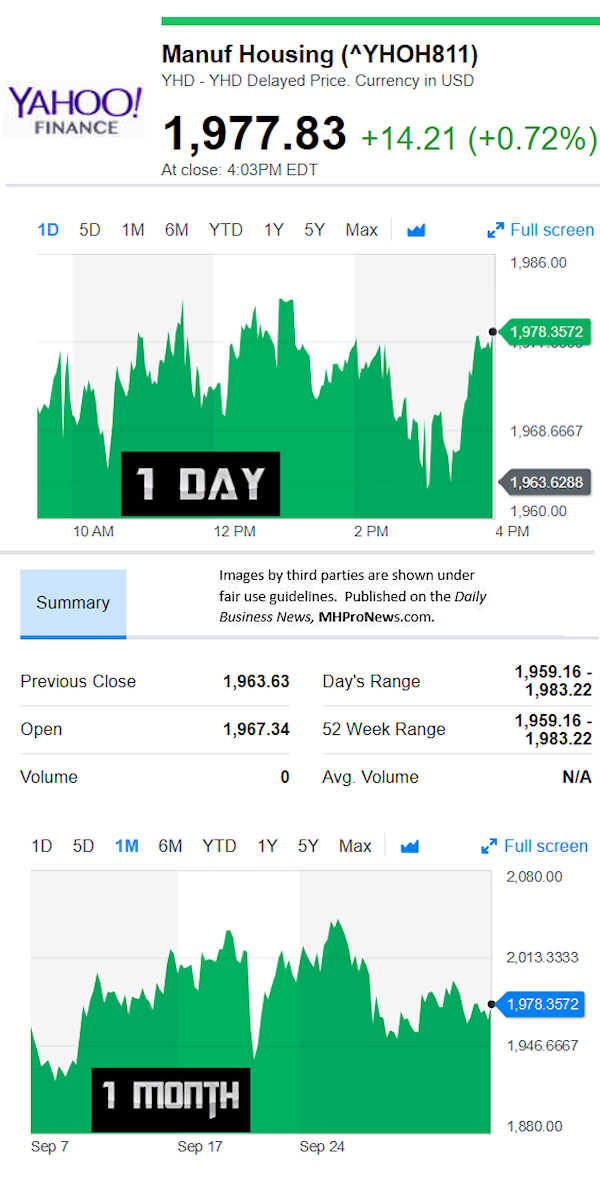 Today's Big Movers
For all the scores and highlights on tracked manufactured home connected stocks today, see the Bloomberg graphic, posted below.
Today's MH Market Spotlight Report –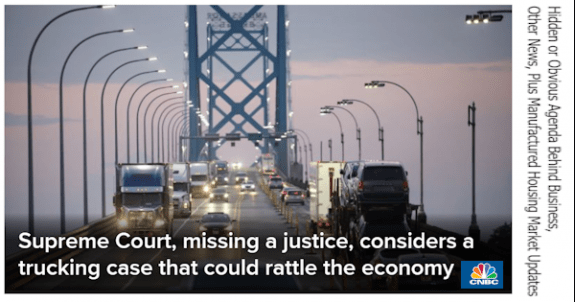 Here at MHProNews, we receive daily input from a wide array of news sources and media outlets.  Among them, for example, is the left-of-center New York Times. It's not that they are necessarily a better – meaning, less biased – objective news source.  As Sharyl Attkisson's research graphic reveals, the NYTimes and others in mainstream media (MSM) often have an agenda.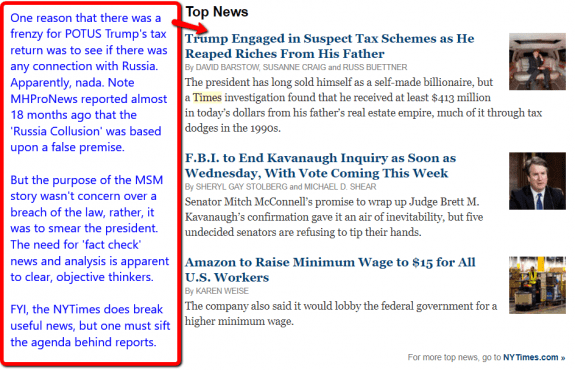 Attkisson's take isn't new. The Media Research Center and others have been tracking media bias for over 3 decades.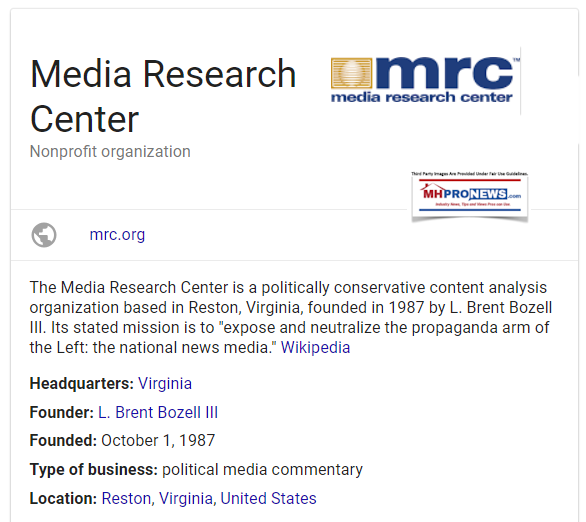 MHProNews provides the industry, investors, and professionals a unique news and analysis service, which makes us the runaway news source in manufactured housing.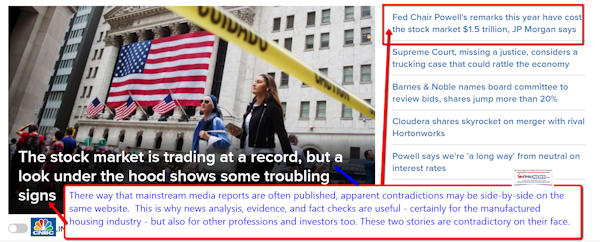 There is not enough hours, budget or manpower in the day to sort through every story and fact check them all.  That said, we curate topics that ought to be meaningful for thinking professionals and investors.
The screen captures from today are small examples of how agenda media can contradict their own narratives, sometimes, side-by-side. That's not unique for MSM.  The same thing happens in trade media, including media in the factory-built housing industry.
Some take stories uncritically from sources that have demonstrably contradicted known facts.  Some will promote an operation or organization as if they are God's gift, when everyone – us included – will experience some level of glitch.
When we began publishing 'news' from trade associations some years ago, we placed both major trade associations stories on our site along with the tag line "We Provide, You Decide." © It was better than saying two different sources, which often took contradictory positions, were both correct.
But as time evolved, something interesting occurred.  The Journal, while they were still publishing, one day experienced a reported notice from the Manufactured Housing Institute (MHI) that they would no longer be providing them with a monthly column or report.
A year or so later, MHProNews received a similar notice from MHI. We asked, why?  Neither we, nor the Journal, received a sensible reply to that query.
But MHI's president, Richard 'Dick' Jennison, revealed to a confidant that he didn't want to be on the same site as MHARR News. Why not?  "We Provide, You Decide." ©
Fact checks have become popular, but they too can be weaponized and agenda-driven.  We have an agenda at MHProNews too, but it is stated.  We want to advance the independents, and honorable businesses and organizations of the industry, and do so honorably, legally and consistent with eternal value's and America's founding principles, as noted in the Declaration of Independence.
Here on the evening market report, we provide bullets from CNN Money and Fox Business. They often have a remarkably different slant.  There are times when sources on either side of the political divide has useful insights, so we strive to stay objective about a source. That in turn means our readers can get better analysis on the topics we've curated for the day.
If you aren't already among the thousands who are signed up for our "read hot" twice weekly emailed news updates, click here.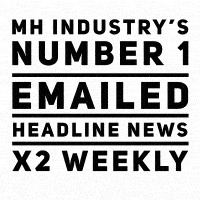 Bloomberg Closing Ticker for MHProNews…
NOTE: The chart below includes the Canadian stock, ECN, which purchased Triad Financial Services.
NOTE: The chart below covers a number of stocks NOT reflected in the Yahoo MHCV, shown above.
NOTE: Drew changed its name and trading symbol at the end of 2016 to Lippert (LCII).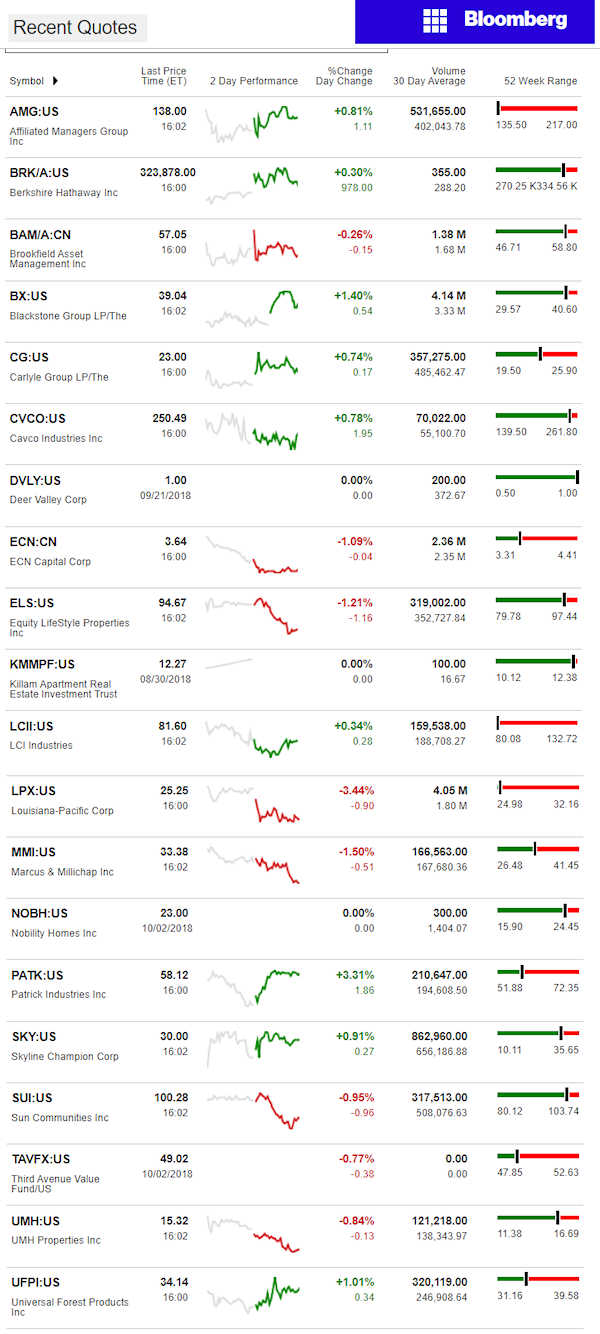 Berkshire Hathaway is the parent company to Clayton Homes, 21st Mortgage, Vanderbilt Mortgage and other factory built housing industry suppliers.
LCI Industries, Patrick, UFPI and LP all supply manufactured housing.
AMG, CG and TAVFX have investments in manufactured housing related businesses.
Your link to industry praise for our coverage, is found here.
For the examples of our kudos linked above…plus well over 1,000 positive, public comments, we say – "Thank You for your vote of confidence."
"We Provide, You Decide." © ## (News, analysis and commentary.)
(Image credits and information are as shown above, and when provided by third parties, are shared under fair use guidelines.)
Submitted by Soheyla Kovach to the Daily Business News for MHProNews.com.