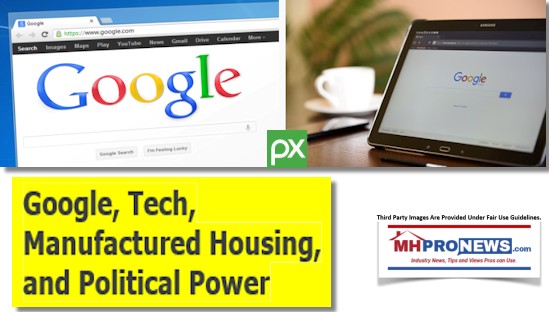 "A few hours ago, if you googled "California Republicans," the search engine would produce an information box listing "Nazism" as the party's primary belief system," per QZ.
"As California gears up for its primary, many of the state's Republicans are fuming over how Google described their party in its search results. Those searching for "California Republicans" or "California Republican Party" would have found a result that listed "Nazism" as one of the party's ideologies along with "Conservatism," "Market liberalism," "Fiscal conservatism" and "Green conservatism." Vice News spotted the listing and Google removed the label following a query from the publication," per Engadget, a tech and electronics site.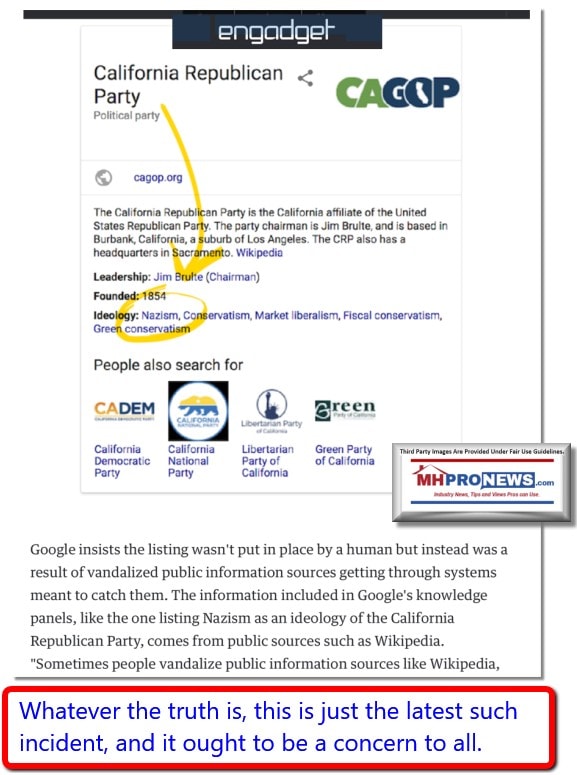 "Google displays these boxes, called "knowledge panels," for certain kinds of searches. Google "Goebbels," for example, and up pop essential factoids about the Nazi propagandist, like when he was born and how tall he was," QZ, or Quartz Media stated.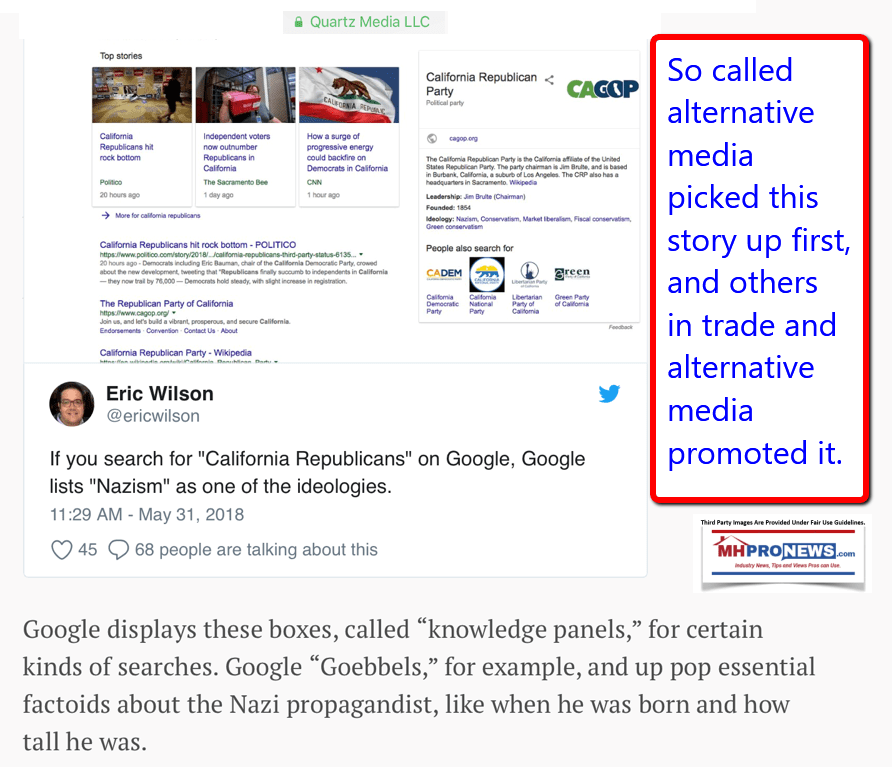 The QZ news site added, "Since Vice revealed the listing earlier today, the "ideology" field is no longer shown at all for the California Republicans. At time of writing, the field was still there for California Democrats."
What's QZ? "Quartz is a news website owned by Atlantic Media. It launched in 2012…. Quartz is a free digital news publication with no paywalls or registration," said Wikipedia.
Why it Matters
The story is troubling on a variety of levels.
Google "define Manufactured Home," and here's what Google displayed this morning as the result.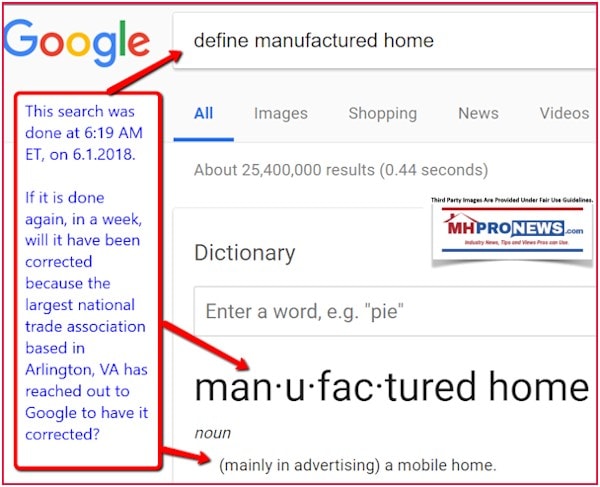 It should be noted, that this has been the result from Google for years. Is it any wonder that so many in academia, media, public officials, policy advocates, and the general public gets manufactured housing wrong?
Takeaways
First, this underscores the power to influence in the hands of the so-called tech giants. In a society that has come to believe that every google search brings them dependable information, that turns out not to be true.
Second, it reveals the potential value of non-mainstream media. It wasn't ABC, NBC, CBS, the New York Times, Fox or any other big news media outlet that picked this story up. It was Vice, with QZ and others coming up later.
Third, it reminds readers why the Daily Business News periodically spotlights concerns about the power of big tech, or monopolies in general. It is what NY Stern Professor Scott Galloway has called the Big 4 tech giants – and why he, as a pro-tech guy, has said that the Big 4 must be broken up. Not regulated, broken up under anti-trust laws. Senator Ted Cruz on the right, and a number of voices on the political left, have raised similar concerns over monopolistic power, especially in big tech.  But also with manufactured housing too.
NY Stern University's Scott Galloway on Facebook Founder Mark Zuckerberg's Capitol Hill Hearings
Fourth, as the Manufactured Housing Institute (MHI) keeps adding staff, it raises the question, what are they doing to protect the industry's interests of being properly defined? While this trade media and consulting operation was still an MHI member, such issues were raised with by MHProNews directly to the top MHI brass. We've published the evidence and concerns about improper definitions numerous times. What's happened in Arlington? Clearly, there's been no good result.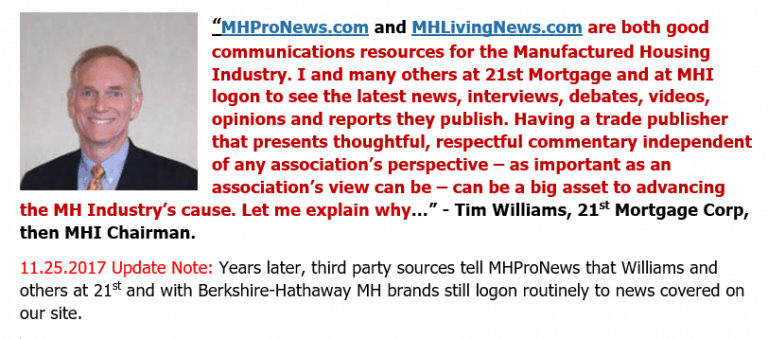 Not everything that happens in, or to, manufactured housing is MHI fault.
But a good trade organization stands up, and makes its best case to all comers. Who said? Among others – Frank Rolfe, a prominent MHI/NCC member, who until he was "talked to" – per reports from a Berkshire Hathaway team member, and others – Rolfe would periodically critiqued MHI and their actions. Bravo for him, back then. What about now?

Finally, it is a reminder that trade media and alternative media exists for very specific reasons. This site is number one "by a country mile" among industry pros, not because MHI made it so.
But arguably, it has been thanks to the support of the few.  This site has grown and dominated trade news, in spite of MHI's alleged efforts to sideline, silence. or kill off this alternative voice.  We've been the number one for most of the time of our 9+ years of publishing existence.  Our traffic is a pragmatic vote by thousands of pros and investors – like yourself – who today will use their browsers, and hand-held devices to see what's up.
As an organizational executive reader said, "…if MHProNews is writing about it, I want to know about it."
"We Provide, You Decide." © ## (News, analysis, and expert commentary.)
(Third party images, and cites are provided under fair use guidelines.)
Related Reports:
Breakup "Massive Power" of Giants, "Subvert Our Democratic Process" Says Senator Cruz, & MH CEO's Call for "Fully Competitive Housing Access"
Understanding the Modern Realities of MHVille – Winners, Losers, Profits, and Loss
Wisconsin Housing Alliance – an MHI 'Affiliate' – Amy Bliss' Messages Raise New Anti-Trust Issue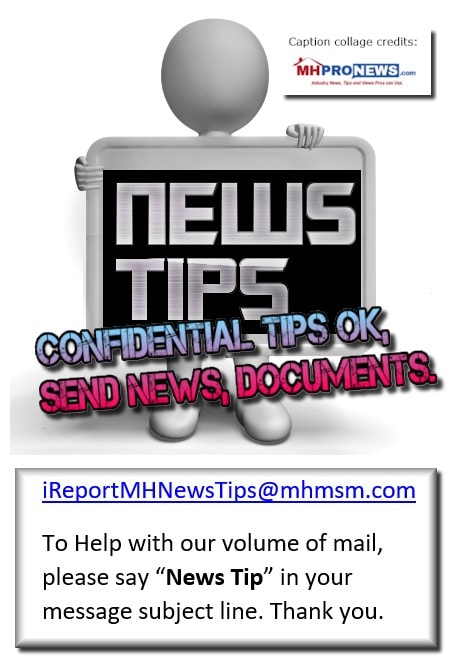 1) To sign up in seconds for our MH Industry leading emailed news updates, click here.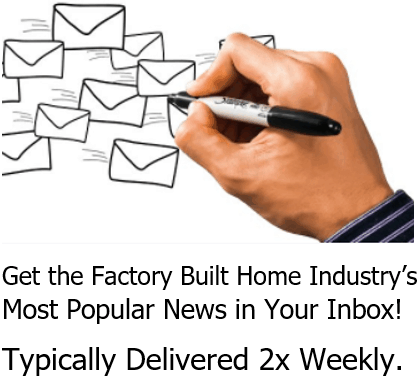 2) To provide a News Tips and/or Commentary, click the link to the left. Please note if comments are on-or-off the record, thank you.
3) Marketing, Web, Video, Consulting, Recruiting and Training Resources

Submitted by Soheyla Kovach to the Daily Business News for MHProNews.com.
Soheyla is a managing member of LifeStyle Factory Homes, LLC, the parent company to MHProNews, and MHLivingNews.com.