There are no known industry specific statistics, but it is safe to say that thousands of manufactured housing (MH) communities have dealt in some form of fashion with the problem of illegal drugs. The same is true with MH factories or other workplaces. Employers tell MHProNews anecdotally that a significant percentage of people who apply for work have a problem with drugs, alcohol or other forms of substance abuse.
A growing number of Americans are employed. One manufacturer told MHProNews that they would like to open another production center in Florida. It is a well capitalized company.
What has been their hold up? In a phrase, the competition for an able workforce.
Controversial – Drugs, Society and Employment
States have increasingly been debating the issue of legalizing "pot" or marijuana. It is on the surface a vexing issue.
States are routinely hungry for new tax sources, and marijuana fit the bill for voters in Colorado, which legalized the sale of pot in 2012.
The Denver Post said that in 2017, there was $1.5 billion dollars in sales, and "Colorado collected upward of $247 million in taxes and fees revenue from marijuana sales."
What are the downsides?
In a USA Today op-ed, Jeff Hunt said, "Marijuana devastated Colorado, don't legalize it nationally."
Hunt pointed to federal legislation promoted by Senator Cory Booker (D-NJ), which would legalize marijuana nationally.
Hunt said, "Our country is facing a drug epidemic. Legalizing recreational marijuana will do nothing that Senator Booker expects. We heard many of these same promises in 2012 when Colorado legalized recreational marijuana."
"In the years since, Colorado has seen an increase in marijuana related traffic deaths, poison control calls, and emergency room visits. The marijuana black market has increased in Colorado, not decreased. And, numerous Colorado marijuana regulators have been indicted for corruption," said Hunt.
"In fiscal year 2016, marijuana tax revenue resulted in $156,701,018. The total tax revenue for Colorado was $13,327,123,798, making marijuana only 1.18% of the state's total tax revenue," wrote Hunt. "The cost of marijuana legalization in public awareness campaigns, law enforcement, healthcare treatment, addiction recovery, and preventative work is an unknown cost to date."
"Senator Booker stated his reasons for legalizing marijuana is to reduce "marijuana arrests happening so much in our country, targeting certain communities – poor communities, minority communities." It's a noble cause to seek to reduce incarceration rates among these communities but legalizing marijuana has had the opposite effect," said Hunt.
"According to the Colorado Department of Public Safety, arrests in Colorado of black and Latino youth for marijuana possession have increased 58% and 29% respectively after legalization," Hunt said, adding "This means that Black and Latino youth are being arrested more for marijuana possession after it became legal."
Race and Drugs
"Furthermore," said Hunt "a vast majority of Colorado's marijuana businesses are concentrated in neighborhoods of color. Leaders from these communities, many of whom initially voted to legalize recreational marijuana, often speak out about the negative impacts of these businesses."
"The true impact of marijuana on our communities is just starting to be learned," Hunt, who is Vice President of Public Policy at Colorado Christian University, wrote.
Given Hunt's vantage point as an educator, it is interesting to note the his following factoids.
Senator Booker released his bill a few days after the Washington Post reported on a study by the Review of Economic Studies, said Hunt.
That report found "college students with access to recreational cannabis on average earn worse grades and fail classes at a higher rate." Getting off marijuana especially helped lower performing students who were at risk of dropping out. Since legalizing marijuana, Colorado's youth marijuana use rate is the highest in the nation, 74% higher than the national average, according to the Rocky Mountain High Intensity Drug Trafficking Area Report. This is having terribly negative effects on the education of our youth."
To say that Hunt is against legalization for fact-based reasons is clear.
But what is absent from Hunt's thoughtful column is the history of prohibition and alcohol in the U.S.
The U.S. tried and failed to make alcohol illegal. It resulted in black markets, gangs, and criminalized behaviors that have been legal in some parts of the world for centuries. The war on alcohol failed as badly as the war on drugs has.
Perhaps what is necessary is to strike some middle ground?
President Trump recently pardoned a non-violent drug offender. Per Vox, "Kim Kardashian West did it: President Donald Trump has commuted the life sentence of Alice Johnson, the 63-year-old great grandmother in prison for drug trafficking, whose cause Kardashian lobbied for in the Oval Office."
At the end of the day, there is a need to get to the heart of what drives people to use – or abuse – substances in the first place. With millions incarcerated over the years for drug related crimes, that has a high cost to society.  But as Hunt points out the legalization hasn't changed all of that either.
Getting to the root issues of what causes people to turn to a controlled substance must be part of the solution. Much of what has been done so far clearly has not worked.
"There are 6.7 million job openings and just 6.4 million available workers to fill them," said CNBC on June 5, 2018.
The labor force participation rate is still low, as the chart reflects.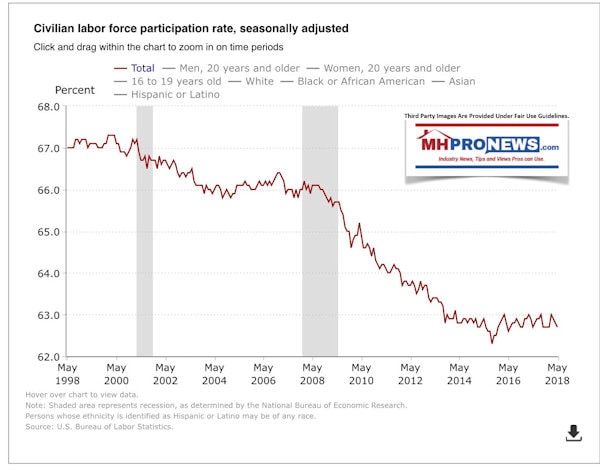 The Trump Administration policies have been pro-growth for business. Incomes are starting to rise. Claims for unemployment and so-called "entitlement" programs are starting to fall.
The vexing issue of drugs and substance abuse impacts manufactured housing industry businesses of all kinds. A happy medium must be found, because much of U.S. policy for over 50 years has proven ineffective, costly, and harmful to millions. "We Provide, You Decide." © ## (News, analysis, and commentary.)
(Third party images, and content are provided under fair use guidelines.)
Related Reports:
Kanye Controversy, Universal Income, Venezuela, President Trump, Manufactured Housing, First Principles, and You
President Trump Spotlights Factory Home Builder in Speech, Proven Promotion, Support of Industry Advancement
Flag Day, POTUS Trump Doctrine, Supply, Demand, Financing, Affordable Housing, Jobs, Economic Growth, Human Dignity, and God
https://www.manufacturedhomelivingnews.com/seek-first-a-post-charlottesville-message-of-healing-and-principles-for-america/
1) To sign up in seconds for our MH Industry leading emailed news updates, click here.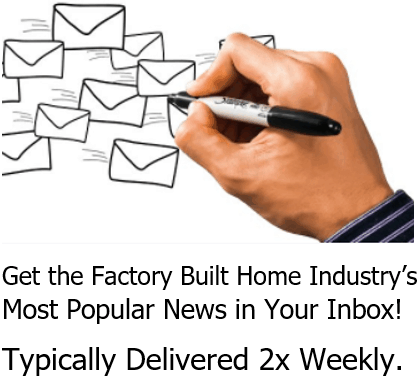 2) To provide a News Tips and/or Commentary, click the link to the left. Please note if comments are on-or-off the record, thank you.
3) Marketing, Web, Video, Consulting, Recruiting and Training Resources
Submitted by Soheyla Kovach to the Daily Business News for MHProNews.com. Soheyla is a managing member of LifeStyle Factory Homes, LLC, the parent company to MHProNews, and MHLivingNews.com.