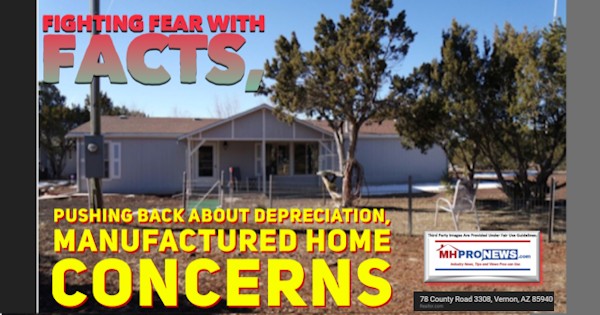 The White Mountain Independent is published in Show Low, AZ. WMICentral recently published a letter by a person who was identified as Doris Stell, from Vernon, AZ.
A Google search suggested a connection between the featured image on the photo above and "Doris Stell." That's certainly not conclusive, but perhaps relevant in some way to what follows.
The Apache County's "Requirements for Manufactures [sic] Housing" is found at this link here. It specifies a distinction between mobile homes, which are "prohibited in ALL zone" and "Manufactured Homes shall be Fifteen (15) years old or newer." That second provision arguably is a violation of the "enhanced preemption," which is not strictly speaking the focus of this report.
Rather, what is relevant here is a reflection of what this person – who per Google may have some connection to that manufactured home in the photo above – had to say about our industry's housing.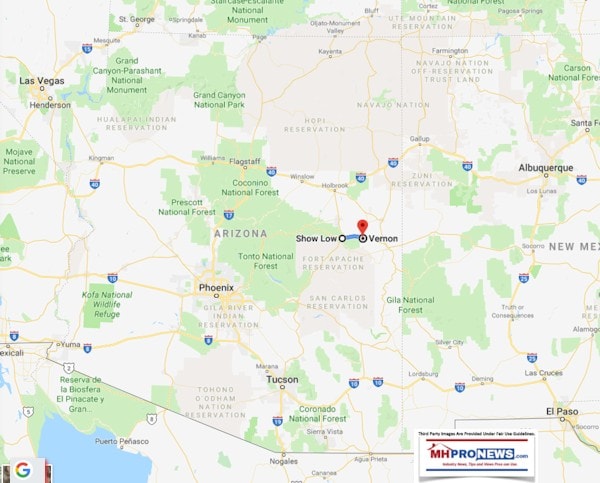 As a data-point, the map above reflects the relative location of those town where this article was published and where the letter writer apparently resides. What follows the graphic and headline is the entire letter as published from Doris Stell.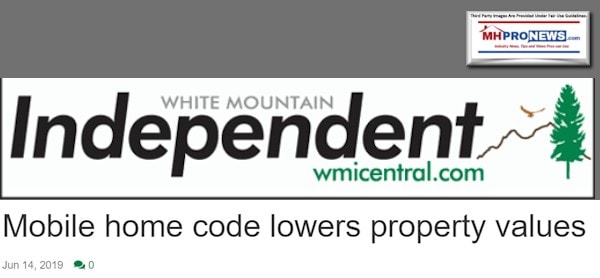 Just wanted to drop a note of information that not many people know about owning a manufactured home in Apache County, AZ. The county passed an ordinance in 2009, Section 730 states:
1. All newly installed manufactured homes must be 15 years old or newer to be installed. Mobile homes are prohibited in ALL zones. 2. There shall be no commercial use allowed in a manufactured home. 3. All manufactured homes shall provide a landing for each entrance in accordance with IRC. 4. Connecting 2 individual or stand-alone units shall be prohibited. 5. All manufactured homes shall meet the minimum snow load in each area of Apache County.
Also, if the mobile or manufacture home is more than 15 years old, it cannot be moved. These regulations will keep the value of your property very low. Even the land value will decrease. Please keep these regulations in mind if you want to buy or sell land in Apache County.
Also be advised if you have a mobile home that's more than 15 years old, you cannot move the home on or off your property. That protects ignorant buyers that don't know how badly mobiles fall apart when you move them.
It is almost impossible to have any value in your property unless you have a stick-built that the county approved of before you built. But you will not be able to get a loan for construction or anything else for that matter because an appraiser from the Valley will appraise your property the same as an old abandoned trailer in Concho. They don't know any different.
Please research Apache County very thoroughly, especially small print, before you invest. Its not really an investment, you will end up with no value in your property even after improvements and a huge down payment.
But take heart, the federal government is looking into making manufactured homes the same as stick built for all mortgage companies, this should stop any counties from making their own laws about how much money your property is worth.
Doris Stell,
Vernon
— ## —
As of 9:00 AM ET on 6.21.2019, there was only one posted comment on this letter, and that comment was posted as follows on June 17th, 2017.
L A 'Tony' Kovach
Ms. Stell, With all due respect, some of your statements about manufactured homes are demonstrably errant. The FHFA and the National Association of Realtors both published research in 2018 that demonstrated that manufactured homes appreciate in value, especially when located on private property. HUD Secretary Carson has been promoting that and other points in recent months, in saying that manufactured homes are an important part of the solution for the affordable housing crisis. 2011 HUD PD&R research said that manufactured homes properly installed by nearby conventional housing revealed that both housing types appreciated side by side. 2018 Trulia research similarly pointed out that affordable homes have no harmful impact on nearby conventional housing. Google the above topics to see for yourself, or see more on MHLivingNews, which tracks the industry.
Why Does This Matter?
Letters to an editor often end up in searches on Google News, Bing News, or Yahoo News searches. Savvy consumers, pondering manufactured housing, or other researchers no doubt ran across this letter as did MHProNews. If the Manufactured Housing Institute (MHI), which claims to promote the industry cared, why didn't they post a reply to this message?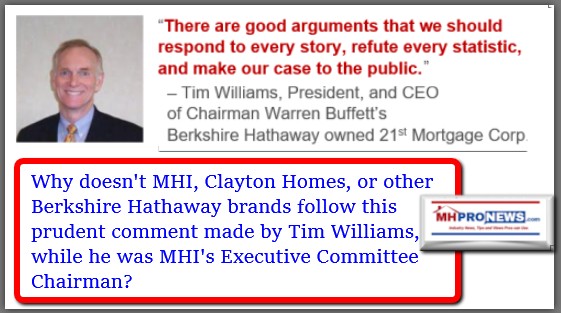 "The Manufactured Housing Institute [MHI] ought to be embarrassed and ashamed at how relatively low manufactured home sales are during an affordable housing crisis," said award-winning industry expert, consultant, and publisher L. A. 'Tony' Kovach. "Tim Williams, former MHI Chairman and still president and CEO of 21st Mortgage Corporation, was arguably correct in saying that there is a good case to be made that every misstatement ought to be addressed. That begs the question, why hasn't MHI done what Williams said? When MHI advertorials, Facebook page, or other media and marketing efforts clearly have not moved the needle of new home sales in the right direction, why not try what Williams said for one full year, and see what a difference that would make?"
Joe Concha with the previously Hill quipped on an unrelated topic, "If you are willing to abandon your principles for convenience, or social acceptability, they are not your principles, they are your costume."
Closer to [a manufactured] home, is Mark Weiss, JD, who wrote earlier in 2019 about the "Illusion of Motion" that MHI postures vs. the real-world challenges that the industry faces.
There is little doubt that most owners and residents of mobile and manufactured homes appreciate, value, millions even love their homes. That's based upon third-party research, combined with the anectodical evidence of years of interviews with actual mobile and manufactured homeowners.
The Up for Growth National Coalition just published a new report that says the affordable housing crisis is more serious than many realize, and is growing. While their estimates differ, they come to a similar conclusion as the National Association of Realtors (NAR) Lawrence Yun did.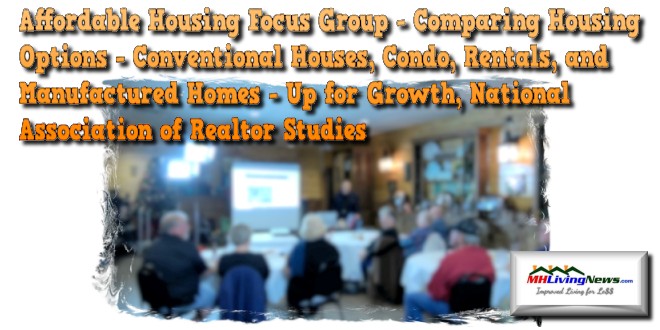 But a key obstacle is a lack of clarity on a range of issues, including the one that the person in Vernon, AZ raised in the letter above. When it comes to resale values, perception can become reality. That home owner – if she owns that manufactured home – deserves the truth just as much as others who read her opinions do.
Fear affects decision-making every day. But often, " F.E.A.R." is an acronym for " False Evidence Appearing Real." Our research indicates that the solution to the affordable housing crisis is hiding in plain sight, but fear and prejudice have kept it from being widely embraced.
As a scientist and medical professional, one seeks not a bandaid to cover the surface of the problem, but a cure that treats the cause of an issue. Our readers tell us that MHProNews is the runaway largest and most-read precisely because we follow the facts, evidence, and apply logic. We thank our readers, clients and sponsors for making this site possible and so widely read, by those who love what the content they find here, are bothered by what they read here, and those in between.
That's Saturday's edition of manufactured home "Industry News, Tips, and Views Pros Can Use," © where "We Provide, You Decide." ©. ## (News, fact-checks, analysis, commentary.)
NOTICE: You can get our 'read-hot' industry-leading emailed headline news updates, at this link here. You can join the scores who follow us on Twitter at this link. Connect on LinkedIn here.

NOTICE 2: Readers have periodically reported that they are getting a better experience when reading MHProNews on the Microsoft Edge, or Apple Safari browser than with Google's Chrome browser. Chrome reportedly manipulates the content of a page more than the other two browsers do.
(Related Reports are further below. Third-party images and content are provided under fair use guidelines.)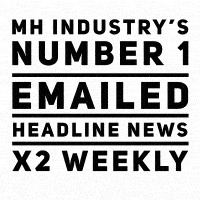 1) Marketing, Web, Video, Consulting, Recruiting and Training Resources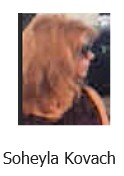 Submitted by Soheyla Kovach to the Daily Business News for MHProNews.com. Soheyla is a managing member of LifeStyle Factory Homes, LLC, the parent company to MHProNews, and MHLivingNews.com.
Related Reports

:
You can

click on the image/text boxes

to learn more about that topic.
Manufactured Housing Professionals, HUD Secretary Ben Carson, Must Promote These Two Words
New HUD Videos of Secretary Ben Carson, Innovative Housing Showcase 2019, Surprising Manufactured Housing Institute Reveals
MH Community Leader Robert Van Cleef – Public Call – Federal Investigations of Berkshire Hathaway, Clayton Homes, 21st Mortgage, Manufactured Housing Institute
Declining Manufactured Home Shipments More Serious Than Retailers, Communities Being Told
"Game On" – "Fighting Discriminatory Zoning" "Moral Obligation" Fix "Worsening Nightmare" – State Associations Entering Spotlight
Dueling Statements, NAMHCO, MHI, MHARR, Weigh In On Controversial MH Bill, "George Allen Pawn Gambit"
" Let's make sure people understand what's available," said HUD Secretary Ben Carson about affordable housing, as he spotlighted manufactured homes as a key part of the Innovations in Housing display on the National Mall in Washington, D.C. " You can get one of these manufactured houses, for instance, for 30 percent less, and they are very, very resilient.
td_block_trending_now] Washington, D.C., April 30, 2019 – The Manufactured Housing Association for Regulatory Reform (MHARR) in an April 24, 2019 communication to U.S. Department of Housing and Urban Development (HUD) Secretary, Ben Carson (copy attached), has called on the Department to federally preempt local zoning ordinances which discriminatorily exclude manufactured homes regulated by HUD pursuant to the National Manufactured Housing Construction and Safety Standards Act of 1974 and the Manufactured Housing Improvement Act of 2000.
https://manufacturedhousingassociationregulatoryreform.org/mharr-launches-fighting-discriminatory-zoning-mandates-manufactured-housing-project/