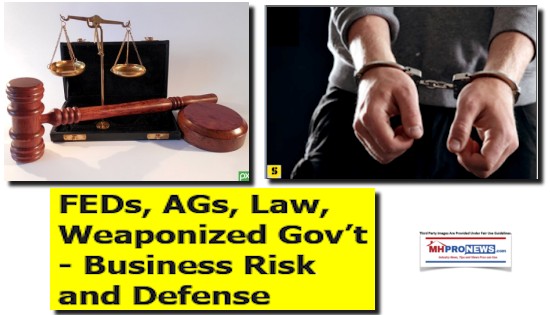 There is in all communications efforts the risk of saying too much, or too little, when seeking to make an important point.
In an era when thousands of messages are heard or seen daily by the average American, the risk of tuning out news or issues that seem disquieting is real.
This report may appear to some readers who skim as a partisan column, but the point is non-partisan and far more nuanced.
Specific examples will be used to make broader points that are important for investors, business owners, and all others too.
Before we dive into them, a quote from Sam Zell, Chairman, of Equity Lifestyle Properties (ELS), which helps make the point on one of a blizzard of reasons why this issue of the law and its application matters to every investor and business professional.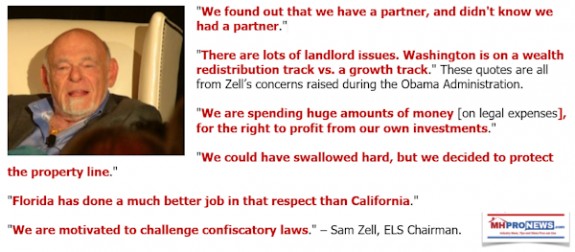 Equal Justice Under Law
"Equal Justice Under Law" is a powerful slogan, and a noble ideal.
Justice, like affordable housing, ought to be non-partisan issues.
The words "Equal Justice" are etched in stone on some judicial edifices, plaques, and statues. To be meaningful, they must be etched into minds and hearts.
As an example, the Special Counsel Robert Mueller investigation of so-called Russian collusion with the Trump campaign is now seen by the majority of Americans much as President Donald J. Trump has defined it. Over half of those polled now see the Mueller probe as a partisan witch hunt. After a year and tens of millions spent by the special counsel, that reflects the reality with a majority, even though some 90 percent of big, mainstream media news reports have an anti-Trump bias or slant, per Vox and the Media Research Group. Yet, the president is still winning on that issue. Would that be true without his regular Twitter or video push-backs and counter-punches?
But the point here isn't the president or Mueller, per se.  Rather, it's as an example of how governmental power can be weaponized.
There are several people who are being investigated that are being driven to the brink of bankruptcy by federal officials associated with the Mueller investigation. That ought to be a concern to every American. "Michael Thomas Flynn is a retired United States Army Lieutenant General who served in the U.S. Army for 33 years, from 1981 until 2014. In January 2017 he briefly served as National Security Advisor to U.S. President Donald Trump," says Wikipedia. Flynn is an example of one of those being targeted for something that Democratic Harvard Law professor emeritus Alan Dershowitz says is an investigation into an allegation that isn't even a crime.
Flynn was charged, even though FBI interrogators said they saw no evidence of deception, and Dershowitz said there is no underlying crime involved.  Nevertheless, Flynn was charged with lying to the FBI.  His legal bills were overwhelming their family.
So, even though there are plenty of grounds for defense, Flynn has plead guilty to lying. Why? Some sources say it is because of the high cost of his legal defense. Others add that it was to protect a Flynn family member that the special counsel's office was threatening to "squeeze" in a similar fashion.
Those are arguably un-American tactics.
But this could just as easily happen to you, your partner, or a colleague. It can happen unintentionally. It can occur even when there is arguably no citizen who has been harmed.
There was a claim by an author some years ago that there are an estimated one million laws and regulations on the books in the United States, at all levels of government.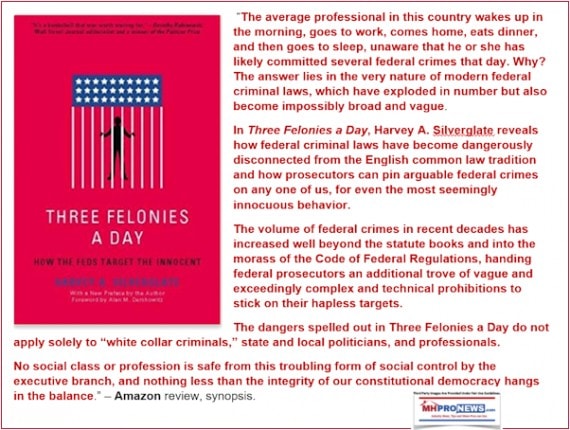 Another author used as a theme in his book the notion that the average American has broken three laws each day. That means, you, family, friends, others could get the retired Lt. General Flynn treatment. You could be charged with an offense and be forced to pay the cost of defending against a potentially unjust charge.
This isn't just a matter of what a federal or state attorney general's office can do. The Internal Revenue Service (IRS) allegedly misused their power to target conservative groups, starting around March 2010, per Wikipedia. Lois Lerner has suffered little obvious consequences from that tragic recent chapter in our nation's history.

If you or your business was unjustly targeted by prosecutors, the costs of a good legal defense could drive many into bankruptcy in a period of months.
People in government aren't automatically angels. It's a fallacy of those who believe in big government, with big bureaucracies.
The Fredric Bastiat video on this page teaches principles that are similar to those of America's founders. Like American's founders, Bastiat believed in limited government that gave maximum liberty to people, which in turn protected private property rights. Bastiat felt that law should routinely negate government power, as a check against an abuse of power.
"We, the People"
The founding founders created a system of checks and balances, precisely as a counter to government overreach.
But research indicates that in the U.S., most don't know the Constitution, much less their constitutional rights. For example, the Annenberg Public Policy survey in Sept 2017 found that "Nearly half of those surveyed (48 percent) say that freedom of speech is a right guaranteed by the First Amendment. But, unprompted, 37 percent could not name any First Amendment rights."
Millions have little or no understanding of the historic reasons why the principle of constitutionally limited government matters.  That's a recipe for an abuse of power by people in government.
The ultimate check on an abuse of government power is the citizen jury system.
A single informed juror can keep an unjust law, or a law that is being unjustly applied, from being enforced. They can do so by voting, "not guilty."
Education, motivation, and a keen sense of curiosity for objective truth are useful in business. Those skills are also useful in society.
The power to tax, and the power to regulate, are the power to destroy.
Weaponized education, agenda journalism, and government overreach are among the reasons for voting for those who support limited government that operates within constitutional boundaries.
The entire notion of constitutional government is that it limits government power.  Legitimate government gets its power from the "consent of the governed." But more than that, legitimate government protects life, liberty, and private property.
The 5Ws and the 1 H
"Who. What. When. Where. Why. How." They are the basic questions that must be answered by objective journalism. They are the basics of police investigations, and the core of all research. By all research, that means research by investors too.
That means they 5Ws and 1 H are – or should be – at the core of informed professional and investor question when probing any issue.
In an era where there seems to be clear examples of "Weaponized Justice," everyone ought to be alarmed. Again, this isn't a partisan issue.
There is a need to be informed, but a challenge of getting authentic information. That's why analytical thinking is so important.
Take the time to understand. Encourage others to be informed.
Vote wisely for those who want to roll back bloated government, which can become weaponized.
Understand the Constitution and it's principles.
Vote at the ballot box, and vote in the jury box. Every vote is important, but your vote as a juror may be one of the most powerful rights any citizen possess.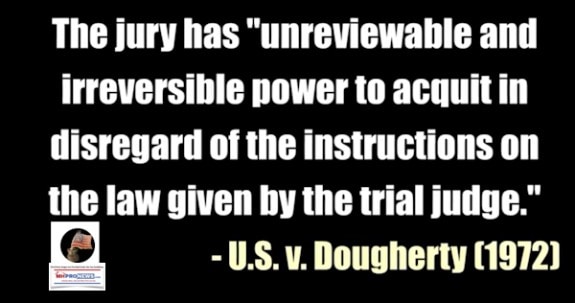 The well-informed citizen juror is a great check on potential abuse of power by simply being able to vote, "not guilty." Someday, you or someone you know could be targeted by government overreach. Applied knowledge is an important tool to stop such abuse. ## (News, analysis, and expert commentary.)
(Third party images, and cites are provided under fair use guidelines.)
Related Reports:
"Death by Government," Fascism, Communism, Socialism, 'Big Brother,' per Williams, Rummel and Owens
MHAction activists all reflect the fingerprints of left-wing, anti-business, pro-socialist thinking.
Behind So-Called "MH Resident Activists," MHAction's Kevin Borden, Anti- HUD Secretary Ben Carson, Manufactured Housing Industry Protests
The headline below is not to imply that only Democrats embrace such anti-property-rights notions.  Attention to the details are necessary in every campaign you, and your circle of influence can vote in.
Hold Your Wallet, More Democrats Openly Embrace Socialism, Plus MH Market Updates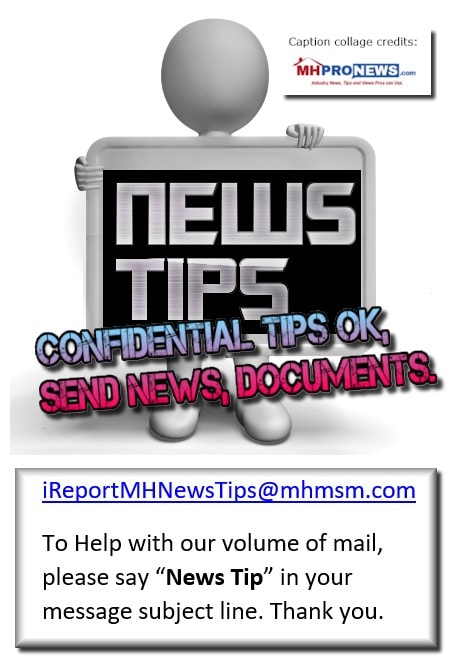 1) To sign up in seconds for our MH Industry leading emailed news updates, click here.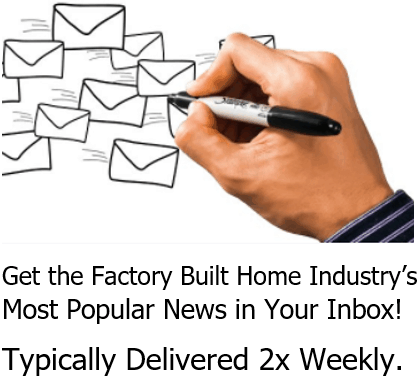 2) To provide a News Tips and/or Commentary, click the link to the left. Please note if comments are on-or-off the record, thank you.
3) Marketing, Web, Video, Consulting, Recruiting and Training Resources

Submitted by Soheyla Kovach to the Daily Business News for MHProNews.com.
Soheyla is a managing member of LifeStyle Factory Homes, LLC, the parent company to MHProNews, and MHLivingNews.com.